This archived news story is available only for your personal, non-commercial use. Information in the story may be outdated or superseded by additional information. Reading or replaying the story in its archived form does not constitute a republication of the story.
SALT LAKE CITY — If you ever wondered what it would be like to live in the Salt Lake Valley without driving your own personal vehicle, here's your chance to try using other modes of transportation to get around.
Next month, Salt Lake City is partnering with rideshare company Lyft, the Utah Transit Authority and GREENbike to offer a group of Salt Lake City residents the opportunity to park their cars and try the carefree, environmentally friendly life of the new transportation age.
Ditch with Lyft is a multimodal pilot transit program being launched in 36 cities nationwide from Oct. 8 through Nov. 6. In Salt Lake City, the program will challenge 50 randomly selected residents to ditch their car for 30 days in lieu of rideshare and public transit, explained Jeremy Neigher, market manager for Lyft in Utah.
Each participant will receive more than $417 of transportation credit during the one-month challenge to use a variety of available transit options, he said. Salt Lake City residents can register at ditchwithlyft.com/SLC for the opportunity to receive credit toward Lyft, GREENbike and the UTA Hive Pass.
"We want to push the envelope," he said. "We want people to try something new and get out of their comfort zone."
He noted that as urban environments become more densely populated and more traffic congestion is created, people will be looking for transportation alternatives.
"For someone who might want to give (rideshare and mass transit) a shot, they may think, 'Maybe I don't need that second car or maybe I can save a bunch of money the next time I go to the airport,'" Neigher said.
Related story:
As more people consider how a "multimodal" future can have a positive impact on cities like Salt Lake and others around the country, their attitudes may shift. Ridesharing has already changed the way Americans depend on owning a car and how people get around cities — but now is the time to take an even bolder step toward creating a new future of mobility, he added.
Salt Lake City Mayor Jackie Biskupski said, if successful, the partnership could change the way people in the metro area travel throughout the valley.
"Part of what we're trying to do is get people excited about using public transportation (and rideshare)," she said. "Residents in Salt Lake City can ditch their car and try out and all of these different multimodal ways of getting around the city and see if they can do it."
She said that while the trial period isn't especially long, "30 days can create habits and we're hoping that it creates habits for the 50 people that use it."
If some of the participants are persuaded to continue the new transit pattern, others could likely be persuaded to follow, she said.
---
We want people to try something new and get out of their comfort zone.
–Jeremy Neigher, market manager for Lyft in Utah
---
On average, it costs about $9,000 each year to own and operate a car, according to a news release. The Hive Pass is $42 for one month of unlimited trips on the UTA bus, TRAX and streetcar services. An annual membership for GREENBike is $75. Salt Lake City residents can save thousands of dollars by riding with Hive, GREENBike and ridesharing services like Lyft, the mayor said.
"Salt Lake City is constantly looking for ways to give residents more affordable transportation choices, especially ones that reduce emissions and improve our air quality," Biskupski said. "We hope this partnership with Lyft will show it is possible to get around Salt Lake City without owning a car."
The GREENbike program has reduced carbon dioxide emissions by 3.6 million pounds, removed 3.9 million vehicle miles from local roads, while burning 60 million calories in the process, said GREENbike founder and executive director Ben Bolte.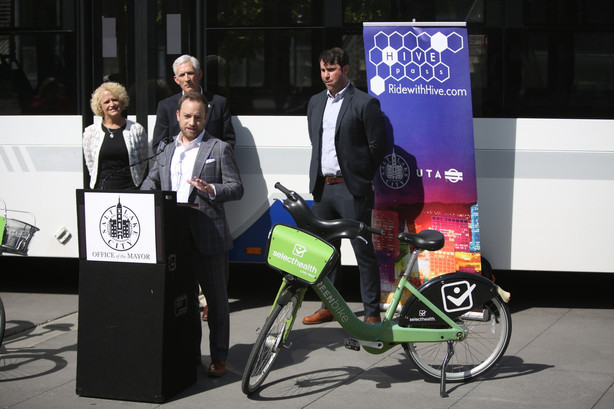 "This is a nice way to get people to try something new," he said.
Speaking at a news conference Wednesday, UTA interim executive director Steve Meyer said the pilot program could serve to remove barriers some people may have when it comes to making the decision to stop driving their car and use other forms of transportation.
"We're giving people multiple choices about how they choose to commute and what their options are," he said. "We're going to provide you the mobility, hopefully at an equal level to having your own car."
×
Photos
Related Stories