This archived news story is available only for your personal, non-commercial use. Information in the story may be outdated or superseded by additional information. Reading or replaying the story in its archived form does not constitute a republication of the story.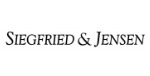 This story is sponsored by Siegfried & Jensen. Call 801-896-8807 for a free case review (24/7).
Accidents can cause damage to your health and bank account. Do you know when you should consult a lawyer? If you've been in a car, work or other type of accident, this quiz will help you determine if your case requires an attorney.
(In the app and can't see the quiz? Click here.)
×