THORNTON, Idaho — A family is saddened over the loss of a "special member" after finding their young horse shot to death over the weekend.
Trigger was the name of their 4-month-old stud colt. He died after being shot in the mouth, according to Madison County Sheriff's Office Chief Deputy Bart Quayle.
Justin Bowen and his family were out of town when the shooting happened. They arrived home to learn their colt was dead, according to Quayle.
Quayle says a neighbor found the horse in a pasture near the Thornton exit off of U.S. Highway 20.
Kalley Bowen tells EastIdahoNews.com that the neighbor heard a gunshot in the Bowen's pasture Saturday. The pasture holds three other animals, including a cow, that would play with Trigger.
"The cow and (Trigger) – they were buddies and they would chase and tease each other," Bowen says. "He was so friendly. He would come up to anybody. … He was just a ham."
The neighbor was outside and noticed that the cow was acting unusual. It kept going from the barn back out to the pasture, and then to the barn again.
"Because of the cow, she looked further out into the pasture and saw that the colt's legs were up in the air," Bowen says.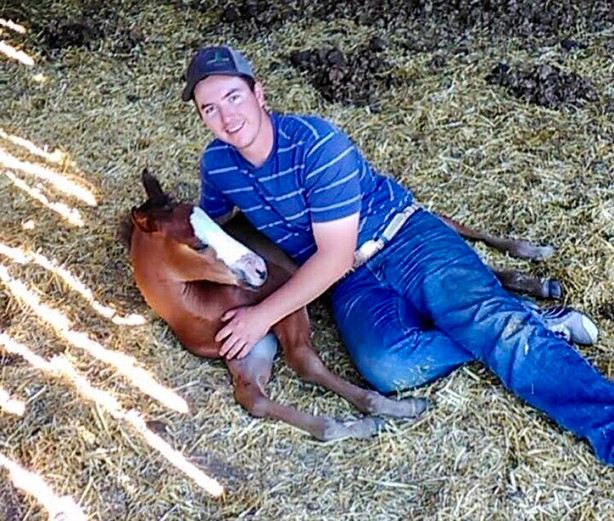 After the neighbor discovered Trigger, she let the family know. The colt was taken by its owner to a veterinarian for a necropsy. Bowen admits the family didn't notify authorities immediately because they weren't sure what killed the horse. They saw no apparent exit or entry wounds of a bullet – just scratches on his head.
"When you have baby horses a lot of times they just die. No rhyme or reason why they do," Bowen says.
The family assumed the horse had gastrointestinal issues or that he had been poisoned.
The vet told the family they found gunpowder marks and that a bullet had entered Trigger's mouth. It traveled along his spine and became lodged, but could not be recovered.
"It had shattered the whole spine," Bowen says.
Because the horse was moved from the place where he was found, conducting an investigation becomes a bit more difficult for deputies.
"Had we responded right to the scene ... and perhaps got the Department of Agriculture and the state vet involved, that ideally would have been a better scenario for us," Qualye says. "Nonetheless, it's still the suspicious death of a horse and that's how we're investigating it."
Bowen feels the attack was personal and worries the perpetrator will never be found. She says it will be hard for law enforcement to investigate because the bullet can't be located and any footprints that would have been visible are likely lost after they used a loader to lift Trigger.
"He was very well bred. He was very smart – and his mother is my son's top rope horse," Bowen says. "Nobody would know that unless they were close to our family."
Bowen posted about the tragedy on social media and, as of Tuesday, her message had over 5,000 Facebook shares.
"It's comforting to know that there's power in numbers and that there's good people out there," Bowen says. "There's always good things that come out of bad things."
Quayle says the sheriff's office does not condone any abuse, neglect or unlawful killing of animals. They've asked anyone with information to call the Madison County Sheriff's office at 208-372-5000.
"Any abuse of animals or unlawful killing of animals is abhorrent to our sheriff's office and we would investigate that fully and seek the maximum complaint allowable by law," Quayle says. "I feel comfortable speaking for the prosecutor's office that they would feel the same way."
×
Photos