SPANISH FORK — It has been uncomfortable and unsettling enough for evacuees of the Pole Creek and Bald Mountain fires, who have been able to watch their burning hillsides from a distance.
Joanna Oldham hasn't had that luxury. Every day, twice a day, Oldham has driven to the roadblock on U.S. Highway 6 at the mouth of Spanish Fork Canyon, parked her SUV and watched.
"Your hopes for the canyon fluctuate with the smoke," she said Tuesday afternoon. "That's a little bit agonizing. Time has pretty much stood still."
It's the closest she can get to her community of Covered Bridge. Like most other evacuees, Oldham evacuated from her home last Thursday.
"It started out fairly calm, and then the calls, the text message chains began that this was going to happen very quickly," she recalled. "The only time it really got frantic was when the sheriff's (deputies) started coming up and down the canyon with lights on, and then it got pretty real. They came in the driveway and said, 'It's really time to go,' and we hopped in our cars and left."
Oldham was allowed back to return to her house twice since to retrieve personal belongings, but has had to rely on periodic email updates with pictures and videos for the latest on her neighborhood.
"You still have a constant pit in your stomach, and it is a waiting game," Oldham said.
As she watched ranchers enter into the canyon to pick up and evacuate their cattle, Oldham said she took comfort in the efforts of firefighters and the sound of helicopters overhead.
"They've been dumping buckets via three helicopters I think, all day yesterday and today," she said. "We're not seeing total devastation in the canyon — we're seeing a lot of preparation."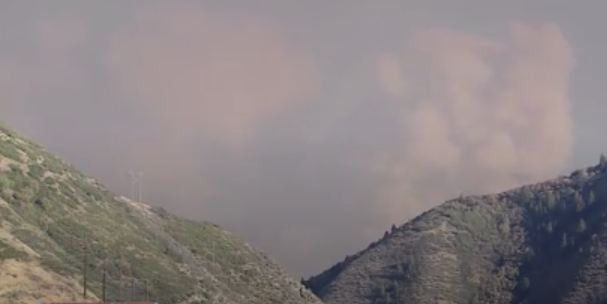 Oldham said she is fortunate to have relatives and a place to stay in Mapleton, so she can remain relatively close-by.
"It's uncomfortably close, but not yet to the point where we're having heart attacks," Oldham said. "We're crossing our fingers!"
×
Related Stories