AMMON, Idaho — A family dealing with a serious medical problem was dealt another blow last week when their home was burglarized and their car was stolen.
Mark Morgan, 46, was admitted to the University of Utah Hospital in Salt Lake City last month after suffering a brain aneurysm that could have killed him.
Last Thursday, Mark stood up for the first time with the help of a physical therapist. The family was ecstatic with the good news and that evening, a family member went to the Morgan's home in Ammon to get some things for Aimee, Mark's wife.
The family learned someone had stolen several items and took off with them in the Morgans' car that was parked in their garage.
Whatever victories were being celebrated in Mark's long road to recovery were now overshadowed by the burglary.
"A ton of stuff was taken — random. It is ridiculous what was taken," a family member tells EastIdahoNews.com. "(The burglar) went through everything. The house was completely ransacked."
Among the stolen items were laptops and other electronics, coffee, toilet paper, jewelry and a necklace containing a thumbprint of their son Spencer, who passed away in 2015. The burglar even pried open Spencer's room, which Aimee had locked and left untouched for two years. A saxophone and chess set that he loved were taken. More items continue to be unaccounted for as the family works to clean up the mess.
"I just want the guy who burglarized them to be caught. I think it's ridiculous he would steal from a family who is going through this. I feel like it has to be someone who knew them and knew that the house was empty," a family member says.
The burglary, family members say, has been particularly difficult for Mark and Aimee's 9-year-old daughter, Reiley.
"She has high-functioning autism and thrives best on routine and structure. This has rocked her world and has been very difficult for her to understand," a family member said.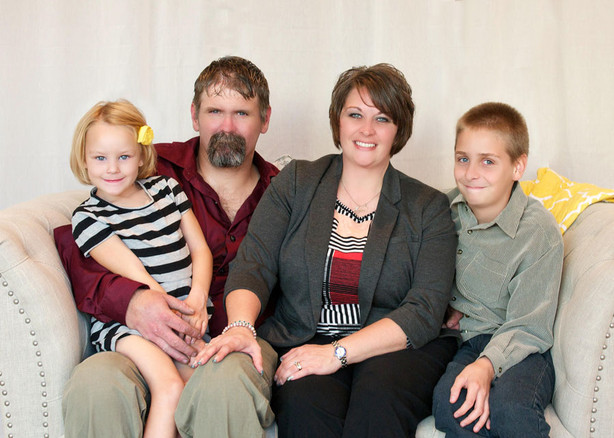 Aimee Morgan has been the breadwinner of the family since Mark fell off a roof while working construction in 2003. She currently teaches kindergarten at Falls Valley Elementary and travels back and forth between Utah and Idaho to care for her husband and help law enforcement with their investigation.
The Bonneville County Sheriff's Office located the Morgan's car undamaged, Monday, by the East River Road boat dock on the Snake River. Sgt. Bryan Lovell says a search for the suspect is currently underway.
Meanwhile, Mark still has weeks of physical therapy ahead. The question of when he will be able to return home to Idaho remains unknown.
Aimee will have to return to work once her family medical leave is gone, which Mark's sister says will make it hard for Mark to get the care he needs when he finally does return home.
"This family has been through so much, especially in the last two years. It is heartbreaking to see someone add more to Aimee's plate right now when she is already stretched so thin trying to hold her family together. More than anything, we would like people to be aware. I hope the community can come together to help Aimee and show her she has support when she needs it."
A family friend has set up a GoFundMe account* on the Morgan's behalf. If you would like to donate, click here.
___
*KSL.com does not assure that the money deposited to the account will be applied for the benefit of the persons named as beneficiaries. If you are considering a deposit to the account, you should consult your own advisors and otherwise proceed at your own risk.
×
Photos