PROVO — BYU opens the home schedule of the 2018 football season Saturday against its second-straight Pac-12 opponent.
But the Cougars' second opponent, Cal (1-0), will be very different from their first, Arizona (0-1).
Here's a breakdown leading up to the Cougars' 8:15 p.m. kickoff on ESPN2 and KSL Newsradio.
Cal offense
Cal doesn't just have one quarterback.
The Golden Bears played three quarterbacks in last week's home win over North Carolina, and head coach Justin Wilcox has suggested they will likely do the same against BYU.
BYU's defense did well in shutting down a running quarterback in Arizona's Khalil Tate. All three of Cal's quarterbacks are significantly different from Tate, though, in being more true pocket passers with some mobility behind the line of scrimmage.
"They're all similar; there's one that runs a little bit better than the others," BYU defensive coordinator Ilaisa Tuiaki said. "But I don't think there is that big of a difference that we will prepare too differently. We'll prepare for one, and whoever is in there is the one we'll play."
The most experienced signal caller is Ross Bowers, a fourth-year junior who completed 59 percent of his passes for 3,039 yards and 18 touchdowns with 12 interceptions as a 12-game starter in 2017. Bowers was the Pac-12's lead returning quarterback in 2018 after averaging 253.3 yards and 22.67 completions per game.
You may remember Bowers for his explosive performance against Washington State, when he flipped into the end zone for a touchdown to take down the heavily favored Cougars.
Chase Garbers and Brandon McIlwain will also likely see time against BYU.
No matter who lines up at quarterback, the Cougars will have their hands full with running back Patrick Laid. The fifth-year senior has played in 28 games and rushed for 1,192 yards with nine touchdowns in his three years of eligibility, and he added 95 yards and a score on 29 carries against UNC.
Cal also returns every offensive lineman from the 2017 season that saw the Bears turn out a 3,000-yard passer and a 1,000-yard rusher. Kamryn Bennett, Addison Ooms and Jake Curhan each started every game in 2017, and Patrick Mekari (10) and Valentine Daltoso (9) started the majority of Cal's games a year ago.
"I think their best player on offense is their running back," Tuiaki said. "He's a phenomenal player, and they are well coached up front. They get big and physical with the O-line, and they do a good job managing the game with what they have."
Related Story
Cal defense
The defensive side of Cal's outlook is experienced and makes few mistakes against opposing teams' offenses.
Nowhere is that more of the standard than in the defensive backfield.
"Really aggressive. Very experienced secondary, as well," BYU offensive coordinator Jeff Grimes said. "I don't see any weak links. It's going to be a great challenge for us."
The Bears picked off North Carolina four times in last Saturday's win, but the offense converted just 14 points off them. Jaylinn Hawkins had two interceptions in the game, as many or more than any other player in the country, and veteran Camryn Bynum set a career-high with four pass breakups.
"They're physical," BYU receiver Aleva Hifo said. "Not to discredit Arizona at all, but Cal's backs are a lot more physical. They are experienced; all four guys are returning. They have guys like Bynum, who played as a freshman, and two athletic safeties who can come down into the box.
"It will be a challenge for us, in the run game and at the pass game. But I think it's a challenge we're going to be up for."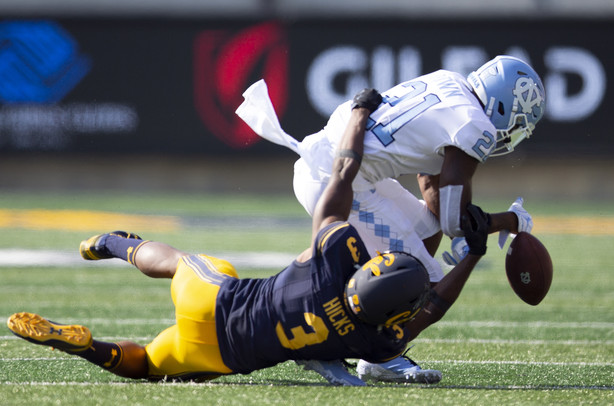 X-factor
After last weekend's stunning 28-23 victory at Arizona, BYU should be feeling less pressure and more comfort in its home-opener Saturday.
Most national media — and even several fans — likely expected a 1-4 start to the 2018 season, and few can blame those preseason feelings after the Cougars' disastrous 4-9 campaign in 2017.
With one win already down, the Cougars are playing with house money — and they will take a 3-point favorite status into the game, per Las Vegas sports books.
There's a lot of optimism in Provo after amassing one-fourth of their wins from 2017 after just one week.
"We went over to the freshman orientation, and those guys are excited," BYU linebacker Butch Pau'u said. "We're expecting to see that same excitement from the rest of the crowd. There has been a lot of doubt on this team, and we proved that we can play.
"We expect a lot of excitement, a lot of energy, and for 65,000 people to be cheering for us."
×
Related Stories