This archived news story is available only for your personal, non-commercial use. Information in the story may be outdated or superseded by additional information. Reading or replaying the story in its archived form does not constitute a republication of the story.
SALT LAKE CITY — Utah Gov. Gary Herbert is urging every single registered boat owner in Utah to decontaminate their vessel upon leaving Lake Powell, warning of an increasingly critical problem threatening the state's water supply.
"You are on the front lines of Utah's battle against a dangerous and invasive species known as quagga mussels," he wrote in letters mailed in August.
"The situation at Lake Powell has grown increasingly serious, and I need your help. If not handled correctly, these mussels may threaten our water supplies and popular recreation areas."
Nathan Owens, the aquatic invasive species program coordinator for the Utah Division of Wildlife Resources, said state employees personally inspected 400 boats departing Bullfrog Marina at Lake Powell on Labor Day.
Although those inspections may only take a few minutes, when boaters are all leaving at the same time, Owens said the wait times can become long.
"They may have to wait 30 to 45 minutes," he said. For professional decontamination, some boaters have waited as long as four or five hours.
"Although the wait to decontaminate your boat as you leave Lake Powell may be inconvenient to your summer plans, I urge you to follow through with the above-mentioned precautions," Herbert wrote. "Failing to do so creates a serious threat to Utah's water supply as the mussels will transfer into our drains, clogging our pipes and blocking our precious water supply."
Owens said the low water this year at Lake Powell is making the situation worse — even boats that have only been in the water for a few hours get contaminated with the quagga mussels.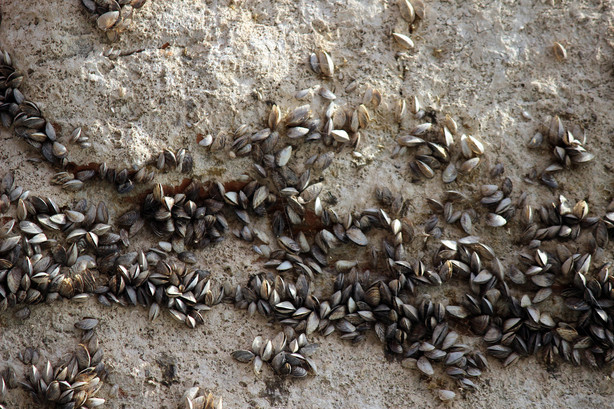 "A big part of it is this low water. They are getting knocked off surfaces they have been stuck to and are floating in the water. While some of them are dead, others are not. They get sucked up into boats filling their ballast tanks," Owens said.
This year, state inspectors found more than 120 instances in which boats were contaminated with the quagga mussel, and 100 of those boats were quarantined.
Multiple contaminated boats have tried to launch at key water supply locations, including Jordanelle and Deer Creek, Owens said, but were stopped by inspectors.
The thumbnail-size pest ruins boats and piping for water delivery systems and pose major threats to hydroelectric dams.
Utah spends about $3 million a year on its invasive mussel program, with $700,000 devoted exclusively to Lake Powell, Owens said, noting the state has one of the most aggressive inspection programs in the West.
"The big thing is they can clog up water delivery systems really effectively," Owens said. "Once they clog them it is really difficult to keep those systems clean and flowing. It becomes ongoing maintenance indefinitely."
As of July 30, state employees had inspected more than 144,000 watercraft statewide. Of those, 4,700 boats had not met the time-specific requirements for dry time and had to be decontaminated.
Related:
Complex boats with ballast tanks and inboard motors must be dry for 30 days. Others have a wait time of 18 days.
Quagga mussels are a native of Eastern Europe and only have a life span of three to five years.
A U.S. Bureau of Reclamation Report notes, however, that they spawn all year if conditions are favorable, potentially as many as six cycles.
Each cycle produces between 30,000 and 40,000 eggs and sperm.
Since the quagga was first detected at Lake Mead in 2007, the bureau has worked with multiple states in the lower Colorado River system to address the threat.
At Hoover Dam, more than $10 million will be or has been spent to control the infestation of quagga, according to the report.
×
Photos
Related Stories