SPRINGDALE, Washington County — There's good news and bad for those planning to visit Utah's most popular national park during the upcoming holiday weekend.
Several trails at Zion National Park remain closed while workers continue to repair or reroute areas that were damaged during an "intense thunderstorm" on July 11, according to park officials.
During that storm, flash floods and rockslides trapped visitors, who were told to shelter in place while they waited for the tempest to clear. No injuries were reported.
Trails that remain under closure include Angels Landing, Kayenta, Upper Emerald Pools and West Rim from the Grotto Trailhead to Cabin Spring, park officials said.
Officials warn that "closures are being enforced due to unstable and unreliable trail integrity." Those who violate closures could be fined.
Read more:
"Extensive repair work will be required before some trails can be opened," according to a news release from the park.
Angels Landing is expected to reopen in mid- to late September, the release states. The storm washed out the retaining wall and trail section and "destroyed the check dams built over 100 years ago to protect the trail," officials explained.
During the repair process, workers have had to haul an estimated 90 cubic yards of rock for about 1 mile, up an elevation of more than 660 feet, or twice the height of the Statue of Liberty, according to park officials.
The project includes "small tracked vehicles and some very fit and skilled staff to do the work safely," officials said, adding that they want to protect "historic aspects" of the trail and retain the "magnificence of the canyon."
So far, "The crew has stabilized the ends of the trail and are beginning to build a new custom bridge to span the gap where the trail and retaining wall washed completely away," the release said.
The Hidden Canyon trail will remain closed for "at least a week" after a more recent rockfall, officials said. They do not have an estimate for when the other closed trails will reopen.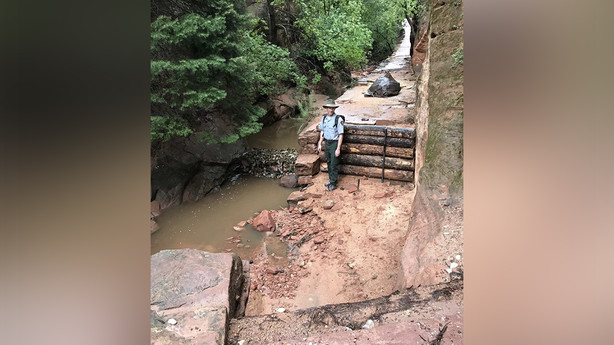 For those who still plan on visiting the park, several other trails of all difficulty levels remain open including Observation Point, the Narrows, Riverside Walk, Watchman and Pa'rus. For more information, visit Zion National Park's website.
Recent storms have also affected a roadway through the park.
The Zion-Mount Carmel Highway through Zion National Park will close from 6 a.m. to 1 p.m. Wednesday, Sept. 5, and Thursday, Sept. 6, for emergency repairs.
Current trail closures:
-Hidden Canyon (likely until Sept. 5)
-Angels Landing and the West Rim from Grotto to Cabin Spring (until mid to late Sept.)
-Upper Emerald Pools
-Kayenta Trail

Repairs are underway. Trails will be opened as soon as it is safe to do so.

— Zion National Park (@ZionNPS) August 30, 2018
The roadway and guard walls were damaged in several places during the July 11 storm, which pounded the area with 3 inches of rain in three hours.
Alternate east and west routes are available via state Route 59 from Hurricane to Fredonia, Arizona, and S.R. 14 from Cedar City to Long Valley Junction and U.S. 89.
People driving to the park can get there by traveling east on S.R. 9 from I-15. All park facilities including the visitor center, museum, campgrounds and shuttle buses will be open and operating as normal in Zion Canyon.
×
Photos
Related Stories