Estimated read time: 5-6 minutes
This archived news story is available only for your personal, non-commercial use. Information in the story may be outdated or superseded by additional information. Reading or replaying the story in its archived form does not constitute a republication of the story.
SALT LAKE CITY — More than 48,000 immigrants and refugees have achieved permanent and legal residency in the state of Utah — 22,000 in Salt Lake County — and a new plan headed up by county government aims to help all of them achieve full-blown citizenship.
"We are a state of immigrants and we are a nation founded by immigrants," Salt Lake County Mayor Ben McAdams said Thursday. "It is Utah's pioneering spirit that continues to contribute to why we are such a welcoming place today."
He said the success of the United for Citizenship initiative relies on Utah's "spirit of inclusiveness."
The campaign will make information about the naturalization process — including checklists, flashcards for study, and forms to request fee waivers for the $790-per-person application — more readily available to the populations that could benefit.
"I wanted to belong. This is my home now. This is my country and I wanted to be able to belong," said Yasaman Kashavarz, who received U.S. citizenship last year. She came to America in 2011 after seeking refuge in Turkey from religious persecution in her homeland of Iran.
Kashavarz said she always knew the benefits of becoming a U.S. citizen and wanted them, but even being fluent in English and having a master's degree, there were barriers that made achieving citizenship difficult.
"A lot of these people are traumatized, uneducated and unmotivated to go through this process because it is hard," she said, adding that it took her and her husband more than 10 months to get through the naturalization process.
And some of the questions on the citizenship exam, Keshavarz said, were impossible, even for her physician colleagues she shared them with to understand.
"This land has welcomed generations of new Americans who now call Utah home," said Sen. Jani Iwamoto, D-Salt Lake City. She recently petitioned the Utah Legislature to give $100,000 to help immigrants and refugees on the path to citizenship.
"It is our duty … to invest in the resources that can strengthen our people and our economy," Iwamoto said Thursday during the official launch of the United for Citizenship initiative. "Helping our newest residents to build stronger roots is not only a smart thing to do, but it is also a reflection of our Utah values."
McAdams said citizenship "opens up new doors for immigrants and benefits for the community at large." Citizens, he said, have better educational opportunities, can travel more freely and have access to more jobs where they can increase their earning potential by up to 10 percent.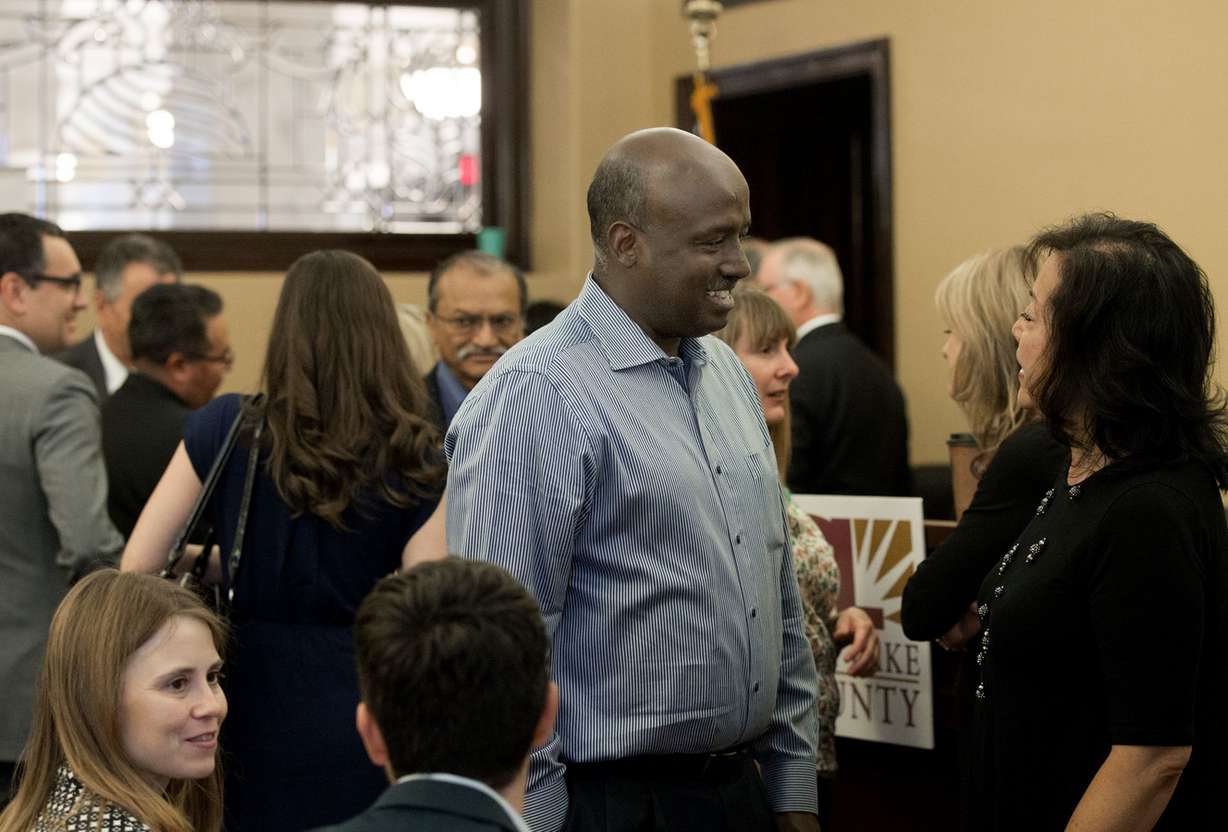 Kashavarz said she's "still a little scared" to ever return to Iran, but definitely wanted to travel.
"Obviously with my Iranian passports, I am not welcome at a lot of places," she said.
"I have tremendous admiration for a country that opens its doors to provide opportunities for people to grow and to realize potential that God has given them," said the Most Rev. Oscar Solis, bishop of the Catholic Diocese of Salt Lake City and an immigrant of the Philippines.
"It's a beautiful thing to say that people have the opportunity to realize their dreams here," the bishop said.
The county's initiative, at UnitedforCitizenship.org, is partnering with businesses and local organizations, as well as churches and community groups, to get the word out and encourage more immigrants to seek help.
"We encourage all who are eligible to follow this path to citizenship and thereby improve their lives through this initiative," said Elder Randy Funk, General Authority Seventy of The Church of Jesus Christ of Latter-day Saints. He said the Church "supports a balanced approach to immigration" and is grateful to partner with the county on this initiative.
"The Church believes in honoring and sustaining the law and encourages its members to be good citizens wherever they live and wherever they reside," Funk said.
Nearly 5,000 Utah residents submitted applications for citizenship in 2016, and the number grows each year. Still, 22,000 in Salt Lake County alone, for whatever reason, have met the criteria for legal residency but have not sought citizenship.
McAdams said that in addition to the exam being complicated, language barriers make the already confusing process to obtain citizenship even more difficult. The cost is a barrier, as well.
Intermountain Healthcare offers English classes to its employees, which Mikelle Moore, senior vice president of community health, said makes a difference in the performance and opportunities of those who take part.
Salt Lake Community College Deneece Huftalin said the leading work force training provider and most diverse institution in the state offers language and skills courses at 10 sites within the county.
"(We) are ready and willing to do our part to help new Americans realize the potential and transformative power of education," she said.
And Keshavarz said that when Americans help immigrants, it helps get rid of the negative stigmas that exist, as many natural-born citizens think citizenship is easy to get, she said.
"For some families, it is very difficult to go through," she said.
McAdams said he hopes all immigrants who qualify will turn to newly available resources for help, even if they had abandoned their hope for citizenship after a previous try.
"You're not alone and there is support for you," he said. "It is through the support of the whole community that we will share the American Dream with so many of our friends and neighbors."
×
Photos
Related stories
Most recent Utah stories