This archived news story is available only for your personal, non-commercial use. Information in the story may be outdated or superseded by additional information. Reading or replaying the story in its archived form does not constitute a republication of the story.
SALT LAKE CITY — Even though the debut film of a group of young Utah filmmakers is set in the 1800s, they were able to draw from real-life experiences to make it.
Utah brothers Tate and Josh Smith co-directed "Iron Brothers," a Western drama that was released on digital, DVD and video-on-demand platforms on Tuesday.
Tate Smith and his other brother Porter Smith star in the film as the titular siblings Abel and Henry Iron.
The idea for the film came to Josh Smith as he was driving back and forth between BYU-Idaho and Salt Lake City, enjoying the scenery of southwestern Idaho. Josh Smith, 26, and Tate Smith, 24, then settled on the idea to make a movie about brothers set in the pristine Idaho landscape.
"We were three brothers in the wilderness in Idaho, so let's just make a movie about that," Tate Smith said.
The movie was shot on location near Rexburg and Blackfoot, Idaho, with some scenes shot near Cokeville, Wyoming, and the Tetons.
In the film, Abel and Henry Iron are fur trappers struggling to make a living in a harsh Rocky Mountain winter during the frontier era. Abel comes across a group of Shoshone, and a misunderstanding leaves one of the natives dead. The brothers run away to the mountains in order to escape the warriors who are hunting them down.
Both Josh and Tate made some videos for fun in high school, and both knew they wanted to make movies at some point, Josh Smith said. He had made a short film and was working in advertising, helping produce local TV commercials before he started work on "Iron Brothers."
To prepare for production on their movie, they watched and analyzed countless movies and listened to interviews with various filmmakers, Josh Smith said. The only thing that truly helped them learn how to make a movie, though, was just getting out there and doing it.
"We both agree that it was the hardest thing we've ever done in our lives," Josh Smith said.
Josh Smith was able to sit behind the camera and handle the visuals while Tate focused on making sure scenes delivered emotionally, as he acted alongside Porter, he said.
They had limited resources and funds to work with, and they knew they needed to use a small cast for the movie, Josh Smith said.
They also knew they needed a log cabin for the movie that they could use at their own disposal, Tate Smith said. So they built one.
The three Smith brothers, along with their father, gathered fallen trees from a friend's land. The four of them dug out space in a hillside to build the structure and then constructed it from the ground up, Josh said.
"We had the wilderness around us so that's what we used," Josh Smith said.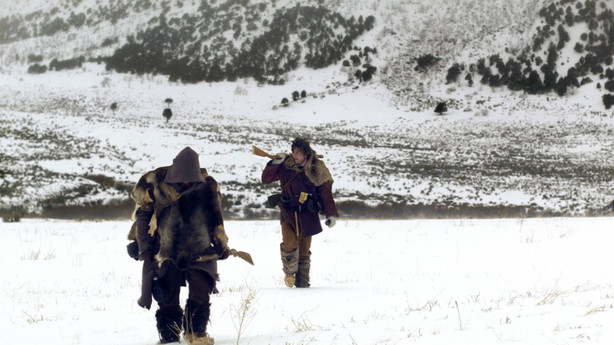 The directing siblings also had to make sure they didn't capture any far-off windmills or flying planes in the background as they shot the movie.
Even though their movie has just been released, they're already looking forward to their next project: A crime thriller. Josh Smith said the film will have some unique parts that haven't been seen in a movie before.
"It's definitely something that we're very passionate about," Tate Smith said. "We feel really, really good about it."
Even though filming "Iron Brothers" was extremely difficult, both brothers said it's important to surround yourself with people who care about and support you if you want to make movies.
"We definitely have an amazing support system," Tate said. "If you could surround yourself with people that love you and then make it, you'll be able to make something that you're a lot more attached to."
"Iron Brothers" was awarded the Audience Choice Award at the Sandwiches Film Festival in Twin Falls, Idaho, last year.
×
Photos