This archived news story is available only for your personal, non-commercial use. Information in the story may be outdated or superseded by additional information. Reading or replaying the story in its archived form does not constitute a republication of the story.
SANDY — In his travels with the United States Men's National Team and abroad, German-American fullback Timothy Chandler has never played a competitive soccer match in Salt Lake City.
He'll get that chance Tuesday night.
Chandler will join his teammates from Eintracht Frankfurt of Germany's Bundesliga in an international friendly at 8 p.m. MDT Tuesday against Real Salt Lake at Rio Tinto Stadium.
The friendly, which will be streamed live on KSL.com and the KSL TV app, will feature a handful of players in Eintracht's preseason tour of North America with 24 players, including Chandler, Liverpool midfielder Allan Souza on a preseason trial, and recent signer Evan N'Dicka.
"I spent three weeks in Florida last summer, but I'd actually never been to Salt Lake City," Chandler told the club's Eintracht TV. "It's just like my friends told me — there's a lot of wide, open space and the city itself is quite small. It's warm and the panoramic views are sensational.
"Frankfurt City Forest is lovely, but being able to see the Rockies from the training pitch is incredible."
One of the first things Chandler did when he found out his team's tour would start in Salt Lake City before wrapping up in Philadelphia was call former U.S. teammates Kyle Beckerman and Nick Rimando.
"The lads are buzzing and they're in the middle of their domestic season," Chandler said. "It's not going to be easy for us — the standard of the MLS is improving every year — but I'm still looking forward to playing against them."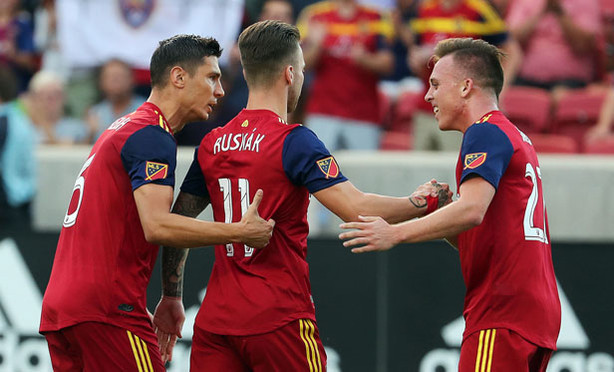 And though Salt Lake (9-8-2, 29 points) is in the middle of a busy stretch of MLS games and looking to improve on its fourth-place position in the Western Conference table, the club can take plenty from a top-flight friendly against a side that finished eighth in the Bundesliga last season with a 14-7-13 record.
Make no mistake, though: RSL wants to win Tuesday.
"We always play to win, and we always want to win," RSL coach Mike Petke said. "But what I want more out of this is guys who are going to be getting 90 minutes and who haven't gotten enough 90-minute games this year.
"I want them to make me have to make tough decisions."
A victory over the Eagles will be quite the scalp to add to a collection of visiting friendly opponents that includes England's Manchester United and Everton, Italy's Internazionale and Argentina's Boca Juniors, among others.
Petke doesn't expect to play many of his first-choice players, at least not for a significant period of time. Monday's training session at Rio Tinto Stadium was largely recovery-based, but the friendly will give a chance for several former academy standouts to make their mark on a team — perhaps most notably rookie defender Aaron Herrera, whose appearance in Saturday's 2-0 win over FC Dallas helped set an all-time MLS record with 11 homegrown player appearances in one match.
"It's a good chance to showcase yourself. It's a good chance to put pressure on (Petke) with a lot of good players playing for spots," Herrera said.
"We're going to go out, work hard, use it as fitness, but also use it as a chance to showcase ourselves," he added.
×
Related Stories