This archived news story is available only for your personal, non-commercial use. Information in the story may be outdated or superseded by additional information. Reading or replaying the story in its archived form does not constitute a republication of the story.
PROVO — Jamaal Williams walked into the BYU broadcasting building with a smile, a swagger and a Gucci fanny pack that only a man nicknamed "J-Swag Daddy" could rock during BYU football's annual media day last month.
It was good to be back, he commented after a breakout rookie season that saw him run for 556 yards and four touchdowns for the Green Bay Packers.
Yes, Williams — even with the cheesy grin and flashy style — has grown up significantly in just one year of pro football. He and teammate Aaron Jones helped make history for the Packers, becoming the first rookie duo in team history to rush for more than 400 yards apiece in the same season (Jones had 448 yards and four touchdowns).
But when he got back into Provo, Williams stopped to reflect on his rookie season and how BYU prepared him for the NFL.
"I think it went OK," he confided to a small group of local media. "My expectations are always higher than anybody else's. But overall, I think I did OK for how I handled the opportunities that I got.
"Now I know what to expect, and I just need to recalculate and improve on what I did."
OK, so maybe he's a little hard on himself. A lot of rookies would love to have his kind of season. Williams' former teammate, BYU running back Squally Canada, mentioned there were several weeks when adding the former Cougar to his fantasy football team almost single handedly earned him a win.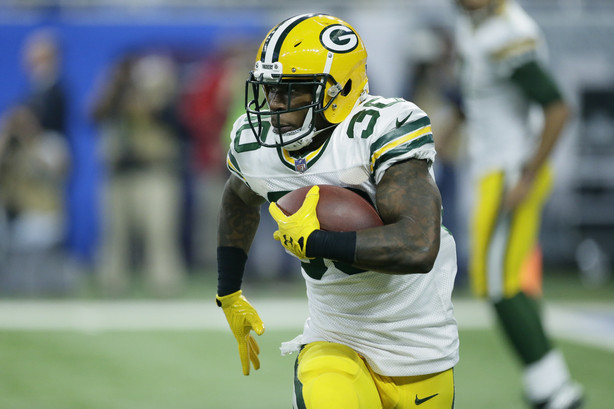 But the success Williams experienced in his first season he attributes to the Packers — head coach Mike McCarthy putting him in good spots, an offensive line filled with Wisconsin-cooked cheeseheads, and a family-first atmosphere that embraced Williams, Jones, the other first-year rookies — and even Williams' mom Nicolle, whom BYU fans still remember with fondness.
"It really reminds of BYU, honestly, how family-oriented (Green Bay) is and making sure the fans feel involved with the team," Williams said. "It's something I'm used to now, because of BYU and how great the fans are here. It's the same with Green Bay; they got their faces painted, backyards looking like football fields. It's a great atmosphere to be in."
He can't forget BYU fans, even two time zones away, either.
"Every two weeks, I think I see at least one BYU fan outside the gate," Williams said. "I always make sure I take a picture and sign stuff for them."
Former BYU linebacker Fred Warner felt the same way when he was drafted in April by the San Francisco 49ers. Even as the rookie received rave reviews from coaches and teammates, including former Seattle Seahawks star Richard Sherman who now moonlights at cornerback for the Niners, he tried to keep his head grounded in the monotony of OTAs and training camp, which opened June 24.
"I didn't realize how close-knit this group was going to be," Warner said of the Niners. "I thought the NFL had a lot more than just football, but everybody is pretty tight. The facilities are great, the new stadium, and everything is good."
Warner returned to Provo shortly after signing his first pro contract, in part to train and help rehab his younger brother Troy, who is returning from a Lisfranc injury suffered in the back-half of the Cougars' 2017 season.
But management understood; family means more than anything else, they have told him repeatedly.
"With the coaching staff, they are pushing us to be a family a bit more, doing a lot of things together as a team," Warner said. "We're trying to get back to the way we were back in the day when we won championships."
BYU head coach Kalani Sitake said Warner, a third-round pick in the draft, is in the perfect position to thrive at the next level — even as 49ers coach Kyle Shanahan begins to put him through a position change to Mike linebacker.
"The ceiling is way up there," Sitake told San Francisco media of Warner. "He still hasn't scratched the surface in terms of his potential.
"I think the San Francisco 49ers are going to get him in the right position. He's going to make a lot of players. He will be a great general on the field for that defense."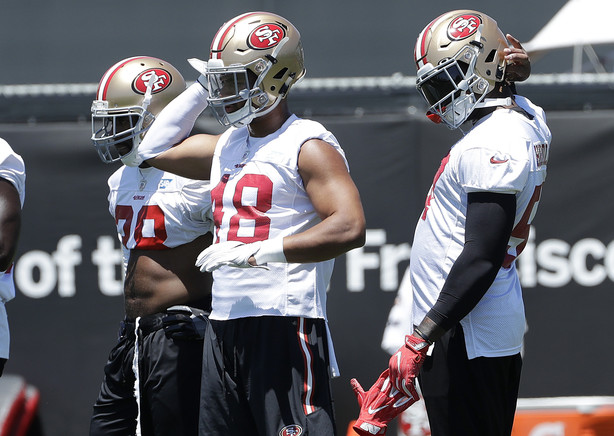 Warner's also got a good friend and shoulder to lean on in the NFL — guys like Williams and New Orleans backup quarterback Taysom Hill have already offered to help him adjust to life in the NFL.
And he may be using that example as he moves through his first preseason.
"The stakes are raised every single week," Warner said. "After training camp are preseason games, and then straight into the season. It's full-go, and I'm looking forward to it.
"I used to think the same way as fans about preseason. … But that's how you make the team. Ultimately, the GM and coaches sit down right before the season, and they are going to look back on the preseason. They don't care what you did in OTAs or practice. They want to see what you did in live action."
×
Photos
Related Stories