This archived news story is available only for your personal, non-commercial use. Information in the story may be outdated or superseded by additional information. Reading or replaying the story in its archived form does not constitute a republication of the story.
COTTONWOOD HEIGHTS — Police are looking for the person, or group, that has vandalized four churches on four consecutive nights.
Since Monday, four churches have had rocks propelled through their front glass doors, possibly with the use of a wrist-rocket, said Cottonwood Heights Police Lt. Dan Bartlett. There is no evidence that the perpetrator has tried to enter any of the churches or steal any property, he said.
Three of the churches have been on Bengal Boulevard, at 2561 East, 2301 East, 2925 East. A fourth is Whitmore Way. All are meetinghouses of The Church of Jesus Christ of Latter-day Saints.
But Bartlett said there isn't enough evidence to call them hate crimes.
"We would need more than this to say it is a hate crime. You would need more than a broken window," he said.
Cottonwood Heights has 18 churches in the city, 14 of them are LDS churches, Bartlett said.
Damage to each church is about $1,000. Bartlett said officers are making extra patrols of every church in the city. But catching someone in the act is difficult, he said, noting that the suspect could be driving by and throwing a rock from a vehicle.
Police are hoping that if a group of juveniles are responsible, that at least one person in the group will do the right thing and step forward.
Anyone with information is asked to call police at 801-944-7100.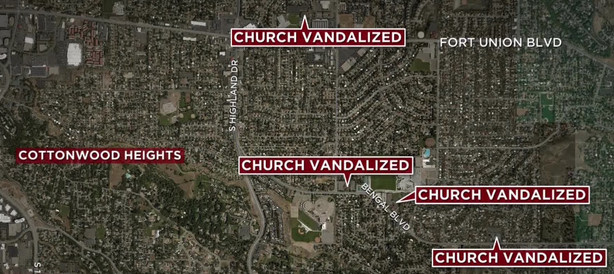 ×
Photos