This archived news story is available only for your personal, non-commercial use. Information in the story may be outdated or superseded by additional information. Reading or replaying the story in its archived form does not constitute a republication of the story.
SALT LAKE CITY — As a result of changes to the Chinese scrap market, 250,000 customers in the Wasatch Front Waste and Recycling District could lose their curbside recycling service.
U.S. recyclers have been stuck paying higher fees for scrap that's not worth as much as it once was.
Over 83,000 homes in Salt Lake County have been served by Wasatch Front Waste and Recycling District. Because of higher fees from its recycling processors, the district's board has considered whether to scrap their curbside recycling program. Since March, the cost to process the recyclables has exceeded the cost of sending them to the landfill.
WFWRD contracts with Waste Management and Rocky Mountain Recyclers to process the contents it picks up from residents' blue bins. Larry Gibbons with Rocky Mountain Recyclers said they face a big problem with new restrictions in China, where the recyclables have been sent.
"It's kind of the perfect storm. We have to slow the machine down, put more people on, and then cut contamination," said Gibbons.
As a result, Gibbons said, Rocky Mountain Recyclers has to charge its customers more to sort their recyclables and ensure the material is clean.
The Wasatch Front Waste and Recycling District Executive Director Pam Roberts said those costs get passed on.
"There are times recently where we've had to pay more to recycle than landfill," said Roberts.
In May, Rocky Mountain Recyclers charged the district $50 per ton to process its blue bins. The district's trucks pick up to 1,900 tons of recyclables per month. In May, it cost WFWRD $32,000 more to salvage the recyclables then trash them. Roberts said the price has climbed since March.
"Is it a technical loss, yes — but there's a loss to garbage," said Roberts.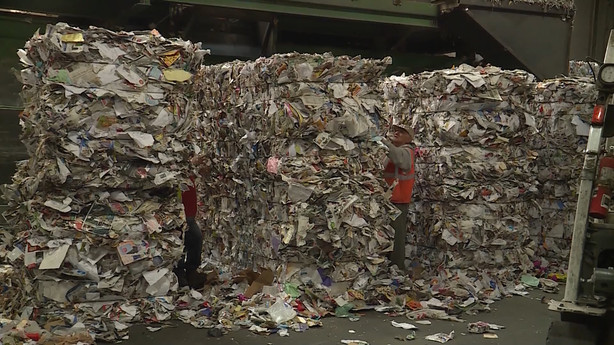 Roberts said the WFWRD board was trying to figure out whether the district will keep recycling. Prices may come down as the processors get better and find new places to send the scrap material. She hoped customers will support keeping the recycling program around.
"Keep the faith and don't panic because the benefits are still there," said Roberts.
Gibbons said Rocky Mountain Recycling plans to improve its processing equipment. He said the company is committed to keep good recyclables out of the dump.
"We're absolutely committed to it and doing whatever we can to help the community make it through the downturn," said Gibbons.
The WFWRD board meets next week. It wasn't expected to make a final decision about the future of recycling for at least six months.
×
Photos
Related Stories