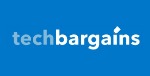 This story is sponsored by TechBargains.
Welcome to TechBargains' Weekly deals featuring the best Father's Day deals: with TVs, kitchen gadgets and of course electronics for dad. Prices and stock are accurate at the time of posting. Act fast because these deals may not last.
49" Samsung QN49Q6F 4K Ultra HD Smart QLED HDTV for $797.99 at Walmart (list price $1299.99). This is a Black Friday price and the lowest price point of entry for Samsung's highly rated QLED HDTVs with Quantum Dot technology. It looks to be a clearance price as the 2018 QLEDs just got released on Samsung's site.
4 Months of Prepaid DirecTV NOW + New Apple 4K TV for $140 at DirecTV (list price $180). You essentially pay an Apple 4K TV included with 4 months of Direct TV Now service. The Apple TV costs $180 and you essentially pay nothing for it. Even if you cancel your service, you can still keep the Apple TV. This is easily the best deals we've seen for the Apple TV>
$100 off the 128GB Apple iPad 5th Gen Tablet for $329 at Walmart (list price $429). If you are planning on traveling and want some off-line movies to bring with you, the 5th Gen iPad 5 is the deal to get. You save over $100 compared to buying the newest 6th generation and only miss out on Apple Pencil support and an updated processor. If you surf the web, watch movies and play the occasional game, you won't even notice any difference and saving on capacity if the better value for you. If you need something smaller, the Apple iPad Mini 4 128GB is available for $299.99 as well.
Ultimate Ears MEGABOOM Wireless Bluetooth Speaker for $119.99 at Dell Home (list $249.99) These MegaBoom speakers are great for picnics and BBQs. They can get produce big sound without distorting, which is really what separates these UE Boom speakers apart from generic $20 speakers you can get on Amazon. If you have a big party coming on you can chain 50 of these together for wireless sound everywhere.
Panasonic FlashXpress Toaster Oven with Double Infrared Heating for $97 at Amazon (use code: Clip $10 Coupon - list price $139.95). This is one of the best toaster ovens under $100 and has over 2,000 Amazon reviews behind it. Heats up super fast with a double heating element and looks pretty nice on your kitchen countertop. We own one and love it for pizza and quickly roasting stuff without heating up the big oven.
Amazon Echo Show 7" Touchscreen with Alexa (Black or White) for $149.99 at Amazon (list price $229.99). This is one of the lowest prices we've seen on the Echo Show. Check the time, make video phone calls or check your surveillance cameras all powered by Alexa. Especially useful in the kitchen or next to the bed.
Frigidaire 5,000 BTU 115V Window-Mounted Mini Air Conditioner for $111.99 after Clippable coupon at Amazon (list price $149.99). This deal is back in stock! If you missed out last week this deal is now back for the best price we've seen on this on this highly rated 5,000BTU AC unit. We encourage you to buy now as it is the best price we've seen and about $40 off the list price elsewhere.
30% off 23andme DNA Ancestry Kit for $69, Genetic Health Report $139. Father's day is just around the corner and Amazon is again offering 30% off their DNA Kits. The Genetic health report is more popular DNA kit as it tells you more about how your genetic relates to the traits you have, health risks and carrier status for carrying some genetic diseases.
Panasonic ES-LA63-S Arc4 Men's Electric Razor for $83.82 at Amazon (Clip $11 Coupon - list price $94.82). This is a top rated electric shaver from Panasonic and a Father's day special. It has 4 cutting blades honed at 30-degrees angles that can make up to 14,000 cuts per minute. Needless to say, it delivers a close shave and cuts well across the hard to shave chin and jaw. We own one and have used it for over 5-years and are pretty pleased with how close it shaves. How often can you say your electronics has lasted more than a few years nowadays.
×