UPDATE: Police on Saturday said Oakley resident West Walker, 34, was the driver of the pickup truck involved in the crash.
---
MILLCREEK — A Murray-based social worker was killed and five others were injured, three critically, after a pickup truck crashed into a Starbucks Friday morning, authorities said.
Three patrons were sitting at patio tables outside of the coffee shop, located at 4744 S. Highland Drive, when they were struck by the truck shortly after 9:15 a.m, Salt Lake County Sheriff Rosie Rivera said.
"This is just a tragic situation. We do not believe that it was an intentional act," she said. Rivera added the driver may have suffered a medical issue prior to the crash, but it remains unknown what caused the crash.
"It could have been intentional, but we don't see any signs right now that it was," Rivera said.
Unified police said Joslyn Nicole Spilsbury, 48, of Salt Lake City, died after she was struck.
Various white pages listed Spilsbury as an independent clinical social worker who worked with people 16 or older. Her office was located in Murray, according to the listings.
According to her LinkedIn page, Spilsbury worked in the trade for more than 20 years and specialized in grief and trauma.
Unified police said Spilsbury's family described her as a "kind, loving woman."
Two others who were sitting at the coffee shop were critically injured, Rivera added. The 34-year-old male driver of the truck was also taken to a hospital in critical condition after he was extricated from the vehicle.
Two children inside the vehicle, a young boy and a young girl, suffered minor injuries and were transported to a hospital by their mother when she arrived on the scene, Rivera said. Both were children of the driver.
Rivera said one of the children was transferred to Primary Children's Hospital late Friday morning. The child's condition was unknown.
The driver of the truck was from Oakley but Unified police did not release his name. The names of the children and the others struck outside of the coffee shop were also not released.
Unified police Investigators were still piecing together what caused the crash throughout the day. The strip mall where it happened, at the border of Millcreek and Holladay, is filled with businesses and police were searching to see if they could find any surveillance video that could give a clearer picture of what happened.
Witnesses told police they saw the truck traveling from east to west on Sycamore Lane at a high rate of speed. It passed by a Subway restaurant across the street from the Starbucks before it hit a curb and rolled, coming to a stop by a building pillar, Rivera said.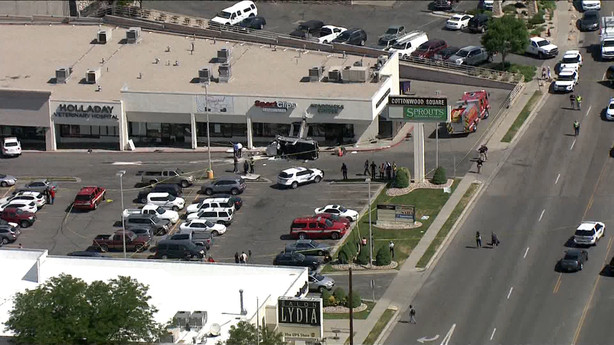 Police initially said the truck was traveling south on Highland Drive before it crashed and rolled.
The driver, while injured, was able to communicate with first responders, Rivera said. She added authorities hoped to interview the man about what happened before the crash.
Bystanders helped comfort the children while emergency crews worked to extricate the driver and provide aid to those injured.
"They had some stuffed animals with them and they were just trying to keep them calm before mom got here," Rivera said.
Highland Drive was closed in the area for several hours and was later reopened Friday afternoon
The Starbucks and a neighboring Sport Clips were also shut down after the crash as building inspectors assessed the damage.
Rivera asked anyone who may have witnessed the crash to call the Unified Police Department at 801-743-7000 to help investigators piece together what happened.
Contributing: Sean Moody, KSL TV; Mary Richards, KSL Newsradio
Editor's note: An early version of this article said five people outside of the vehicle were critically injured, but only three were critically injured and one person died from the injuries.
×
Photos