This archived news story is available only for your personal, non-commercial use. Information in the story may be outdated or superseded by additional information. Reading or replaying the story in its archived form does not constitute a republication of the story.
SALT LAKE CITY — After a spate of drownings and near-drownings in the past week, several water safety experts are reminding people of the need for vigilance around pools.
On Tuesday, a 4-year-old girl was found in the bottom of a swimming pool in West Valley City. A neighbor pulled her from the water and she was revived, but taken to the hospital in extremely critical condition.
The child from the near drowning yesterday has been upgraded to stable condition. pic.twitter.com/14bXcg6YZm

— WVC Police (@WVCPD) June 6, 2018
On Sunday, a 3 1/2-year-old girl in Riverton was found unconscious at a neighbor's pool. She died at the hospital. In a separate weekend incident, a 3-year-old girl was transported to the hospital after nearly drowning in a Jordan Hills swimming pool. She was later released.
Drowning is the third leading cause of unintentional injury-related death among children in Utah, according to the Utah Department of Health. The department says just under half of child drownings in Utah happen in open bodies of water, such as rivers, lakes, streams and reservoirs. Thirty percent occur in a pool, with the majority of these involving children younger than 8. Bathtubs account for 19 percent of drownings, mostly infants under a year old.
According to the heath department, nationally, two-thirds of fatal drownings occur between May and August.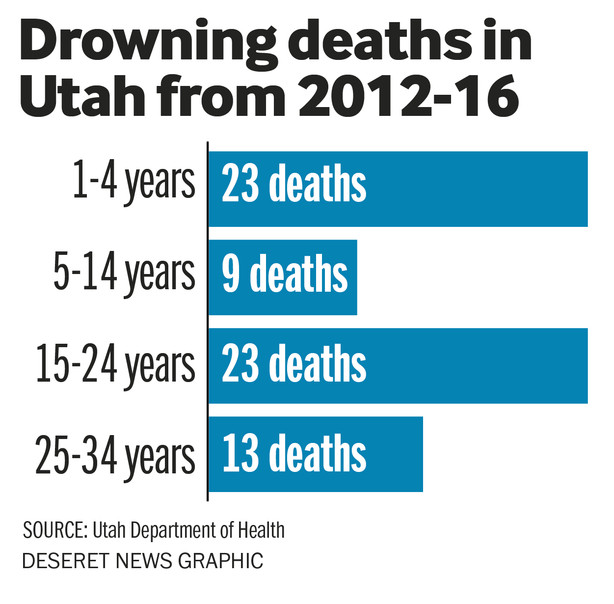 Cambree Applegate, director of Safe Kids Utah, said the most common child drowning situations the organization sees this time of year is toddlers wandering off and falling into water.
"Make sure you're aware of any water sources that might be around and you're supervising your kids," Applegate said.
Applegate said one of the things Safe Kids Utah emphasizes is having a designated water watcher at family gatherings.
"You can take turns, but all they're doing is watching the kids around the water and making sure they're OK," she said. "This person is not distracted on their phone or talking. We find that supervision is key."
Applegate also brought up that not all drownings happen during summer activities like pool, lake or beach outings.
"Especially around the house, drowning can happen in as little as an inch of water," she said, listing kiddie pools, bathtubs, sinks and even toilets as potential drowning dangers.
Watch these tips to be pool ready this summer - for safety at least.

Go to https://t.co/h0pRXNe4O3 to learn more. #watersafetypic.twitter.com/0NhiGqveM2

— Safe Kids Worldwide (@safekids) June 4, 2018
Erin O'Connor, a certified infant swimming instructor in Utah, says kids are drawn to water at a young age.
"They don't understand the consequences of getting into the water by themselves," she said. "If they've been safe in the water with a floatie, they're not going to hesitate when they're on their own to jump in the water."
O'Connor said she highly discourages letting kids use flotation devices, and pointed out that the 3-year-old in Jordan Hills nearly drowned when she went back into the water after spending the day swimming with a flotation device.
"The reason I discourage these is they give the child and parent a false sense of security," she said. "It also puts their bodies in the exact drowning position, which is vertical."
O'Connor listed three necessary layers of defense to keep children safe from drowning in pools: constant supervision, pool fences and alarms, and teaching a child how to rescue themselves.
"You don't need constant distractions," she said. "If you're going to the pool, just bring yourself and your kids and have them at arm's length at all times, even if there is a life guard present. Get in the water with your kids as much as possible, and get them comfortable with holding their breath and getting water in their face."
Maple Jones, aquatics director at SwimKids in Holladay, also emphasized the need to keep an eye on youngsters.
"Some kids will wander off, they'll find access, and they'll just want to jump in because they are confident and it looks fun," she said.
Jones said even at swim classes she's seen kids get excited and jump into the pool early, going underwater and having to have an adult help them out.
"But if there's not an adult close by, in just two seconds the child can be in danger, so they have to have very close adult supervision," she said.
Did you know, when a child is drowning, there is usually no noise? https://t.co/jULV4m1Dyb

— Safe Kids Utah (@safekidsutah) May 30, 2018
Jones advised parents to practice swimming safety at home with their kids, even if their kids are in swimming lessons, especially the simple move of turning on their back and floating.
Suzanne Silon, who's had all four of her kids take lessons at SwimKids, said her family likes to go swimming together often and they wanted to be able to do that activity as safely as possible.
"We decided that at a pretty early age it's important for them to be safe around the water," Silon said. "It's a really important life skill. Also, it's just a good thing for them to feel comfortable with."
How safe are your kids in and around water? Take a few moments to read through this checklist to help protect your children. #watersafetyhttps://t.co/vXul3eK5jnpic.twitter.com/nmbXlBINMu

— Safe Kids Worldwide (@safekids) May 26, 2018
×
Photos
Related Stories