SALT LAKE CITY — On the day he was named athletic director at the University of Utah in 1987, Chris Hill promised the Utes would do "a lot of exciting things" in his tenure.
As he walked out of his office Friday during his last day, 31 years later, the promise rang true.
On his final day on The Hill, when the athletic director of three decades boarded the big red bus that normally takes Ute athletic teams to the NCAA Tournament, the 68-year-old Hill reflected on his time leading the state's flagship public university.
He also stopped to wonder what was next.
"There are a lot of things that are out there," Hill said. "But I want to take a breath—do the classics, like spend more time with family and friends, go outdoors, maybe do some consulting. But there will be other opportunities.
"I want to keep active and keep my finger in the business—maybe give back to the community. But I don't know what those are yet."
For the first time in his adult life, Hill won't have a schedule to follow when he wakes up Monday morning, or a contract to renegotiate, or a fire to quench.
"I think I'm going to get up and figure out what is nice that day," Hill said. "I guess I can do whatever I want—unless Kathy has some chores for me."
Although he's leaving the department in the capable hands of new athletic director Mark Harlan, his departure has had its difficulties. Nevertheless, Hill simply stated that "it was just time" to step aside.
"It's hard. Even talking here, it's hard," Hill said. "But it is what it is; it has to happen sometime. It's tough. But it should be. It's been great."
A former college basketball player at Rutgers, Hill was a graduate assistant at Utah for a year before and spent five seasons as a coach at nearby Granger High.
He moved into athletic administration in 1985 as the director of the Utes' Crimson Club. Just two years later, at age 37, the university chose him to oversee the athletic department.
His tenure saw him take the Utes through three conferences, into college athletics' elite as expansion members of the Pac-12 and into being hosts with Salt Lake City for the 2002 Winter Olympics. Over time, his teams competed in NCAA Final Fours, BCS bowl games, and won conference and national titles—most prominently in skiing and women's gymnastics.
But the best thing about his job was always the people, Hill said.
"The juice and the energy that's around here, being part of a team," he added. "We live and die on the weekend as a corporation, and come into work on Monday while living the Utes.
"Being around young people is just ridiculously fun."
Life with the Utes wasn't always rosy, either. Hill admits he made mistakes—suspending the annual rivalry game with BYU in football and men's basketball was certainly one of them.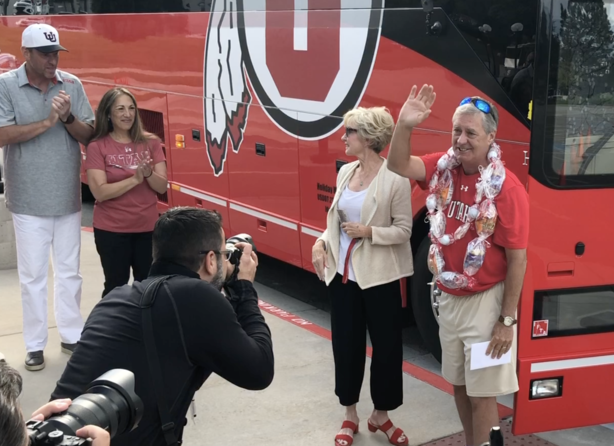 The university was also shrouded in at least one major scandal under Hill's watch, when allegations of sexual abuse committed by former Utah swim coach Greg Winslow were uncovered by Yahoo! Sports in 2013.
"We've made mistakes, and we didn't want to do it," Hill said. "But we have to move on. In this business, you can't have a rearview mirror. You have to move on."
Through it all, Hill handled the bad times in stride and also led the Utes into prosperity, with stadium expansions, practice centers and facilities to match any other major college sports program in the Western United States.
Hill's fondest memories are the people with whom he's worked. His greatest accomplishment, though, is the culture he said was created in his time on The Hill.
"The culture is smart, plays hard and isn't afraid of high expectations," he said. "We set our expectations hard, and if we succeed, great. But if not, we dust ourselves off and move on."
×
Related Stories