This archived news story is available only for your personal, non-commercial use. Information in the story may be outdated or superseded by additional information. Reading or replaying the story in its archived form does not constitute a republication of the story.
AMMON — One local boy was close to never being able to ride a bike again after he fell out of a window.
However, after what his family terms a miraculous recovery, Nick Ohngren will be able to enjoy a new bike given to him by his 10-year-old neighbor, EastIdahoNews.com reported.
Six-year-old Nick fell out of his bedroom window last Sunday afternoon and landed head first onto his concrete patio. His mother, Holli Ohngren, says he was playing in his window after he was told to go to his room and get dressed for his sister's birthday celebration.
"He had dug just out a center of the cake and so (my husband) sent my daughters to go and look for him so that we could talk to him about getting into the cake and … they were the ones who found him on the back patio," Ohngren says. "He had fallen 15 feet onto the concrete pad."
At first doctors at Eastern Idaho Regional Medical Center told Nick's parents the outcome may be grim.
"I think that they anticipated that he wouldn't make it, and they thought that he was going to have to have emergency surgery," Ohngren says.
However, after being transferred to Primary Children's Hospital in Utah, Nick is making a miraculous recovery.
Related:
"The doctors have told us that he basically has a giant concussion," Ohngren told EastIdahoNews.com.
Nick sustained four fractures to his skull, bruising on his brain, minor spine fractures, and a swollen left eye. Thankfully, his parents say, he did not need any major surgeries and his body will be able to make a full recovery on its own.
"He's a lucky boy," Ohngren says.
Still, it was an experience that has left those around Nick shaken — including Evan Jones, a neighbor and fellow fourth-grader at Rimrock Elementary. After he witnessed Nick being taken away on a stretcher, he had been thinking of how he could help.
The bike
While Nick was recovering, Rimrock Elementary held an awards ceremony Wednesday for its annual bicycle challenge. Each May, students are encouraged to do a bike challenge for three weeks, Principal Steven Cziep says. If students ride their bikes to school 12 out of 15 days to school, they are entered to win a new bike from Bill's Bike and Run.
Evan won the bike.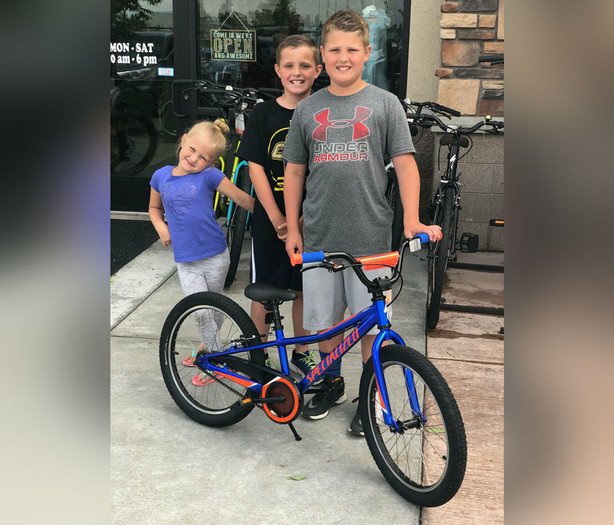 Evan says he often saw Nick outside riding his bike, even when it was cold or raining. The pedals broke off his bike recently, so he has been riding his sister's big bike.
"I have been thinking about Nick a lot since the accident on Sunday, and it made me feel really good to be able to do something that will put a smile on his face when he gets home," Evan says.
"He selflessly gave his bike away without a second thought, it was almost immediate that he told somebody that he didn't want the bike," Cziep says. "I think that was amazing and an extraordinary thing to do."
Evan's mom, Candace Jones, says she was impressed by Evan's example.
"Sometimes our children teach us some of life's greatest lessons," Jones says. "Being kind and thinking of others is something we strive to do. We are grateful for the loving example Evan set for us."
Employees at Eastern Idaho Credit Union and Bills Bike and Run were inspired by Evan's story and wanted to continue to pay it forward.
"After he gave his bike away, they provided him another one," Cziep says. "And it was the employees at East Idaho Credit Union — it wasn't the bank itself. The employees put together the money to help pay for that bike for Evan."
To donate to Nick's family go to their GoFundMe* page.
*KSL.com does not assure that the monies deposited to the account will be applied for the benefit of the persons named as beneficiaries. If you are considering a deposit to the account, you should consult your own advisors and otherwise proceed at your own risk.
×
Photos
Related Stories