Estimated read time: 3-4 minutes
This archived news story is available only for your personal, non-commercial use. Information in the story may be outdated or superseded by additional information. Reading or replaying the story in its archived form does not constitute a republication of the story.
SALT LAKE CITY — On average, about two to three tornadoes touch down in Utah each year, according to KSL meteorologist Kevin Eubank — which is why the documentation of three tornadoes in the same day Monday was quite abnormal.
In all, KSL meteorologists were able to confirm through viewer photos that three tornadoes touched down in Utah on Memorial Day. One touched down at Strawberry Reservoir as a waterspout before moving to land, another was south of Cedar Fort, and a third was reported near Snowville.
There was also a funnel cloud spotted near Snowville less than two weeks ago.
Though each tornado Monday was believed to be EF-0 on the Enhanced Fujita scale — the weakest in strength — what's the deal with all the tornadic activity in Utah, and is it a sign for what's to come?
The answer to that is a little complicated. Monday's storms appear to be a result of a low-pressure system moving across the state and lift caused by a warm month, Eubank said.
"In order to get a tornado, you need shear. You need wind flows moving in opposite directions, which create a twist," he said. "When you get a low pressure like the ones we've had over the past few months that linger, you get lots of opportunity for shear … and so, yes, in almost all of these storms we've had reports of funnels, reports of tornadoes, and then this waterspout yesterday."
Utah residents may have noticed a difference in storms over the weekend, as well. The storms traveled from east to west instead of west to east like most Utah storms do. That's due to the low-pressure system, Eubank said.
"A lot of our storms come through with an actual front, and they typically come from west to east. But when you get a low pressure that's circulating counterclockwise, where that low goes will determine your flow," he explained. "When that low gets right on top of us, we can get an east-to-west flow."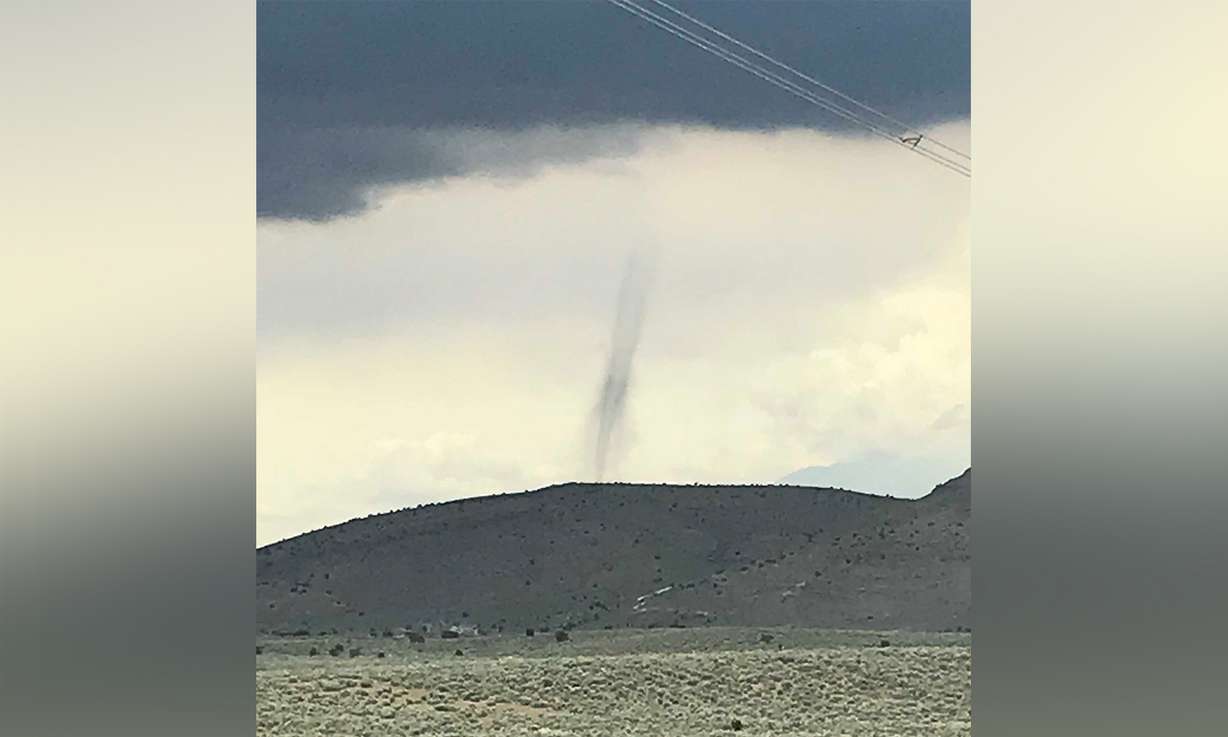 With two to three tornadoes on yearly average since 1950, Utah is one of rarer states in the U.S. where tornadoes occur. In all, about 1,200 tornadoes hit the country each year, according to the National Severe Storms Laboratory.
May and early June are typically known as "tornado season" for the southern portion of the Great Plains, an area known as Tornado Alley. For Utah, the tornado season is typically closer to August and into September, Eubank said. For example, the memorable 1999 Salt Lake City tornado touched down on Aug. 11 that year.
"May is a little early," Eubank said. "I think that's because of these low pressures. The way that these low pressures are circulating around Utah, they're conducive to creating that shear or that atmospheric rotation and that's what you get."
That said, it's not exactly an indicator more tornadoes will touch down later this year for an above-average year. If anything, Eubank said he expects the number could rise if the future thanks to more spotters able to document storms passing through rural Utah.
"Now, with our technology and our ability to communicate, we can document so much faster," he said.
×
Related Stories