OREM — Jordan's attempt at the Class 5A state baseball title didn't get off to a great start, though you wouldn't know it by looking at the box score.
The Beetdiggers had just one run with two outs in the bottom of the first, and head coach Chad Fife was certain his squad would need to do more offensively to get past Olympus, which was playing in the championship game after six-straight wins in the loser's bracket.
But outs have never mattered to Jordan's bats.
Hunter Swapp went 3-for-4 with a triple, an RBI and two runs scored, and the Beetdiggers scored seven runs on two outs in the bottom of the first, to cruise to an 11-1 win over Olympus in five innings at the Class 5A state baseball championship Friday at UCCU Ballpark on the campus of Utah Valley University.
"We've all been hitting the ball pretty solid," said Jordan catcher Noah Bachman, whose three-run homer in the first highlighted two-out breakout. "The outs don't really mean much to us. We were just trying to hit the ball hard, and get on base."
The Beetdiggers (24-6) won their 18th-straight game, including five-straight in the postseason, and haven't lost since dropping two-of-three to Cottonwood on April 11.
Jordan pushed its lead as high as 10-0, and starting pitcher Gage Edwards did the rest by limiting the Titans (29-4) to two hits with five strikeouts and five walks.
"He's a very intense player, and we knew he just had to keep his wits about him on a big stage," Fife said of Edwards. "He did a really good job of that. He tends to get pretty hyped up, but he controlled his emotions really well today."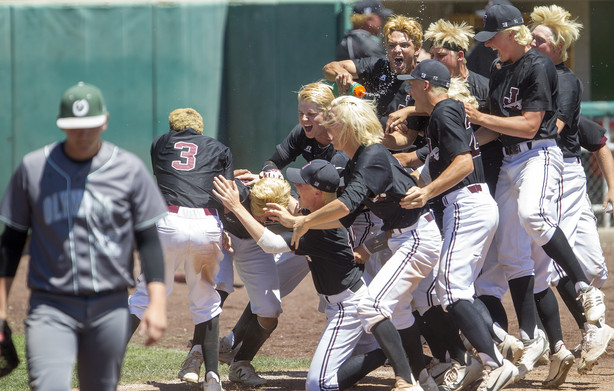 Drew Jones was 2-for-2 with a walk, two RBI and a run scored.
Jordan jumped out early with an eight-run first inning, including seven runs with two outs in the bottom of the frame. Jones pounded out a two-run single to start the rally, and Bachman's three-run shot on a 2-2 count gave Jordan a 7-0 advantage in the bottom of the order.
"I got down with two strikes, battled back, saw some pitches and put a good swing on it," Bachman said. "We've been hitting the ball pretty good, so it was a big deal for us to get up on them early."
Olympus catcher AJ Affleck went yard in the bottom of the fifth with a solo shot over the left-field wall that put the Titans on the board and prevented the shutout.
But the big hit only delayed what appeared to be inevitable, as Noah Hemmings scored Swapp with a sacrifice fly to right-center field that gave the Beetdiggers the walk-off win and their first state title in four years.
"It was everything we could have ever dreamed of," Bachman said after the celebratory dog pile on home plate. "It was awesome."
CHAMPS 🏆 @BeetdiggerBB builds up 8-0 first to cruise to 5A state title. https://t.co/LeljwkT6iDpic.twitter.com/UveCOEqwnW

— KSL SportsBeat (@kslsports) May 25, 2018
Olympus won six-straight elimination games, battling back from a 6-2 loss to Bountiful in the opening round to knock off Skyridge in Wednesday's loser's bracket final and earn a spot in Friday's championship.
But the Titans' run ran out of gas against the close-knit Beetdiggers.
"They're just family," Fife said of Jordan. "There are a lot of good kids on this team, and a lot of college players, but keeping them together is what finally got them on the same page — and they just went crazy the last few weeks.
"We were rolling."
×