CENTERVILLE — Investigators on Thursday released dramatic video of a Utah Highway Patrol trooper fatally shooting a Bountiful man on the Legacy Parkway following a chase near a parade route on July 4.
The trooper who shot and killed 32-year-old Cody Ray McCray was acting on information that McCray wanted to die in a confrontation with police, investigators said Thursday. UHP Sgt. Chamberlin Neff believed McCray was trying to use a car as a weapon when it moved rapidly several times, said Centerville Police Chief Paul Child.
"These decisions have to made on available information to us at the time," Child said.
Child's agency led an investigation into whether the deadly force was justified. After reviewing the probe, Davis County Attorney Troy Rawlings said last week that he won't file criminal charges against Neff.
The dash and body camera video show police cars doing pit maneuvers, knocking a red car into the median. Police say McCray used the stolen car to lead police on several chases early in the morning, then proceeding onto Legacy Highway. Officers' concerns intensified as parade crowds grew nearby.
After officers had surrounded the vehicle, video shows the car's wheels spinning as it attempts to drive away, kicking up dirt and sparking a grass fire. A short time later, three officers are shown drawing guns, with another officer equipped with a police dog nearby.
An officer shouts "Show me your hands!" and "Get out of the car!" multiple times, but the car's doors remain closed. At one point, McCray's arm appears to be raised from inside the red car before the vehicle moves rapidly in reverse.
Child said the car started to move again at one point, and that's what prompted Neff to fire.
Three shots in a row are heard, followed by a short pause and another gunshot. Three rounds hit McCray, who died at the scene, Child said. Neff was not wearing a body camera, Child said.
Related story:
McCray's car appears stopped when Neff fired in one recording, but Rawlings in the letter announcing his decision last week said video taken from other angles shows the car moved aggressively at the time shots were fired.
Rawlings determined McCray "put life and property at risk over a significant period of time by a prolonged chase, parts of which were within residential city limits," according to a May 16 letter announcing his decision.
Childs on Thursday said the officers used restraint and were trying to protect the public. An autopsy showed McCray had cocaine and morphine in his system, he added.
"We don't know what Cody McCray was thinking in his head, but in this day and age, we know that cars are being used as devices to kill people at large gatherings, so that was a concern of ours. We didn't know what lengths he would go, to do what he apparently wanted us to do. That was a big concern. It was something we could not ignore and we needed to try to stop," Child said.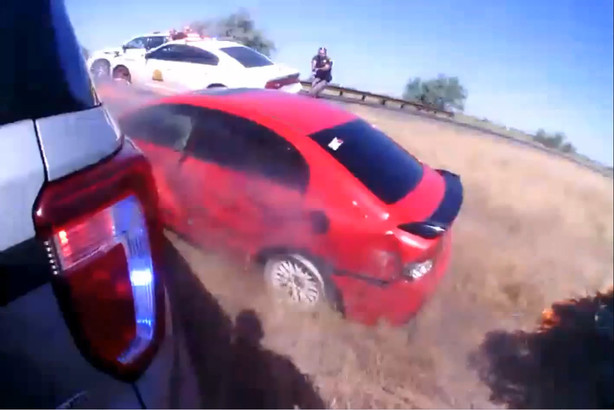 He said someone who knew McCray had told police that he was seeking to die in a confrontation with police, but did not provide details.
The probe that took several months considered the footage, along with interviews with the responding officers, witnesses and those who knew McCray, Child said.
"Hundreds of hours were expended on this case," he said.
The videos released Friday are a sampling of a total of 55 hours of video that were gathered, Child said, with most of the footage capturing time after the shooting.
Contributing: Paul Nelson
×
Photos
Related Stories