SALT LAKE CITY — For the first time in 15 years, thousands of petroleum geologists and other experts from around the globe met in Salt Lake City to discuss the latest technological advances, the state of the industry and what the future holds.
The annual convention and exhibition of the American Association of Petroleum Geologists convened Sunday and continued through Wednesday at the Salt Palace Convention Center, featuring an array of vendor displays, exhibitions and even towering dinosaur replicas.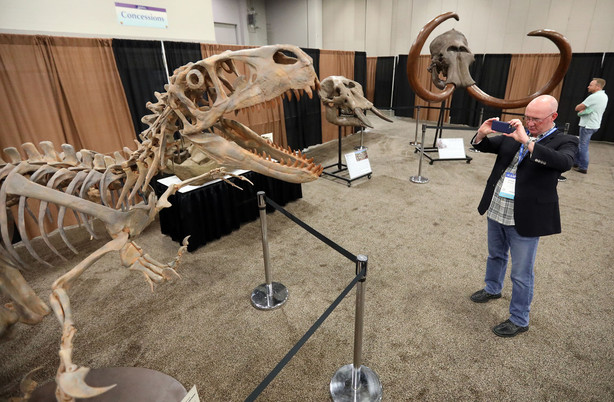 One such display included the public debut of boxes upon boxes detailing the layers of a 1,600-foot core sample capturing nearly the entire depth of the Green River Formation — which holds the world's largest oil shale deposit in the world. It occupies portions of Utah, Colorado and Wyoming.
Company executives and government representatives from dozens of countries attended this year's event, including Senegal, China, Saudi Arabia, the United Kingdom, Madagascar and Ireland.
Katie Hernon, from Ireland's petroleum affairs division, was staffing one of the international booths and explained the country's involvement in off-shore drilling for natural gas.
The North Celtic Sea Basin has been producing gas since the 1970s, while production has been happening off the western coast since 2015.
The country is looking for ways to tap into the huge continental shelf in the waters off Ireland's coast, which is 10 times the size of the land mass of the entire country.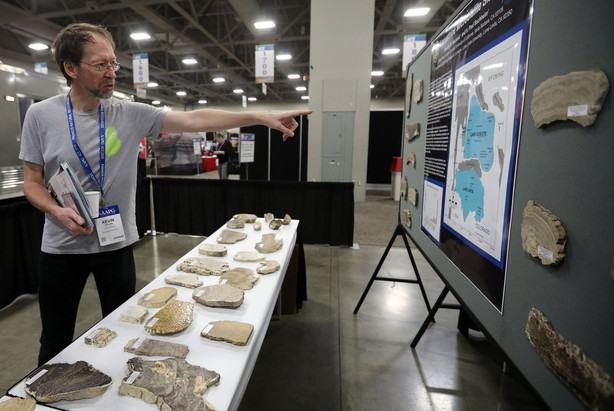 Michael Vanden Berg, of the Utah Geological Survey and local chairman for the convention, said the event is a way to highlight Utah's unique and diverse geology. Hundreds of participants took advantage of 13 field trips offered as part of the convention, including excursions to Utah's national parks, the San Rafael Swell, the Book Cliffs region, Henry Mountains and the Great Salt Lake.
Vanden Berg said all the trips were booked to capacity.
The convention recognized Utah geology teacher Deborah Morgan, from South Sevier High School in Monroe, as the foundation's teacher of the year. The award is bestowed each year to a K-12 teacher in the United States who has demonstrated outstanding leadership in the field of geoscience education.
About $3.7 million will be generated from the convention, according to organizers
×
Photos