SALT LAKE CITY — Every weekday, two or three people work in one small kitchen to offer healthy breakfast, lunch, snacks and dinner to about 230 children from low-income families.
That kitchen is in Neighborhood House, an affordable day care center in Salt Lake City for children and adults who need daytime supervision.
The food served there adds up to about 100,000 meals every year, according to Kabi Catalano, development director for Neighborhood House.
"We have examples of kids who have come in, and they actually hoard food because they aren't getting their needs met at home. And we've had to work with them and help them learn that, you know, we're going to feed them every single day," said Jennifer Nuttall, executive director of Neighborhood House.
On Tuesday, Neighborhood House was recognized with a Highest Honors in Menus Award. The recognition is given to child care centers that work to improve the nutrition of children in their care.
Utah's Child and Adult Care Food Program, a federally assisted meal program, gave Neighborhood House the award after tracking the healthy food served to children at the center for a week.
The organization goes "above and beyond" in its meals, according to Devon Parcell, coordinator for the Child and Adult Care Food Program.
Kids ages 15 months to 12 years old attend the center's programs. Neighborhood House also feeds the adult "grandparents" who volunteer through the Salt Lake County Aging Program, employees at the center and adult clients, most of whom are elderly, Nuttall said.
The center's clients pay tuition on a sliding fee scale based on income. Sometimes, clients aren't asked to pay anything "if somebody's struggling … until they re-stabilize," Nuttall explained. Most of Neighborhood House's funding comes from donations and grants, she said.
Neighborhood House, 1050 W. 500 South, is in the most "economically depressed" area of Salt Lake City, Catalano said.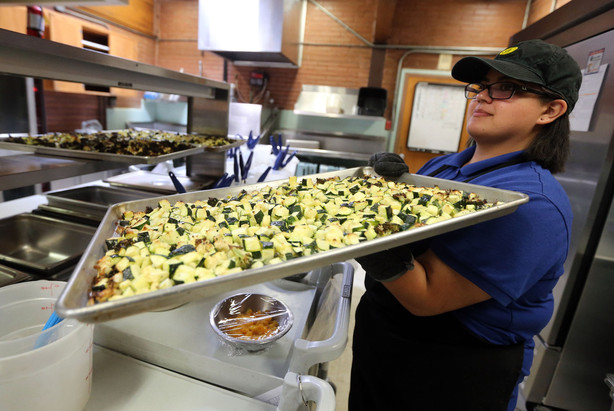 Though the Beehive State is near the U.S. average in its number of people experiencing food insecurity, according to the U.S. Department of Agriculture, there are still hundreds of thousands of people in the state who are hungry.
About 382,000 people in Utah — many of them children — are experiencing food insecurity, according to Feeding America, a nationwide network of food banks. Forty-four percent of Americans on the Supplemental Nutrition Assistance Program are children, according to the USDA.
"Sometimes, at centers like this, it's the best meals that (children) get for the day," Parcell said.
About 20 children who attend the day care center do experience food insecurity, Nuttall said. The center partners with Kids Eat to send those children home with backpacks filled with food to make sure they have something to eat over the weekend.
She says that though the center offers other things like preschool and field trips, families tend to be most grateful for the food.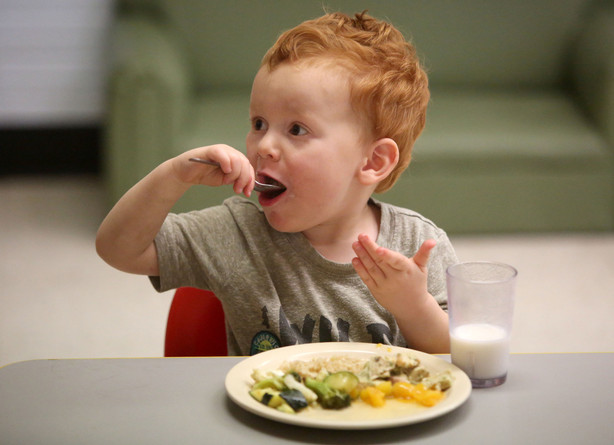 "And I think that's really indicative of how important it is that they're getting those nutritious meals every day, and that their family doesn't have to worry about that," Nuttall said.
"We have a kitchen that's very small, and it was built in the 1960s. And they still do amazing things in there, and I attribute that very much to our chef, Danielle," she explained.
Danielle Jones, the kitchen manager lovingly called "chef" by Neighborhood House staff, oversees all the menu planning, food purchasing and meal preparation, as well as soliciting donations for the center.
Jones joined the center about a year ago and has since "revolutionized the place," Catalano said. She is helping the children at Neighborhood House learn to love healthy food, the development director explained.
"She's super sneaky about giving them vegetables," Catalano said.
Proof of Jones's success showed through in the kids' enjoyment of Tuesday's healthy lunch.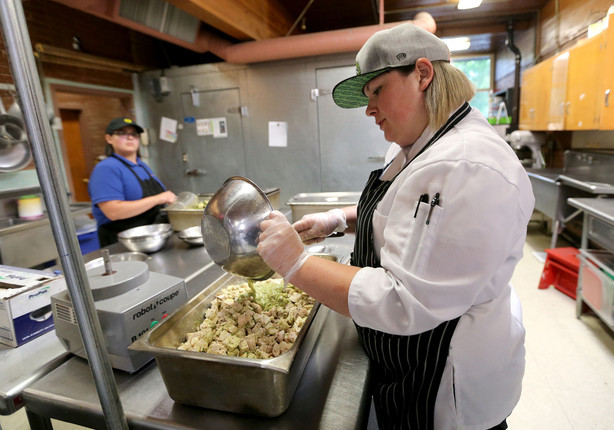 As 2- and 3-year-olds at Neighborhood House ate their chicken, rice and vegetables, the green vegetables that Jones had spent the past hour or so preparing disappeared from their plates almost immediately.
One little girl even asked, "Can I have more broccoli, please?"
"It's awesome. It's so cute, the toddler classrooms have the cutest kids. They don't judge (food) by its looks at all. They're just hungry … and they're all so happy to see you when you walk in. It's a lot of fun," the kitchen supervisor said of her job.
Neighborhood House is raising funds for a new building that will allow it to help 100 more families, the executive director said.
For more information, visit Neighborhood House's website, nhutah.org.
×
Photos