SALT LAKE CITY — Here are 10 stories you may have missed this weekend. As always, click on the headline to read the full story.
1. LDS Church rededicates Jordan River Temple following 2 years of renovations
Thousands of members of The Church of Jesus Christ of Latter-day Saints took part Sunday in the rededication of the Jordan River Utah Temple. President Henry B. Eyring, second counselor in the church's First Presidency, delivered the dedicatory prayer in three sessions, which were broadcast to LDS chapels throughout the south end of the Salt Lake Valley.
2. Cyclists tried to scare cougar but it attacked, killing 1
The two mountain bikers did what they were supposed to do when they noticed a mountain lion tailing them on a trail east of Seattle. They got off their bikes. They faced the beast, shouted and tried to spook it. But it wasn't enough, authorities said.
3. Trial ordered in abuse death of daughter described as 'holocaust victim'
A couple has been ordered to stand trial on an aggravated murder charge in the abuse death of their daughter, who was found so malnourished and neglected she was compared to a holocaust victim.
4. Maple Mountain High yearbook page called 'prank' and 'mistake'
Students at Maple Mountain High School had some pretty strong words to describe the Red Devils at Springville High School in their yearbook this year.
The page contained a word cloud in the shape of Springville's logo, with one-word descriptions of the school under the heading, "Describe Springville." Words included "snobby," "egotistic," "stupid," "lame," "satanic," "trash," "annoying" and more.
5. A royal wedding bridges the Atlantic and breaks old molds
The son of British royalty and the daughter of middle-class Americans wed Saturday in a service that reflected Prince Harry's royal heritage, Meghan Markle's biracial roots and the pair's shared commitment to putting a more diverse, modern face on the monarchy.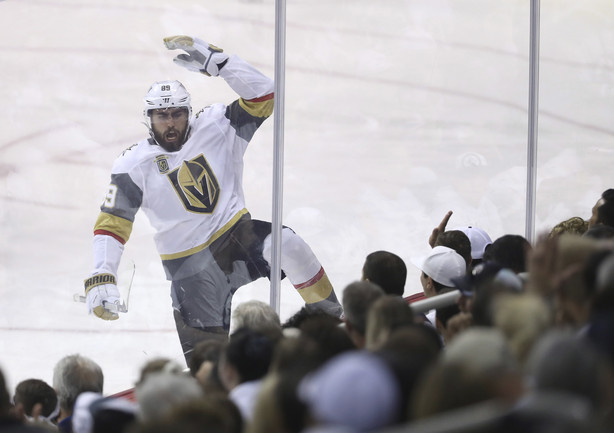 Sports
1. Expansion Vegas Golden Knights advance to Stanley Cup Final
The Vegas Golden Knights are going to the Stanley Cup Final — with a chip on their shoulder.
2. Dixie edges Desert Hills for 4A baseball title; Gunnison breaks 39-year drought with 2A softball title
Kayler Yates drove in the only run of the game in walk-off fashion, and Dixie won its second-straight state title 1-0 over Desert Hills at Dixie State.
3. Park City pulls off Miner sweep with top-division titles in boys, girls lacrosse
Dylan Bauer scored four goals, and Black's second-half marker helped the Miners hold off Brighton 7-6 for their first state title in four years.
4. Union rout Real Salt Lake 4-1
Marcus Epps and Borek Dockal scored in the first half and the Philadelphia Union added two more in the second to beat Real Salt Lake 4-1 on Saturday night.
5. Tymrak's goal helps Utah Royals end homestand with 1-0 win over Houston
First start. First goal.
And three points for Utah Royals FC.
Erika Tymrak scored her first goal in a Utah shirt, and the Royals ended a four-match homestand with a 1-0 win over the Houston Dash in front of 8,323 fans Saturday afternoon at Rio Tinto Stadium.
×