SALT LAKE CITY — Delilah Grace Merrill lived just one day, but her father believes she is the reason her brother and sister are able to live healthy and happy lives.
It took the loss of one baby for Christina Merrill to be enlisted in a research study that kept track of her more closely during the following pregnancies.
"It's amazing to me that somebody so little could make such an impact in so many lives," said Gary Merrill, of Sandy, who continues to celebrate the short life of his first-born daughter who was born and died 11 years ago.
"She was the first domino."
He and hundreds of other Utahns honored the lives of many little ones during the March of Dimes March for Babies at Sugarhouse Park on Saturday.
The research that the Merrills participated in helped scientists with Sera Prognostics to develop the PreTRM test, a predictor of premature birth given to women during pregnancy. While there is no known methods to prevent premature birth, conditions that cause it can be treated, allowing babies to remain in gestation longer.
And every day inside the womb is like weeks on the outside when it comes to development, according to Sherree Lucas, vice president of marketing for Sera.
"If they would've known, these mothers could have been prepared," she said.
The test, which is not yet covered by insurance, screens for various proteins in the blood that are proven markers of premature birth. Women can then be given extra hormones via injection or be prescribed low-dose aspirin to decrease the risk.
"It can happen to anyone," Lucas said, adding that as many as 50 percent of women who have premature births have no known risk factors.
Preterm birth, in fact, occurs more often that most genetic diseases and yet tests for those conditions, including Down syndrome, Cystic Fibrosis and Trisomy 13, are routine and regularly carried out during pregnancy.
One in 10 babies in the United States is born prematurely — 400,000 every year — and it is even higher in Utah, as one in nine babies comes earlier than expected.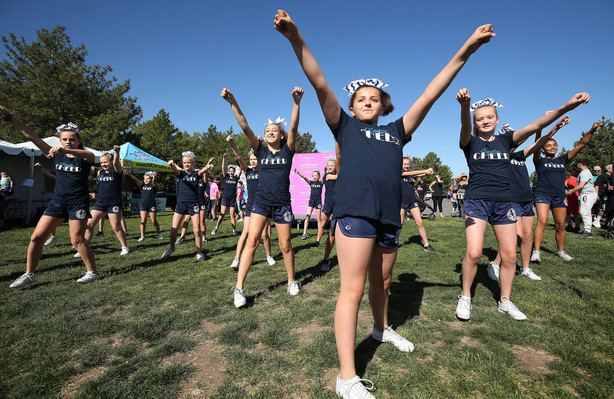 In addition to challenges with health and developmental issues for the child, prematurity costs families and financially impacts health care, resulting in everyone paying more, according to the March of Dimes, an advocacy group working toward a greater number of healthy mothers and babies nationwide.
"We want to end preventable premature births," said Pamela Carlston, executive director of the March of Dimes Nevada and Utah markets. She said when women know they're high risk for premature birth, they can take precautions and have healthier babies, making a world of difference in the lives of those children.
Gary Merrill said he owes a debt of gratitude to the "life-changing pharmaceutical" company that changed the outcomes for his son, Evan, 10, and daughter, Violet, who is 7.
"It is not about the test tubes. … It is about the fact that they're able to live a healthy life," he said. "Their research is the reason why I have a family today."
And since Delilah was born, the Merrills have felt compelled to give back, raising nearly $60,000, through friends, family and strangers from around the world, for the March of Dimes, including $16,000 this year.
"Other families deserve the chance my family got," Gary Merrill said.
Their family, like so many, had no signs that Delilah would come early, as everything appeared "normal" at the 24-week prenatal appointment. But she was born less than a week later, in July 2007, when she was given a very slim chance of survival.
"Her quality of life would not have been very good," Delilah's father said Saturday, adding that at the time, he had been participating in LDS missionary discussions and missionaries had taught him about the blessings of eternal life.
He walked into the neonatal intensive care unit, intervened in all the work doctors were doing and picked up his 1-pound baby girl and told her how much she was loved, how her parents met and how much they wanted her, and then let her go.
"It was my moment to be a dad," he said, adding that he had to make the decision based on what was best for tiny Delilah.
"Sure, I would have loved to see her grow up and play in the grass, see whether her hair would be curly or straight, but that wasn't best for her," he said.
---
"It's easy to lose those bits of light in the darkness. We choose to celebrate her light." — Gary Merrill
---
The experience has taught him to be thankful for every moment.
"You learn to appreciate the moments you get to have," Gary Merrill said, adding that their family has "chosen to focus on the triumphs not the tragedies," as time spent with children can "never be enough."
The money they've raised for research has helped families across the country deal with premature birth risks and the impacts of having a baby earlier than 37 weeks, as well as further educate physicians and parents. The Merrills hope people see the good that comes from their loss.
"It's easy to lose those bits of light in the darkness," Gary Merrill said. "We choose to celebrate her light."
Dr. Aimee Nussbaum, a pediatrician who works with the local March of Dimes chapter, said women should physically prepare themselves to have a baby by maintaining a healthy weight and regulate health conditions like high blood pressure and diabetes.
Purposeful spacing of babies at least 18 months apart also leads to a lower risk for preterm birth, she said. Smoking and drinking alcohol can increase the risk of premature birth.
Nussbaum also twice gave birth to preterm babies, and said, "I didn't know I was having contractions." She wants women to know of the many resources available to them during pregnancy.
Treatments available because of ongoing research can be "powerful interventions."
Gary Merrill knows life is fragile. He also knows he might not have children if it weren't for modern medicine.
"My family is my everything," he said. "I want to open the doors for others that we had open for us."
To learn more about the March of Dimes, or to donate, visit www.marchofdimes.org.

Email: wleonard@deseretnews.com Twitter: wendyleonards
×
Photos