WEST VALLEY CITY — About two years ago, Jennifer Tolboe, a mother of four autistic children, needed help.
She says she reached out to a friend, who called West Valley City Police Department's Crisis Intervention Team. When detective Ammon Fox came to Tolboe's house, he assisted her in the midst of what she called her "breaking point."
"We were able to figure it out and get help," Tolboe told KSL during a press conference at the West Valley City Hall Thursday as West Valley police announced a new Special Needs Safety Program.
Through Fox's help, the mother was able to go to a respite center for a day and "talk to people" and breathe in a "safe place."
Though the police department does not retain information on exactly how many calls it gets regarding people in crisis who have mental health issues or special needs, the department gets "multiple" such calls every day, West Valley detective Ryan Carver said.
The Special Needs Safety Program will help all involved — family members, people with special needs and police, according to Roxeanne Vainuku, public information officer for West Valley City.
It will allow family members and caregivers to provide information about their loved ones that will go into a database. Officers can then use that information to help them in times of crisis.
People with autism, mental health issues, aging disorders and other special needs, or their caregivers, can be registered in the program. Those who take part can give information, including where a loved one tends to go if they leave home unexpectedly, triggers that agitate them or interests that might help calm them down.
Tolboe's 3-year-old daughter, Isabell, and 5-year-old son, Skyler, are both "wanderers" who need to wear GPS tags. She says the program gives her some comfort.
"So when one of them walks out the door and I can't find them, I can call (the crisis intervention team), instead of just the police, and go, 'My kid's missing.' They already know who they're looking for. They know what are some of the things that they like so if they're scared that they can't find mom, or whatever the reason is, they can calm them down and assure them that this is a safe place and be able to get them home," Tolboe said.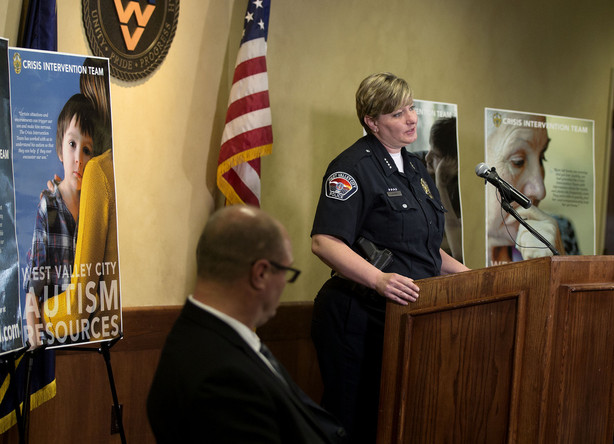 Detective Fox discussed how understanding community members with special needs can help police defuse crises. For example, when police are called to help someone who has a traumatic brain injury, they know to talk to him about something he loves, Fox said.
"When we go there knowing him, we know that all we have to do is talk to him about his hobby of BMX biking, and we're always confident that crisis will end peacefully," Fox explained.
Tori Yeates, a social worker at the University Neuropsychiatric Institute at the University of Utah, calls the program "a huge resource. Mostly because when somebody's in crisis, whether it's the parent that's in crisis or the kid, just in general, anybody who goes into crisis doesn't really think clearly."
Yeates said as far as she knows, West Valley's effort is one of the first of its kind.
It can also benefit those struggling with mental health issues like depression or suicidal thoughts who can receive help in moments of need, the social worker said.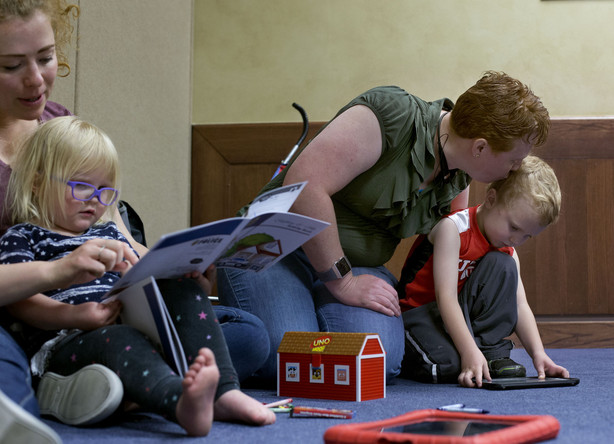 All West Valley police officers receive training in crisis intervention, Vainuku said. However, 17 officers have special training in crisis intervention and could conduct follow-up visits with families, she added.
"We know that each person and their condition is unique, and it is our goal to develop a safety plan for each person that is also unique," said West Valley Police Chief Colleen Jacobs.
When someone registers for the program, a member of the Crisis Intervention Team will meet with the person and their loved one to discuss questions or concerns, the individual's condition and a safety plan.
"I know that if there is an issue with one of my kids, whether they're being aggressive, I can't control them, they wander off, or if me myself, I'm just burnt out and I can't deal with it anymore, I know that I have at least one resource that I can call. And it's not scary. It's somebody that I know will actually be able to help me," Tolboe said.
People can register for the Special Needs Safety Program online on West Valley's Crisis Intervention Team website, www.wvc-ut.gov/1692/Crisis-Intervention-Team, or by calling West Valley City's nonemergency dispatch line, 801-840-4000, and asking for a Crisis Intervention Team officer.
×
Photos