This archived news story is available only for your personal, non-commercial use. Information in the story may be outdated or superseded by additional information. Reading or replaying the story in its archived form does not constitute a republication of the story.
PROVO — Two former college football players who spent time at BYU have made it through the first round of rookie free-agent roulette in the NFL circuit.
Former BYU safety Dallin Leavitt, who finished his college career with two seasons at Utah State, signed as an undrafted free agent with the Oakland Raiders, the organization announced Monday.
The 5-foot-10, 205-pound defensive back had 211 tackles, seven interceptions and 1.5 sacks in a 45-game collegiate career, including 26 starts.
Leavitt joins former BYU center Tejan Koroma as undrafted former Cougars to sign with NFL teams. Like Leavitt, Koroma was a mini-camp tryout player, and did enough for the Kansas City Chiefs to sign him as an undrafted free agent after rookie camp, according to multiple reports.
Koroma was one of three former BYU players to try out in Kansas City, joining ex-teammates Algernon Brown and Handsome Tanielu. The 6-foot, 290-pound center was a four-year starter at BYU and named a second-team All-American by Pro Football Focus in 2017, as well as a one-time freshman All-American by the Football Writers Association of America.
Koroma and Leavitt joined NFL draft picks Fred Warner (BYU, San Francisco 49ers), Kylie Fitts (Utah, Chicago Bears) and Taron Johnson (Weber State, Buffalo Bills) as former local collegians on NFL rosters going into the 2018 preseason.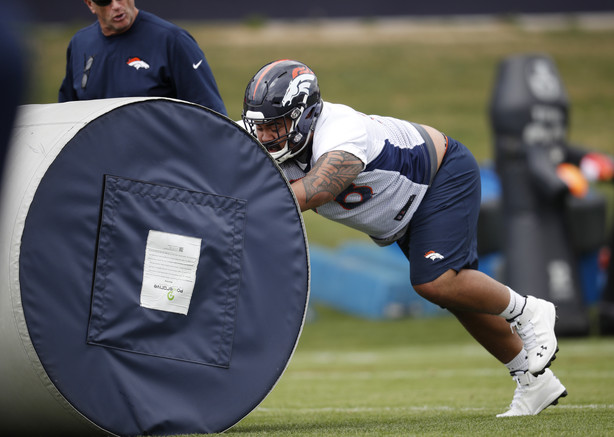 Roster cuts
As part of NFL team cut-downs to formulate a 90-man roster, the Arizona Cardinals released former BYU receiver Jonah Trinnaman and Southern Utah linebacker Mike Needham after rookie mini-camp, the organization announced Monday.
Trinnaman, who prepped at American Fork, was a former junior college All-American kick returner at Snow College who caught 52 passes for 626 yards and one touchdown in two seasons at BYU.
Trinnaman's release also included an injury settlement, according to the league's transaction report.
Needham was a three-time all-Big Sky linebacker for the Thunderbirds. The Desert Hills product tallied 100 tackles as a senior in 2017, including seven tackles for loss, to go along with seven pass breakups and two fumble recoveries.
Former Utah safety Jason Thompson was released last week by the Dallas Cowboys after joining the team in February. The 6-foot-2, 208-pound Thompson reported to rookie mini-camp last year with the Patriots before spending time on the practice squad in Chicago and Seattle.
Former Utah defensive lineman Lowell Lotulelei has reportedly been waived by the Denver Broncos, as first reported by The Athletic's Nicki Jhabvala. The younger brother of former Utah star and current Buffalo Bills defensive tackle Star Lotulelei reportedly signed a $15,000 signing bonus with the Broncos.
Further reporting indicates that Lotulelei may have voluntarily walked away from Denver's camp, in which case he would be required to return the signing bonus.
Lotulelei reportedly informed the Broncos that he plans to retire from football, and hopes to go into coaching, according to NFL reporter Tony Pauline.
Former LSU offensive tackle K.J. Malone, the son of Utah Jazz legend Karl Malone who grew up in Salt Lake City, was placed on the reserve/retired list by the Houston Texans.
Malone announced via Twitter that he was "stepping away from the game of football" to recover from a knee injury suffered in college, and will pursue a career in law enforcement.
Up and down
New Orleans waived former BYU defensive lineman/linebacker Sae Tautu last week to make room for defensive tackle Taylor Stallworth. The Saints signed Tautu as an undrafted free agent a year ago, but placed him on injured reserve with an MCL injury prior to releasing him at the start of the regular season.
He returned to New Orleans on a reserve/futures deal in January before last week's cut.
×