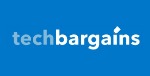 This story is sponsored by TechBargains.
Welcome to TechBargains' Weekly deals featuring the best current deals on electronics, computers, TVs and more. Prices and stock are accurate at time of posting. Act fast as these deals may not last.
Farberware 3.2-Quart Digital Air Fryer for $39.99 at Walmart (list price $59.99) At $40, this is almost 33 percent off the cost of most Air Fryers that go on sale for $60. If you buy the ones you see on TV it is easily around $100. For a low price of $40, you can see what all the fuss is about. These really do make great fries with way less oil. You can also cook healthy foods like fish, vegetables, and even bake a cake.
Bonus $10 Amazon Gift Card when you purchase a $50 Amazon Gift Card (For first time users) at Amazon (use code: 0518GCARDS). If you need a last minute gift for Mom, see if you qualify for a bonus $10 Amazon bonus above. First-time users of the offer will get a $10 bonus with their $50 gift card.
Dell XPS 8930 Intel Core i7-8700 Six-Core GPU Expandable Desktop Computer for $699.99 at Dell SB (use code: 50OFF699 - list price $799.99). If you were on the hunt for your next great desktop this is the deal you have waited for. This has six cores in its processor and is made for performance and versatility. The special link above sends you to a system that is already discounted $300 off $1000 list price elsewhere on Dell's site plus you save an extra $100 off with the included coupon. Elsewhere on Dell's site this actually sells for close to $1000.
2-Boxs of Pamper Swaddlers Economy Plus (432-Total) + $20 Walmart Gift Card for $79.98 at Walmart (list price $99.99). This is a whale of a deal. Even if you don't need diapers for yourself, they make fantastic presents for expecting parents. As a rule of thumb around $0.25 per diaper is a good deal. These economy boxes are already a decent value, but Walmart has further discounted each box $10 off and included a $20 Walmart gift card. You effectively only pay $0.14 cents per diapers.
23andme DNA Test Kit Ancestry Reports for $69 at Amazon (list price $99). Amazon is offering 30% off these DNA test which can tell you about where you your DNA may have originated from and even connect with DNA matched relatives.
Ecovasc Deebot N79S Robot Vacuum with Max Power SUction, App Control & Alexa for $179.99 at Amazon (use code: U43X35IY - list price $249.99). The Ecovacs Deebot is one of the most popular robot vacuums we see on TechBargains. It is a fraction of the price of the Roomba for the same functionality. A few of us have these and it really works quite well and works on par with anything Roomba has. The hundreds of Amazon reviews speak for themselves. In fact, the N79s is an upgraded version of the N79 which has over 4,500 reviews.
TWO Amazon Echo Dot Bluetooth Smart Speaker with Alexa for $59.98 at Amazon (use code: Add 2 to cart - list price $99.98). At $30 each this matches the best price we see on the Echo Dot. These are an affordable way to get Alexa's digital assistant into more rooms of your house. Play music, reorder items, ask how many cups in a quart and more.
Duck HD Clear Heavy Duty Packaging Tape (6-Pack) for $11.37 at Walmart (list price $22.99). If you are moving this summer, stock up on this excellent packing tape. There are cheaper alternatives but you risk it not being sticky enough or strong enough to hold your boxes together. This is over 40% off so stock up now or pay full price when you have to move.
PERLESMITH Tilt Low Profile 32-70" TV Wall Mount Bracket for $14.99 at Amazon (use code: K5B557ZL - list price $19.99). This is one of the best prices we've seen to mount a TV. Typically these cost $30 on sale. This particular deal includes everything you need including an HDMI Cable, cable straps and a level at a very low price of $15.
×