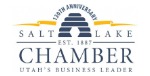 This story is sponsored by Salt Lake Chamber. The Chamber stands as the voice of business, supports its members' success and champions community prosperity.
With more than four decades of public service representing Utah, Sen. Orrin Hatch has established himself as a leading voice in the U.S. Senate. While in office, Hatch has witnessed the Reagan revolution, the fall of communism, the explosion of the internet, 9/11 and the elections of every president since Gerald Ford.
Hatch has always said that Utah and local issues are the fights that matter most to him, sometimes battling for decades for Utah's interests, according to his Senate website.
Because of his dedication to Utah and its residents, the Salt Lake Chamber will present Hatch with the Giant in our City award at the ceremony on June 9 at the Grand America Hotel in downtown Salt Lake City. Outgoing Speaker Paul Ryan will give the keynote address at the event.
With a career as prolific as Hatch's, it becomes difficult to give full depth to the immense breadth of bills he has been involved with. Since first taking office in 1977, according to information from Hatch's website, he has authored more bills that have become laws than any other member of Congress.
To name a few: He authored the Religious Freedom Restoration Act, which holds the government accountable for ensuring the free exercise of religion; the Drug Price Competition and Patent Term Restoration Act, which created the modern generic drug industry; the Children's Health Insurance Program, which provides health care for uninsured children from low-income families; and the Tax Cuts and Jobs Act, which represents the most comprehensive overhaul of our nation's tax code in a generation.
More overtly local, Hatch has been part of shaping our city and state in some significant ways. For example, he was instrumental in every Utah judge's appointment, even during the tenure's of Democratic presidents. As the longest-serving Republican in the history of the Senate Judiciary Committee, he participated in the confirmation of every current member of the United States Supreme Court.
Additionally, he played a key role in the reduction in size of Grand Staircase Escalante National Monument and Bears Ears National Monument; fought for compensation for Utah's downwind cancer victims at the hands of atomic testing in Nevada (something on which he worked with Ted Kennedy and Wayne Owens); and fought for the Utah School Lands Exchange Act, which helped consolidate state land holdings that would be used to raise money for local schools.
In addition, as the chairman of the Senate Republican High-Tech Task Force, Hatch spearheaded policies to bolster Utah's high-tech industry, championing an innovation agenda that puts the needs of Utah's tech companies front and center. He has likewise been a loyal ally to the men and women at Hill Air Force Base and Utah's other military installations, bringing federal resources in an effort to strengthen the local economy, support the troops and keep the nation safe.
In an opinion article published in the Deseret News announcing his retirement, Hatch mentions many behind-the-scenes moments of aid to Utah's cause. These activities included things like:
Securing visas for visiting LDS general authorities and missionaries
Delaying deportation proceedings that would have broken up Utah families
Bringing more than $100 million in funding to the Huntsman Cancer Institute
Bringing top tech leaders to Utah to build awareness of our dynamic tech industry
Personally visiting the White House to protect church schools like BYU.
"In the history of the state of Utah, no other individual legislator has had a greater impact than Sen. Orrin Hatch," reports Lane Beattie, former president and CEO of the Salt Lake Chamber, in a statement. "He has spent the entirety of his career dedicated to the citizens of Utah and this state's business community."
For these reasons and many others, it's easy to see why Hatch has become a giant in our city in these past 41 years.
×