This archived news story is available only for your personal, non-commercial use. Information in the story may be outdated or superseded by additional information. Reading or replaying the story in its archived form does not constitute a republication of the story.
SALT LAKE CITY — In a sports arena full of college students with newly minted degrees and career aspirations, a best-selling author advised University of Utah graduates not to get so buried in their responsibilities that they forget their dreams.
Ben Nemtin, star of MTV's "The Buried Life," told the graduating class of 2018 Thursday that his quest to accomplish items on his bucket list took him to Oprah Winfrey's couch and to the White House to play basketball with former President Barack Obama.
Along the way of what was to be a two-week exercise with some buddies now going on a decade, he learned important life lessons, among them that it's OK to ask for help, he said.
"Asking for help in that time of need comes with no shame because whomever you go to help, you'll want to return the favor when they come to you in their time of need. This the world we want to create, a world of connectedness and compassion," Nemtin said, addressing graduates during the U.'s 149th commencement at the Jon M. Huntsman Center.
As much as Nemtin has enjoyed experiences on his bucket list, he told the graduates it had been far more satisfying to help others achieve theirs.
He lifted up the good works of U. students, including one who has created sleeping mats out of discarded grocery store bags, which she gives to people experiencing homelessness.
It should be easy for other U. students to follow suit because there's something about Utahns' nature that they are eager to lend a hand, he said.
Hodan Abdi, a Somalian refugee, who had no formal education until she was resettled in Utah as a child, called on her fellow graduates to use the skills and knowledge gained at the U. to improve the human condition.
Abdi, who earned a bachelor's degree in chemistry with an emphasis in biology, will enter medical school at the University of Minnesota in the fall.
"As students of the University of Utah, we are global citizens. Each one of us has talents and the skills to make a big impact in our communities," said Abdi, who was selected as student speaker and received a standing ovation from the crowd.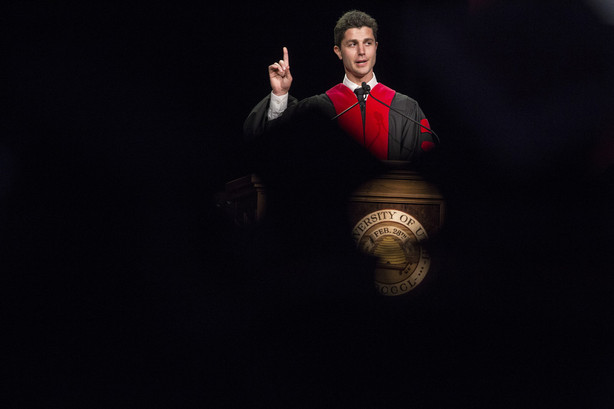 U. President Ruth V. Watkins presided over her first graduation as president of the University of Utah. She was appointed the 16th president of the U. on Jan. 18, succeeding President David Pershing, who has retired from the top administrative position.
Watkins told the U.'s 8,568 graduates that when she was a swim teacher, she was far more successful when she got in the water instead of offering instruction from the side of the pool, urging them to enter their respective fields of endeavor wholeheartedly.
"You have received an exceptional education. I hope that you leave here more informed about the world around you and also prepared to be a lifelong learners," Watkins said.
Richard Brown, dean of the College of Engineering, was awarded the university's Rosenblatt Prize, which recognizes, encourages and honors excellence in teaching, research and administrative efforts. Watkins said Brown was honored for his focus on academic excellence, the development of new courses and growth in numbers of degrees awarded by the college. The winner of the prize receives a $40,000 cash award.
The university also honored an outstanding public school teacher, Cindi Dunford, who teaches at James E. Moss Elementary School in the Granite School District.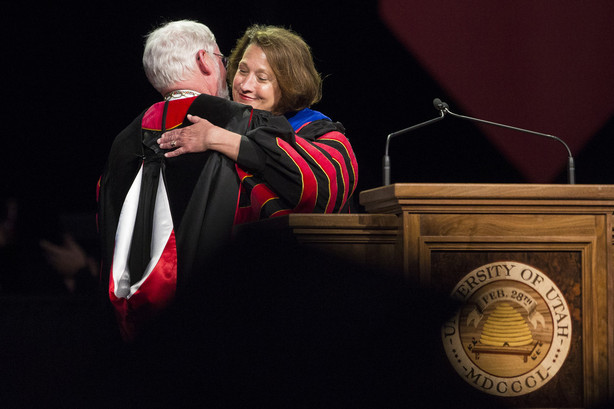 Honorary doctorate degrees were given to community leader Barbara Lindquist Tanner and retired 3rd District Judge Raymond Sonji Uno.
Tanner is a humanitarian, human rights activist, philanthropist and elementary education alumna of the University of Utah. Uno, a civil rights advocate, was the first ethnic minority judge in Utah's history.
"These two individuals are incredible examples of dedicated service and leadership, and their unfailing commitment to the university sets them apart as pillars in the community," Joe Sargetakis, chairman of the board of trustees' honors committee, said in a prepared statement.
The U's graduating class includes students from 80 countries, all U.S. states and 26 of Utah's 29 counties. The oldest undergraduate degree recipient is 69 while the youngest is 19, the average 26.
The university conferred 9,113 degrees because some graduates earned multiple degrees. More than half are bachelor's degrees but the university also conferred 2,343 master's degrees; 703 doctoral degrees; 97 law degrees; 101 medical degrees, 23 dental degrees and 55 pharmacy degrees.
Among students who earned graduate degrees, the average age is 31, with the youngest 21 and the oldest age 63.
The top undergraduate degrees include psychology, communication, economics, biology, nursing, business administration, mechanical engineering, human development and family studies, accounting and computer science. The average undergraduate grade point average is 3.37.
According to statistics provided by the U., the graduating class includes "4,410 self-identified men, 3,965 self-identified women and 193 nonbinary/unidentified."


×
Photos