VANCOUVER, B.C. — For 75 minutes, Real Salt Lake appeared to be headed for a critical road win against a slumping Vancouver Whitecaps FC.
And in an instant, it all changed.
Cristian Techera scored on a penalty kick in the 75th minute, and Anthony Blondell doubled the advantage four minutes later as Vancouver snapped a three-game losing streak with a 2-0 win Friday night over Real Salt Lake at BC Place.
"It's a strange sport sometimes. We were in control for 75 minutes, and I'm extremely happy and proud with the way the guys played," RSL coach Mike Petke said. "The penalty goal, the transition, I'm not happy about it. But overall, I was very happy with the way we played. It's a cruel game sometimes."
Real Salt Lake (3-4-1) dominated possession and put four shots on target in the first half. But it couldn't find a goal, and paid for it.
"It's a tough one to swallow. That was probably our best first halves of the year and it's tough to keep that up for 90 minutes. You know they were going to respond," RSL captain Kyle Beckerman said.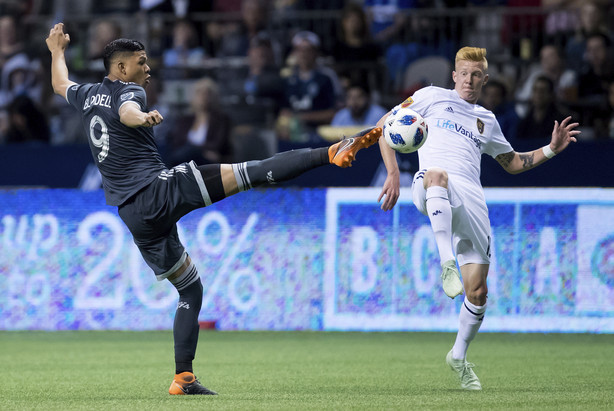 "That's Vancouver for you. They can play like that and then get a win. It's a tough one. I really wanted us to get rewarded for our play."
Real Salt Lake out-shot the host 'Caps 9-6 in the first half, but couldn't find the back of the net and came away scoreless through 45 minutes.
"The possession has been great. I think we were moving the ball well, especially in their half," RSL defender Brooks Lennon said at halftime on the KSL TV app.
"We created a few chances; we just need to bury one."
Halftime in Vancouver || @RealSaltLake is tied 0-0 with the Whitecaps.

Second half on the @KSL5TV app. https://t.co/xC54ttxnDVpic.twitter.com/n2M6ma8mcK

— KSL SportsBeat (@kslsports) April 28, 2018
Aly Ghazal had the best shot of the match for Vancouver (4-4-1) through the first 70 minutes, but his half-volley from the edge of the area was deftly saved by Nick Rimando.
The 38-year-old goalkeeper sitting on 199 career wins in MLS play went down with an injury a moment later, a scary fall inside his own box that saw Vancouver's Techera earn a yellow card.
Techera made up for the miscue in the 75th minute. RSL's Nick Besler took down Nicolas Mezquida in the box, and the Whitecaps had a penalty kick.
Techera, the pint-sized forward nicknamed "The Bug," converted from the spot for a 1-0 lead — but pulled off his jersey in celebration after beating Rimando in the corner. The act drew a second yellow card for Techera, and the Whitecaps were forced to play with 10 men for the final 15 minutes.
"I think we lost a little steam, they picked up some steam, and it's tough," Beckerman said. "When you have a team on the road, you've got to score and put them down.
"That's the game of soccer. You are only going to get a couple of chances. If you put something away, it changes the game."
×