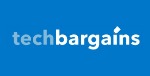 This story is sponsored by TechBargains.
Welcome to TechBargains' Weekly deals. This week they are featuring some of the Best Mother's Day Gifts on electronics, computers, TVs and more. Prices and stock are accurate at time of posting - so act fast as these deals may not last.
Apple Watch Series 1 38mm Aluminum Case with Sport Band for $149 at Walmart (list price $249). Many argue that the Apple Watch may not be worth the steep $300 price tag. However you can save and get much of the same functionality by getting the first generation Apple Watch and save money. In addition, Walmart has discounted the the series 1 Apple Watch by $100. If you don't plan on dunking the watch underwater and if you don't use SIRI this deal is perfect for you. Otherwise, it has the same 18-hour battery life as the more expensive 3rd generation.
Apple iPad 5th Gen 32GB WiFi (Space Gray) for $249 at Walmart (list price $329.99). The newest iPad is considered to be one of the best values you can get and the lowest price Apple has ever offered on a full size tablet. With the additional $80 off you are getting a whale of a deal. It has plenty of power to do everything you need: surfing the web, watching shows, or playing games, and combines it with a premium Apple experience. There are cheaper Amazon tablets out there, but Mom would likely prefer an Apple.
65" Samsung UN65MU6290 4K UHD Smart LED HDTV for $649 at Walmart (list price $697.99). Mother's day or not this is one of the best prices we've seen on a 65" Samsung brand-name TV. It can display 4K or 1080p with solid picture quality and at $650 you would have a hard time getting a 55" or 60" HDTV from Samsung at that price. These were previously sold out earlier this week and now back in stock.
Acer Aspire 5 Intel Core i7-7500U 15.6" Full HD Laptop for $459 at Walmart (list price $599). If mom needs a new laptop - you can get her this fully featured Acer. It has the powerful 7th generation Intel Core i7 processor and a full HD display that will display sharp text and images. It has the power to last her a few years. At under $500 this is a laptop we would recommend to anyone needing a replacement or an upgrade. Typically at this price point you would expect to see either a lower resolution display or a weaker processor. We rarely see both these highly desireable specs under $500 on a laptop.
2-Pack Sansi 250W Equivalent LED Light Bulbs for $34.48 at Amazon (use code: CRAZYDEAL - list price $45.98). These LED lights can output up to 3000 Lumens of brightness which is about 5-6 times more than the common desktop bulb. They are perfect for areas which need a good amount of light yet only use 22w of energy. It is available in a warm colored light which is closest to a halogen bulb or natural daylight, which is great for garages, offices, craft stations and studying.
×