This archived news story is available only for your personal, non-commercial use. Information in the story may be outdated or superseded by additional information. Reading or replaying the story in its archived form does not constitute a republication of the story.
SALT LAKE CITY — Here are 10 stories you may have missed this weekend. As always, click on the headline to read the full story.
1. Police: 3-year-old dead, 8-month-old injured in Provo crash
A 3-year-old child died in a chain-reaction crash involving four vehicles on Sunday afternoon.
2. Military strikes in Syria prompt LDS Church president to leave Jerusalem
LDS Church President Russell M. Nelson, currently on a world tour to visit church members across the world, has left Jerusalem a bit early due to U.S.-led military strikes in neighboring Syria.
3. Spokesman: Former first lady Barbara Bush in failing health
Former first lady Barbara Bush is in "failing health" and won't seek additional medical treatment, a Bush family spokesman said Sunday.
4. Family of man shot by police demands answers
Protesters gathered outside the West Valley City Police Department Saturday demanding action after a police shooting last weekend.
5. Hundreds rally at Utah Capitol to support 2nd Amendment
Flag-bearing, gun-wearing passionate Second Amendment supporters turned out by the hundreds Saturday to rally in support of a right they say is under vicious attack across the country.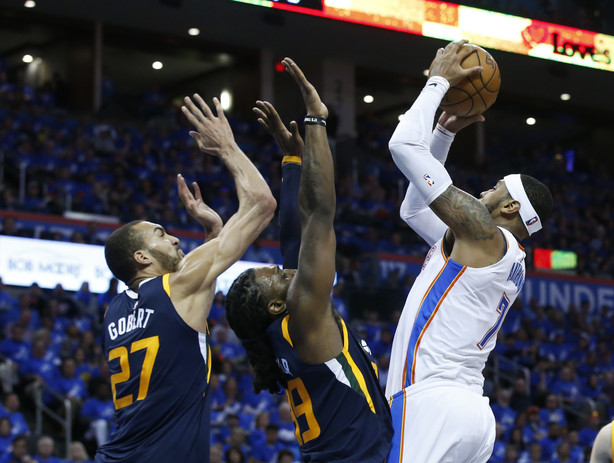 Sports
1. [George scores 36, leads Thunder to 116-108 win over Jazz](<https://www.ksl.com/?sid=46300569&nid=304 target=>)
Paul George scored 36 points to help the Oklahoma City Thunder defeat the Utah Jazz 116-108 in Game 1 of their Western Conference playoff series on Sunday night.
2. 'Not the result we wanted:' Utah Royals fall to Chicago 1-0 in franchise home opener
Chicago's Danielle Colaprico scored her first goal of the season, helping the visiting Red Stars to a 1-0 win over the NWSL expansion outfit Saturday afternoon at Rio Tinto Stadium in front of the second-largest home-opening crowd in league history.
3. Utes spring game featured QB battle, game-winning 57-yard field goal
The White team thought they secured the victory after quarterback Drew Lisk threw a 12-yard touchdown pass to Samson Nacua with 33 seconds remaining. But placekicker Matt Gay wasn't going to let that happen as he answered back with a 57-yard field goal as time expired to put the Red team back on top with a 25-23 victory.
4. Rose, Emery 'plan' for return of BYU sharpshooter; Childs, Bryant unclear
Former BYU standout Nick Emery let Cougar fans breathe a sigh of relief recently when he revealed his plans for next year.
5. Offense tops Defense 39-26 in 2018 Weber State spring game
The Weber State football team wrapped up 2018 spring practice with the spring game Saturday afternoon at Stewart Stadium. The offense defeated the defense 39-26 in the modified scoring format to end spring ball.
×