FARMINGTON — The muddy marshes and tall grasses stretch on nearly as far as the eye can see, with the wind-swept terrain, bugs and birds occupying thousands of acres.
Paul Etcheverry shakes his head.
"To get out there, it's wicked. You don't know what's out there. It's like Vietnam."
Well, not quite — but there's no doubt it is an unforgiving landscape that can suddenly turn dangerous, and dirty.
Etcheverry's war is against the invasive phragmites, and his battlefield is the wetlands at the Farmington Bay Waterfowl Management Area where his heavy equipment is trampling the noxious plant.
The Utah Division of Wildlife Resources contracted with Etecheverry, his son Nate and colleagues to tamp down hundreds of acres of the plant, which is difficult to kill and takes over native vegetation.
In 2016, Etcheverry took care of some of the plants at the Howard Slough Waterfowl Management Area in Hooper, Weber County.
The terrain there, however, was much different.
"When I first saw this," Etcheverry said, gesturing across the expanse of Davis County wetlands, "I thought, 'What am I doing out here?'"
His specially retrofitted snowcat soon confirmed the man's worst fears when it was swamped in the muddy, wet terrain.
"That was a bad day."
The machine is ruined, now the subject of an insurance claim, and affectionately called the "monument."
On Wednesday, another day spent trampling weeds, the other snowcat got stuck, but not swamped. It was pushed clear by a Marsh Master, amphibious machines that look much like a tank and are equipped with pontoons.
Since the state first launched its phragmites eradication program in 2006, it has treated about 12,000 acres of the nonnative plant to reduce its stranglehold on the wetlands surrounding Utah Lake and Great Salt Lake.
A Utah State University study found that about 26,000 acres adjacent to the lake are infested, said Chad Cranney, the division's assistant wildlife manager over the northern region.
Cranney said the division spends about $250,000 a year to combat phragmites, which if left untouched would rid the landscape of native vegetation and ruin prime waterfowl habitat.
"We are never going to get rid of them completely, but we're doing what we can," he said.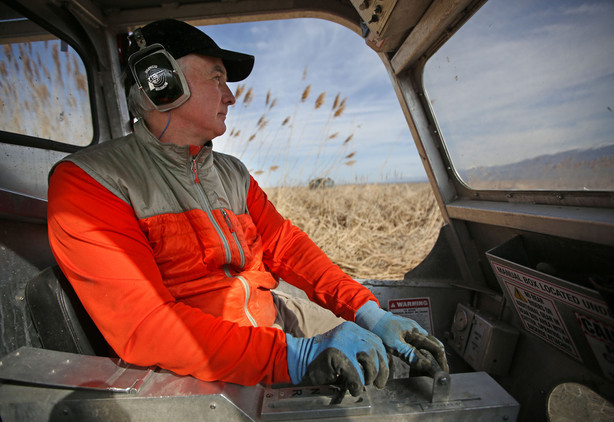 The "rolling and mowing," is part of a three-year process to defeat the plant.
First, the vegetation is killed with a chemical treatment. Because it doesn't break down and decompose easily, the state hires crews with heavy machinery to come in and smash the plants.
After that, the division will flood the area to prevent any return of the phragmites.
Cranney, who did his thesis on control of phragmites while a student at Utah State University, said USU is experimenting with reseeding projects for native vegetation at Farmington Bay's management area.
Etcheverry expects to be on the job in Utah for another week. He'll take his surviving heavy machinery and return to Wyoming, where he mows mountains at his family's ski resort,
The state will continue in its quest to win the war against phragmites, one muddy acre at a time.
"It can be real challenging," Cranney said.

×
Photos