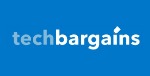 This story is sponsored by TechBargains.
Welcome to TechBargains' Weekly deals! This week we are featuring the best best Spring Deals: Home Improvements, Cleaning and of course PCs & electronics. Prices and stock are accurate at time of posting - so act fast as these deals may not last.
Ecovacs Deebot M80 Pro WiFi Robotic Vacuum Cleaner with Mop and Brushroll for $199.99 at Amazon (use code: Clip $30 Coupon - list price $319.98). Only one thing can make vacuum easier than a robot vacuum, and thats a robot vacuum you can tell to clean. This Ecovacs robot has built-in Alexa compability which means you can now tell your robot to begin cleaning instead of pushing a button. For those with hard floors, this also has a mopping feature that will also dry in a single pass.
40" Samsung UN40MU6300 4K UHD HDR Smart HDTV + $125 Dell Gift Card for $399.99 at Dell Home (list price $549.99). If you missed out watching March Madness in 4K you can easily rectifiy it before you miss watching the World Series in 4K. This Samsung is one of the best mid size 4K TVs we've seen. For only $400 you get already get a solid deal on a 40" Samsung 4K TV. With the Dell Gift card you are effectively paying under $300.
Dyson V6 Trigger Cordless Handheld Vacuum for $149.99 at PCMag Shop (list price $199.99). We own the Dyson cordless and it is fantastic for spot clean-ups around the house, cleaning the car, and is far more sleek and more powerful than other cordless vacuums. We especially use this to clean the carpeted edges and stairs that vacuum cleaners can never reach. At $150 it is the lowest price for the powerful V6 model we've seen.
Jetery 8,000 Gallon Shower Water Filter for $19.49 at Amazon (use code: VU5ZA9XQ - list price $29.99). If you suffer from hard water from lead, heavy metals, sediments and other contaminents, this 3-stage water filter will help not only your skin but also help keep you tubs and showers cleaner. It is rated for about a 2 gallons per minute and and will work with most shower heads.
Oaskys Shredded Memory Foam Pillow with Zipper Bamboo Cover for $15.75 at Amazon (use code: 3JIVC98X - list price $34.99). The previous best price we've seen on a memory foam pillow was for $31 and this Oaskys pillow is about half that price. A shredded memory foam pillow not only costs less, but it is also more customizable since you can remove or add fill to meet your needs. Memory foam pillows typically command a premium over of $50 to even $100 for a single pillow.
Digital Tire Gauge with Extension Hose & Release Valve for $16.48 at Amazon (use code: DKBU328P - list price $29.99). This is the tire gauge to end all tire gauges. This has a built-in extender valve making it easy to use with a let-off valve so that you can bleed our when you overfill. The display is backlit and digital making it easy to read in the dark. Lastly, for those of you lucky enough to have an air compressor you also attach it to a compatible NPT quick-connect fitting.
×