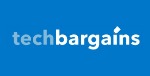 This story is sponsored by TechBargains.
Welcome to TechBargains' weekly deals featuring the best current deals on electronics, computers, TVs and more. Prices and stock are accurate at the time of posting - so act fast as these deals may not last.
Dell Inspiron 15 5000 Core i7-7500U 15.6" Win10 Pro Laptop w/ 512GB SSD for $579.99 at Dell SB (use code: INS579 - list price $909.99). This has a huge 512GB solid state drive for fast reboots, program launching and more. If you are still using a laptop without an SSD, you won't be able to go back. The 7th Gen Intel Core i7 processor is powerful and will last you a few years.
49" TCL 49S405 4K HDR Roku Smart LED HDTV for $329.99 at Amazon (list price $479.99). TCL is a little-known name in TVs but they are previously known for making the display panels for Samsung. While you may not know the name, it has over 1700 reviews on Amazon and this particular model gets very good professional reviews from sites like CNET for its solid bang for your buck.
Apple iPad Air Retina 32GB Tablet (Refurb) for $199.99 at PCMag Shop (list price $299.99). Apple's iPads aren't selling as great as they used to which has forced the price down on previous generations iPads. These are still great for streaming shows and for productivity that you can't do when you are on your smartphone. If you need something smaller Apple iPad Mini 2 Tablets are similarly discounted down to $200.
FrenchMay 3.7-Quart 1500W Air Fryer w/ Touchscreen Control for $59.99 at Amazon (use code: PEIKFNGD - list price $99.99). Air fryers typically sell for over $100 from Philips. This generic brand has the same functionality and is far less expensive. The health benefits are that you can fry, roast or cook food using very little oil. Plus it has tons of Amazon reviews so that you can rest assured you are buying a good non-name brand product.
Petssence 2-in-1 Wireless Qi Car Charger Smartphone Holder w/ Air Vent Mount for $20.99 at Amazon (use code: LLEWUJ9Z - list price $29.99). If you have a wireless charging phone like the iPhone X / 8 or a newer Samsung Galaxy - this car charger is a must have. You can wirelessly charge your phone while leaving it mounted. There are 3 mounting options, either on a dashboard or windshield with the suction mount. Or mount it to the air vent. If you were to buy each piece separately, the wireless charger typically costs around $20 and the two separate mounts will cost around $10/each.
Coway Mighty True HEPA Air Purifier w/ Eco Mode and Ionizer for $175.99 at Amazon (list price $229.99). If you've been getting early unseasonably warm weather, you may have your allergies coming a little earlier than normal. The Coway is a very highly rated true HEPA air filter with 4-stage of cleaning. This matches the lowest price we've seen for an air purifier that isn't an eye sore.
Xbox One S 1TB Game Console w/ PUBG Game + $50 Dell Gift Card for $249.99 at Dell Home (list price $299.99). The big secret behind the Xbox One S is that you can also play 4k blu-ray and stream 4k and HDR content. If you bought a new TV recently with those features the Xbox One is actually a pretty strong value considering you can also play games.
×