Estimated read time: 3-4 minutes
This archived news story is available only for your personal, non-commercial use. Information in the story may be outdated or superseded by additional information. Reading or replaying the story in its archived form does not constitute a republication of the story.
TAYLORSVILLE — With four minutes left in the first quarter of Tuesday's Class 6A girls basketball state tournament, Northridge's Brooklyn Perkins banked in a 3-pointer.
As she ran back on defense, she turned to the bench and gave a simple shrug.
¯/_(ツ)_/¯
It was that kind of day for the Knights.
Perkins had 12 points, four rebounds and three assists, and Northridge rolled to a 50-28 win over Cyprus in the Class 6A girls basketball tournament Tuesday at Salt Lake Community College.
"I just thought it was funny," said Perkins, who made 4-of-5 field goals. "I made it, so it gave me some confidence even though it was a break.
"It just makes us remember that basketball is fun. We just have to play our game and have fun."
Abigail Neff had 14 points, seven rebounds and two steals for the Knights, who got seven points and six assists from Lydia Mashburn in a game that featured 18 players.
In the fifth game of the day, the Knights (16-5) become the first lower-seeded team to advance to Thursday's quarterfinals. More importantly, it was Northridge's first playoff win since 1997.
"Honestly, we've been ranked as high as first in the state this season," Northridge coach Chris Smith said. "I have a lot of girls who can play and love to play together. That's our M.O. — just playing together."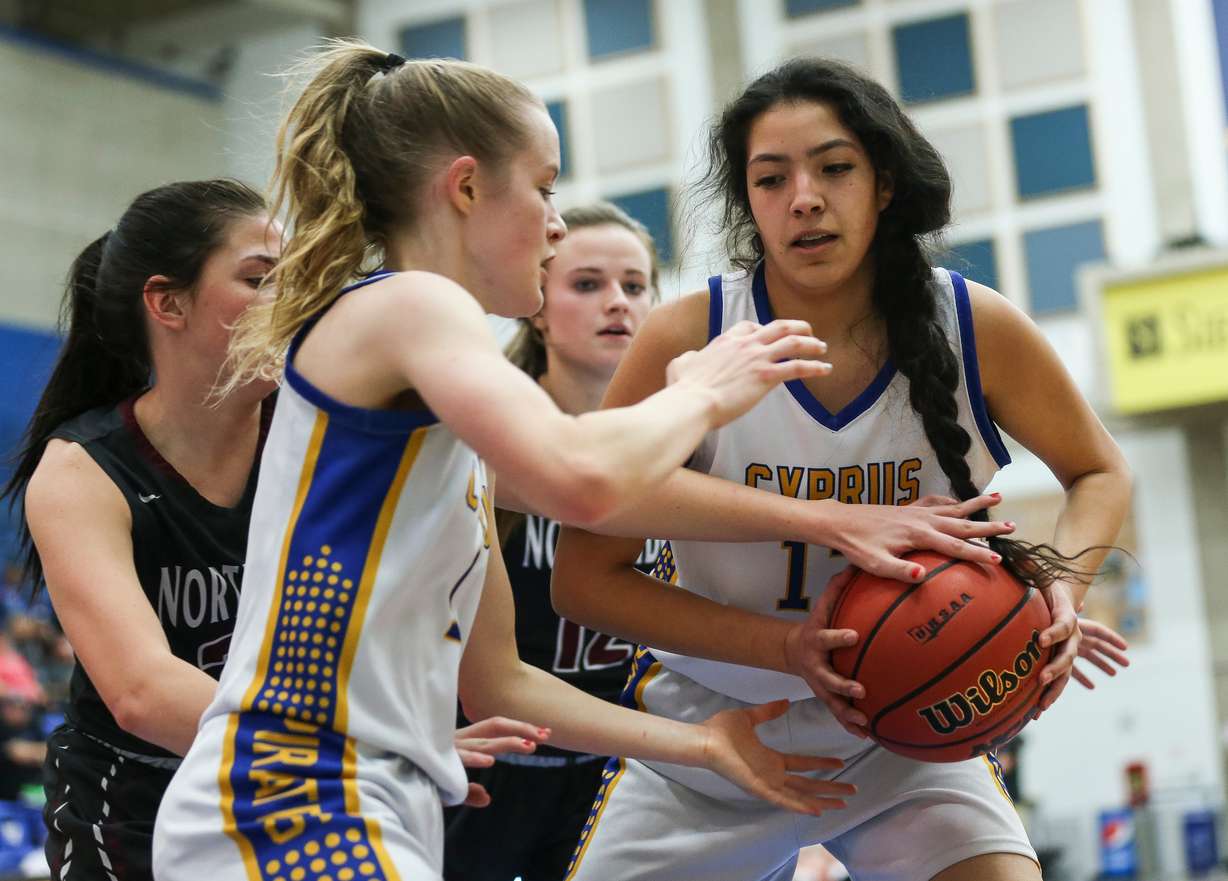 The Knights came out unconscious from the field. Jessica Hess drained a 3-pointer with 4:48 left in the first quarter for an 11-3 lead, and Northridge ballooned the margin to 18-3 while holding the Pirates to just one first-quarter field goal.
Northridge's defense kept that lone field goal allowed until midway through the second quarter, until Cyprus' Ashley Flater hit a jumper to pull the Pirates within 19-5 with 4:50 left in the half.
The Knights shot 40 percent from the field and drained five 3-pointers while holding Cyprus to just 18 percent.
Even if the Knights had to bank a pair of 3-pointers to roll out to the big win, they'll take it.
"It's a good day when you're banking some threes," Smith said. "I didn't want them to settle, but I'm glad they were taking good shots."
Flater led Cyprus (7-14) with 13 points and eight rebounds.
Bingham 46, Taylorsville 42
At SLCC, Maggie McCord had 17 points and seven rebounds, and Journey Tupea added 11 points and six assists to help the Miners survive the Warriors.
The Miners (17-6) controlled much of the first half, but Taylorsville played with the intensity of a home team whose campus was just two miles from the arena. The Warriors shot 46 percent from the field, and pulled within 20-17 at halftime.
Taylorsville tok a 23-20 lead out of the break, when Aubrey Yorgason drained a 3-pointer from the left wing about a minute after the half.
But the Miners used a 10-2 run to take the lead back, and Samantha Holman swished a trey from the left wing to give Bingham a 35-29 lead after a furious third quarter.
The Miners never trailed again, but Taylorsville's Yorgason raced out in transition and hit an uncontested bank shot with 37 seconds remaining to tie the game at 42-42 in the final minute.
The Miners hit four threes to win it, and stole an inbounds pass from the Warriors with seconds to play and a two-point lead to hold on for the win.
Yorgason finished with 17 points and four rebounds to lead the Warriors (5-17), and teammate Finau Tonga added seven points and 11 rebounds.
Northridge and Bingham will play Thursday at 4:10 p.m. MST in a 6A quarterfinal.
×
Photos
Most recent Sports stories