Estimated read time: 6-7 minutes
This archived news story is available only for your personal, non-commercial use. Information in the story may be outdated or superseded by additional information. Reading or replaying the story in its archived form does not constitute a republication of the story.
SALT LAKE CITY — Three thoughts on the Utah Jazz's 107-97 win over the Phoenix Suns from KSL.com's Jazz beat writer, Andy Larsen.
1. A sketchy performance, but a winning one
After the Suns lost by 46 points to the Golden State Warriors, and with the Jazz on a 10-game winning streak, I think most thought this would be an easy win for the Jazz.
It wasn't. Phoenix fought throughout, especially behind some nice performances from Devin Booker (28 points) and Josh Jackson (22 points). The Jazz led by just one going into the fourth quarter, trailed twice in the period, and led by only three with 2:30 left.
In the end, the Jazz pulled away. It was a 10-point win and the Jazz were favored to win by 11. In other words, they did what they needed to.
"This is about a win," Jazz head coach Quin Snyder said. "And we played well enough to win. With the circumstances we knew it would be a difficult game. Fortunately, we made some plays that we needed to make to win the game."
That being said, I didn't think the Jazz played well. In fact, they looked tired, like a team that needed the break. Transition defense was a problem multiple times during the game. Here, the Jazz actually have players back in transition, but no one bothers to stop Elfrid Payton and the ball.
Payton on the drive! #SunsAtJazzpic.twitter.com/xX8j2Yay5u — Phoenix Suns (@Suns) February 15, 2018
And the terrific shooting that we've seen throughout this streak wasn't there either: the Jazz only shot 29.4 percent from 3-point range. Joe Ingles, the most efficient basketball player in the known universe during the streak, was only 4-16 tonight. He has never missed 12 shots in his NBA career before, heck, he's only taken 12 shots in 17 out of 299 career games. Still, Ingles finished the game with a +17 plus-minus.
But the Jazz, thanks to Donovan Mitchell and Jae Crowder making some great plays together, won in the end. With three minutes left, Mitchell finished a driving reverse layup, then assisted Crowder on two consecutive layups. Then, Mitchell's ridiculous 3-point make on a short shot clock sealed the deal.
That Mitchell catches and shoots with his feet facing the sideline, then rises up and twists his body so that it's squarely facing the basket — that's the kind of play that denotes a superstar. Mitchell having that in his toolbox continues to indicate his overall ceiling.
Despite the 11-game streak, it's a needed nine-day break for the Jazz. The break will allow a ton of players (as many as eight) who are currently getting off-day treatment to heal a little bit. Ricky Rubio should return as well, and the Jazz have missed his off-the-bounce creativity.
2. Bench woes
One reason the Jazz are so tired right now: their bench has played pretty questionably as of late. With Rodney Hood traded and Rubio hurt, the Jazz have only four guards in the rotation: Mitchell, Royce O'Neale, Raul Neto and Alec Burks.
O'Neale has been great, including scoring a career-high 19 points. But he's in the starting lineup now. So the bench unit featuring Raul Neto and Alec Burks back there has to play some minutes, and it's been ugly.
Burks was a team-low -8 on the night, in only nine minutes of play. Unfortunately, I have some bad news to report: Burks is back to the old Burks, making questionable decision after questionable decision. Here, he attacks a switch (good) by pulling up for a 22 foot jumper early in the shot clock (bad), after no other player touches the ball all possession long.
wyd AB pic.twitter.com/HCeosIvdPn — Andy Larsen (@andyblarsen) February 15, 2018
He added two turnovers and at least two missed rotations as well.
Neto is more reliable, but how successful he is seems to depend on how much attention his opposition gives him defensively. Ideally, he wouldn't be asked to do so much of the playmaking and play finishing, but it's hard when the lineup features Neto, Burks, O'Neale or Crowder, Jonas Jerebko, and Favors. Neto's probably the best pick and roll guy in those lineups.
By the way, it hasn't been Jerebko's best stretch, either. He was 0-5 tonight from the field in 12 minutes and he's only been 1-2 in the last couple of games. It's just tough when the floor spacer isn't making shots.
That leaves Crowder as the Jazz's best sub, and as a result, he's playing a lot of different roles, at positions two through four. That's a role he can play, but it means that the starters have to play a lot of minutes.
The good news is that Rubio's return and Dante Exum's mid-March comeback from shoulder surgery will fix a lot of these problems. And with an expected return to form from Jerebko, the bench should go back to being one of the better units in the NBA.
3. Donovan Mitchell's shoes and message
Mitchell led the Jazz in scoring again, the 29th time he's done so this season. He did so in a pair of Dame 4 Adidas shoes which he customized via Sharpie: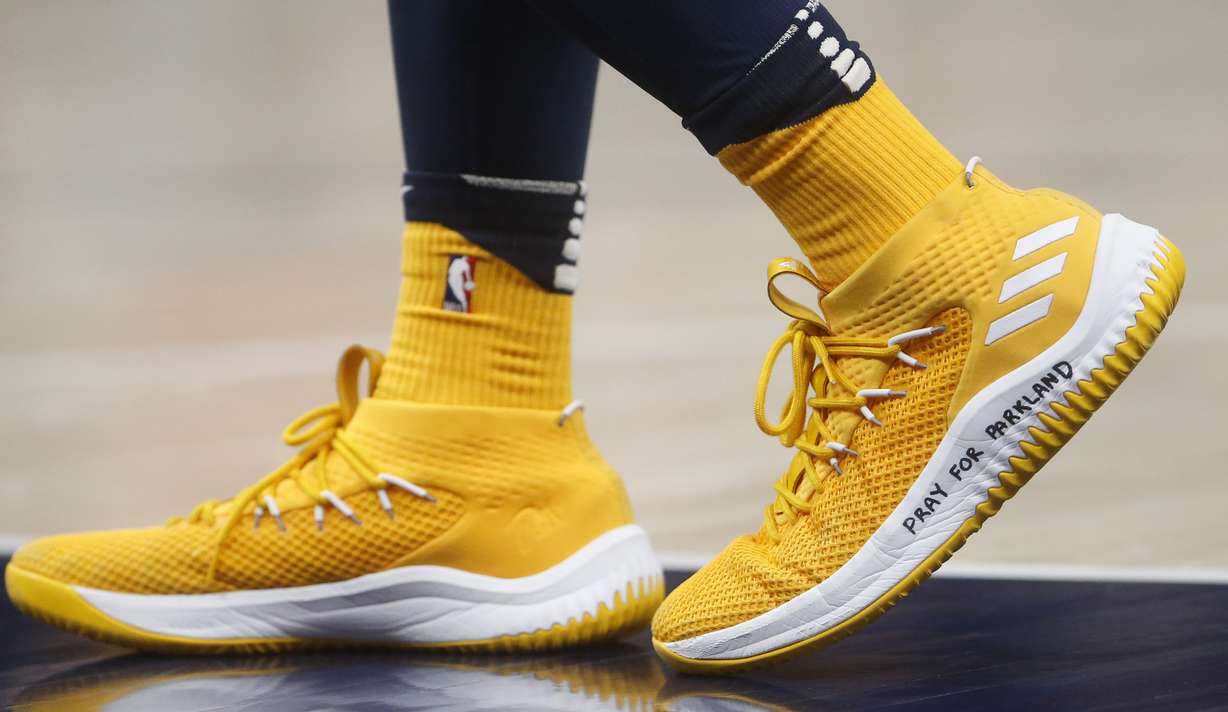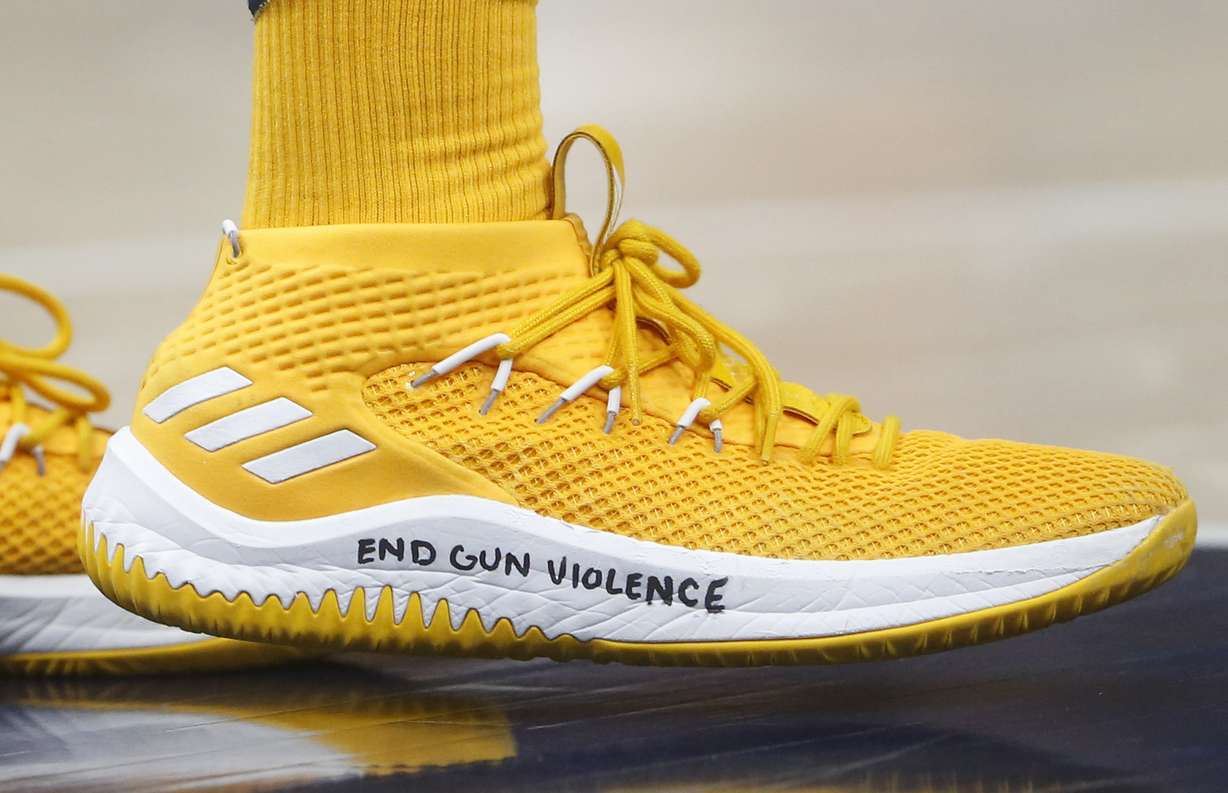 After the game, Mitchell explained why he wrote "Pray for Parkland" and "End Gun Violence" on his shoes:
"My mom's a schoolteacher. I was about 15, 20 minutes away during the Sandy Hook shooting. It's kind of scary. I'm not saying all shootings make me feel the same way, especially school shootings, with my mom being a nursery teacher, it's kind of scary that that could happen at any moment, anywhere. That's one of the things that hit home with me, and why I came in here early. I saw a Snapchat video of a kid screaming. And I just sat there for 5 minutes just thinking about it. My prayers go out to all those families, man. It's tough. It's crazy. We definitely have to do something about it. A lot of people, we talk about it, and there's a lot of so-called awareness of it, but there's nothing being done. I looked something up, and the same gun that was used in that was used in Vegas, Orlando, Sandy Hook, and I'm missing more. It's interesting how it just continues to happen, and the movement doesn't do much.
Mitchell is right: it was hard to focus on NBA basketball Wednesday night, knowing that 17 students had died in Florida in a senseless act of violence earlier in the day. And credit to him for not only thinking about the victims, but making a call to those in charge to actually do something to slow America's gun violence epidemic.
Mitchell now heads to Los Angeles for a very busy All-Star Weekend schedule, with numerous appearances and, of course, the Slam Dunk Contest. With the trip, he has the chance to raise his profile around the league and hang out with the NBA's best players.
Mitchell is incredibly smart, and with statements like these, he's showing his potential to be one of the preeminent league spokesmen, even as a rookie.
×
Most recent Sports stories