Estimated read time: 3-4 minutes
This archived news story is available only for your personal, non-commercial use. Information in the story may be outdated or superseded by additional information. Reading or replaying the story in its archived form does not constitute a republication of the story.
SALT LAKE CITY — The last phone call Hannah Warburton ever made went unanswered.
The 16-year-old Weber High School student took her life shortly after not being able to get through to her psychologist in 2014. Recovering from the effects of a car accident the year before, the severe emotional stress began to take a toll on her, even though she was receiving neuropsychiatric and physical therapy.
Utah lawmakers want to ensure that calls for help never go unanswered, specifically when it comes to the 20 suicide prevention hotlines around the state, only one of which was found to be staffed by trained crisis intervention workers 24/7, 365 days a year. Crisis lines receive about 10,000 calls a year in the state.
"Can you imagine if you called 911 and received voice mail or a busy signal or a router to a phone tree?" asked Rep. Steve Eliason, R-Sandy.
After hearing emotional and personal stories from several lawmakers, the Utah House on Friday unanimously passed Eliason's bill requiring crisis lines in the state to be available at all hours of the day year-round or have the capacity to roll over to other lines.
HB41 also calls for $2.3 million in ongoing funding for the crisis lines. Eliason said he's "optimistic" that the Legislature would allocate the money. The bill now goes to the Senate.
Hannah Warburton's mother, Laura Warburton, said she was "so thrilled and I'm so grateful" for the House passing what Eliason calls "Hannah's Bill."
Staggering report:
"She was an amazing girl, and she had one too many concussions, and the last concussion she got they didn't even catch until it was too late," said Warburton, who the House honored for her tireless work on suicide prevention and anti-bullying legislation.
"She was one strong girl. She was almost a black belt. She hated to lose when she fought. She was tough. She was beautiful and tough, so the idea that only the weak take their own lives is absolutely not true," Warburton said.
During discussion of the bill, Rep. Susan Duckworth, D-Magna, shed tears talking about her own struggles with suicidal thoughts. Counseling and therapy, she said, helped her enjoy life again.
"Don't judge," she said. "Please, please watch and listen to those you love."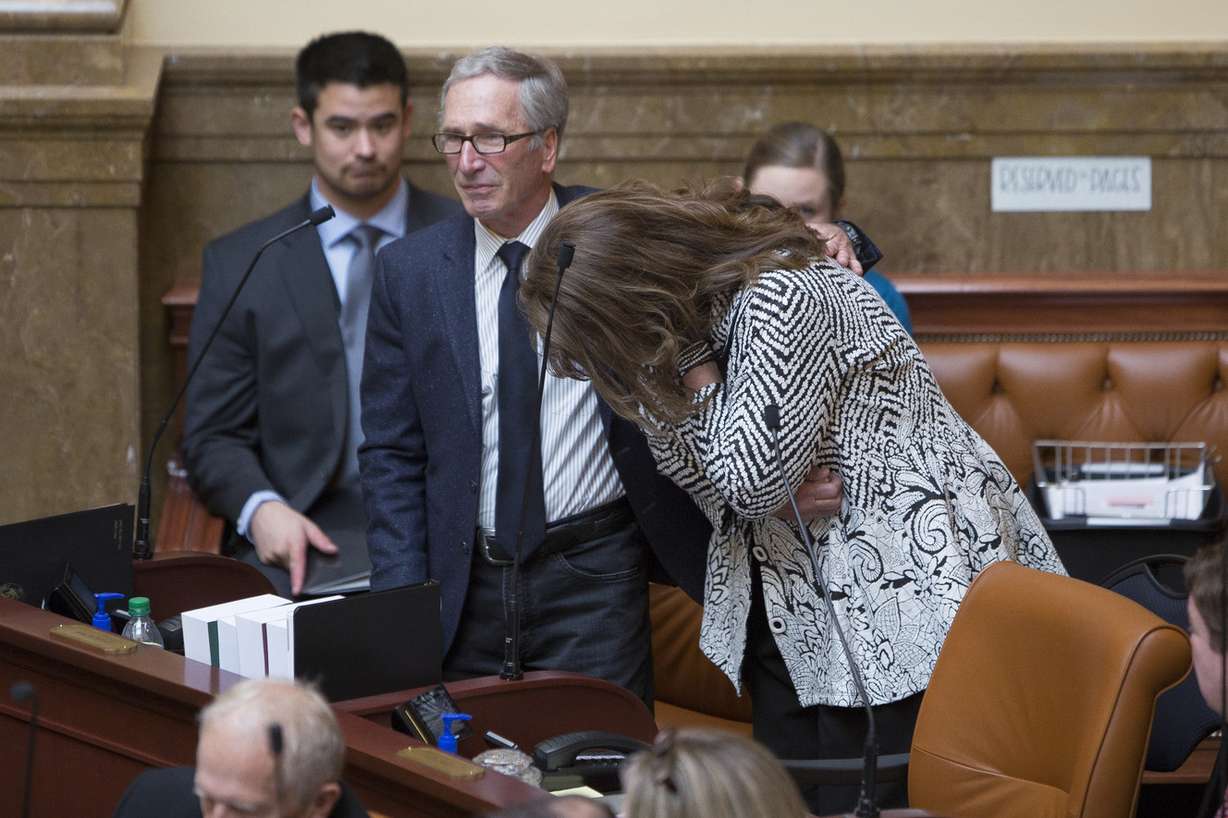 Rep. Sandra Hollins, D-Salt Lake City, said people need to be "hypervigilant" and not be afraid to ask someone if they're thinking about suicide and what plans they have.
"It's easy to be disconnected as families," she said.
Suicide is the leading cause of death of among young people in Utah. The majority of victims shot themselves with guns that were not properly stored, Eliason said.
Earlier this month, Gov. Gary Herbert appointed a group of business, religious education and health care leaders to work with the Suicide Prevention Coalition to see what can be done to better prevent suicide in Utah. He charged them with bringing him a plan by Feb. 15 that he can take to the Legislature.
Aiming to end suicide:
In his State of the State speech Wednesday, Herbert promised to find solutions this legislative session. He said far too many young people experience discouragement and hopelessness so severely that they consider taking their own lives.
"The fact that any of them actually do this is tragic beyond words," the governor said.
The House also passed HB42 calling for the Utah Department of Health to seek a federal waiver allowing counties to use Medicaid funds for a mobile crisis outreach team made up of mental health and medical professionals.
Eliason described the team as a "mental health ambulance" that goes to the house of a person in crisis to determine how to help, refer them for treatment or arrange for a ride to the hospital. The service is currently only available in Salt Lake County.
Rural counties where mental health resources are more scarce would benefit from a outreach team, he said.
Suicide Prevention Resources
If you or someone you know is struggling with thoughts of suicide, KSL encourages you to call the suicide prevention hotline at 1-800-273-TALK.

Crisis Hotlines
Utah County Crisis Line: 801-226- 4433
Salt Lake County/UNI Crisis Line: 801-587-3000
Wasatch Mental Health Crisis Line: 801-373- 7393
National Suicide Prevention Lifeline: 1-800-273-TALK
Trevor Project Hotline for LGBTQ teens: 1- 866-488-7386
Online resources
×
Photos
Related Stories