Estimated read time: 4-5 minutes
This archived news story is available only for your personal, non-commercial use. Information in the story may be outdated or superseded by additional information. Reading or replaying the story in its archived form does not constitute a republication of the story.
PROVO — By many accounts, the BYU men's basketball team has overachieved in 2017-18.
The Cougars are 17-4 going into Thursday night's road tilt at No. 16 Saint Mary's on ESPN2 and have put together a 6-2 mark at the midway point of conference play with an NCAA Tournament resume that lands them squarely on the bubble at No. 52 in KenPom.
Could the Cougars be even better if two of the best players from last year's squad, center Eric Mika and shooting guard Nick Emery, had not withdrawn from school?
It's hard to say for sure—but BYU athletic director Tom Holmoe believes the Cougars should find out, at least in the case of Emery, who withdrew from school during an NCAA investigation reportedly involving impermissible benefits.
"That's been a very hard thing for Nick to go through," Holmoe told reporters during a media roundtable Wednesday. "We love Nick, and we're doing everything we can to make sure that we can bring him back and make it work.
"Everything needs to be taken care of and done in the right way to make sure that we can bring him back."
The 6-foot-2 guard released a statement through BYU at the time of his departure, then promptly vanished from the spotlight. He has not granted media access to anyone since.
"I am not mentally where I need to be in order to perform in basketball and in school this year," his statement read. "As it has been made known, I went through a divorce this year and it has been really difficult for me.
"I have confidence that I will come back stronger and better."
He posted a blog at theoutlive.com several weeks ago chronicling his struggle with anxiety and depression, while also reaffirming his commitment to return to BYU, using phrases like "I am a Cougar and always will be."
The blog domain has since been removed from the internet.
BYU coach Dave Rose hasn't commented publicly on Emery's case since the withdrawal, citing NCAA bylaws and a respect for privacy. But he did say in the same statement the Cougars released that Emery's "personal well-being is my number one concern right now."
"He's going through a very difficult time, and we've had a lot of discussions about what he needs to do to be able to move forward," Rose said.
While Mika is playing pro basketball in Italy, Emery is at home with friends and family, posting about his exploits on social media. The whole time, his school is reportedly being investigated for allegations that he received free trips and concert tickets, even a car, during the past year.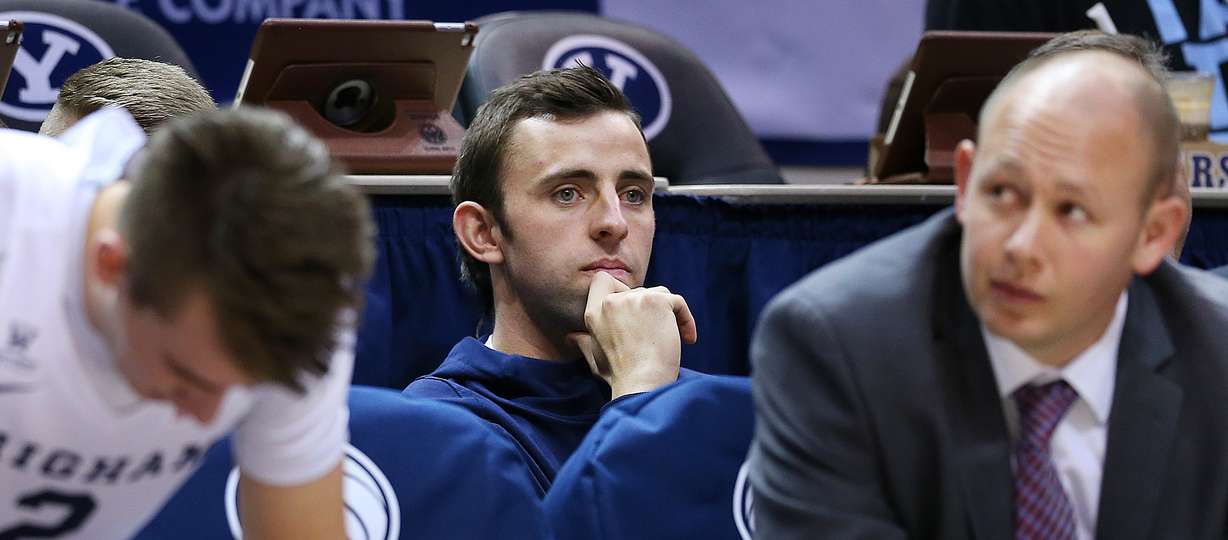 After he withdrew from school, the NCAA investigation also took a backseat to other scandals around the country, Holmoe said. The NCAA had other pressing matters that needed to be attended, and Emery's case no longer affected his immediate playing time.
"When he withdrew from school, because of some of the things that were going on in college basketball at the time, they asked to put it on the backburner for now," Holmoe said. "I think it would've been solved earlier if that were not the case, because we would have had to work on reinstatement.
"But I think it will be done in a timely manner."
Holmoe said BYU wants the investigation to end. But he also realizes such investigations take time—even at a school like BYU, where allegations of misconduct are extremely rare and almost nonexistent, in some cases.
"The best is that we have a case, we work with the case, and we take care of it in that regard," Holmoe said.
"As soon as it was identified that it was a problem, we've been working with the NCAA from day one. There was no time in between, where we considered it or thought about it."
Emery's case will require restitution for his alleged wrongdoing and will likely come with some form of contrition and/or punishment, both on the part of Emery and the school. BYU's name could also potentially be damaged if the NCAA investigation drags on too long.
But all of that is secondary to welcoming him back to school, Holmoe said.
"I know from an administrative position, other athletic directors and such, that as long as you handle the situation in a respectful matter, I don't think this is a case where people worry about our reputation," Holmoe said.
Media Review
×
Related Stories