Estimated read time: 2-3 minutes
This archived news story is available only for your personal, non-commercial use. Information in the story may be outdated or superseded by additional information. Reading or replaying the story in its archived form does not constitute a republication of the story.
SALT LAKE CITY — A two-week search for a missing plane and its two occupants has concluded after officials pulled the bodies of two men from the Great Salt Lake Saturday.
Divers recovered the bodies of Denny Mansell, 71, and Peter Ellis, 74, from the lake at around 11:30 a.m. Saturday, according to Box Elder County Sheriff's Chief Deputy Dale Ward. Mansell and Ellis were found in a Cessna 172 under 20 feet of water.
The men and the aircraft they were in had been missing since Dec. 29 when they took off from Ogden-Hinckley Airport. The pair had planned to fly to the Promontory Point area and take photos from the air of the trains at the Winter Steam Festival at the Golden Spike National Historic Site.
Several agencies, as well as volunteer pilots, unsuccessfully searched the area for the plane and the men for more than one week.
On Jan. 7, officials identified an object in the Great Salt Lake as an airplane that matched the size and description of the Cessna 172 the men were last seen flying in.
Crews attempted to further investigate and pull the object from the lake but were unable due to heavy fog at the time, and postponed the search.
Saturday's rescue was "the most technical dive operation that Weber or Box Elder County teams have ever been involved with," Dale said in an emailed statement.
A few factors contributed to this, including the position of the aircraft on the lake floor, equipment issues, weather, the saline concentration of the lake and limited visibility under water.
#SMO_FBvid
Divers nearly doubled their weight in order to get to the aircraft. Visibility under the water was less than one foot, which forced divers to complete the search by feel, Ward said.
Prior to Saturday's rescue, the Weber Dive Team spent the last week getting familiar with a similar airplane at Ogden-Hickley Airport, and practiced opening its doors and unlocking the plane's seat belts.
The National Transportation Safety Board will investigate the cause of the plane crash and will take over the recovery of the Cessna from the lake.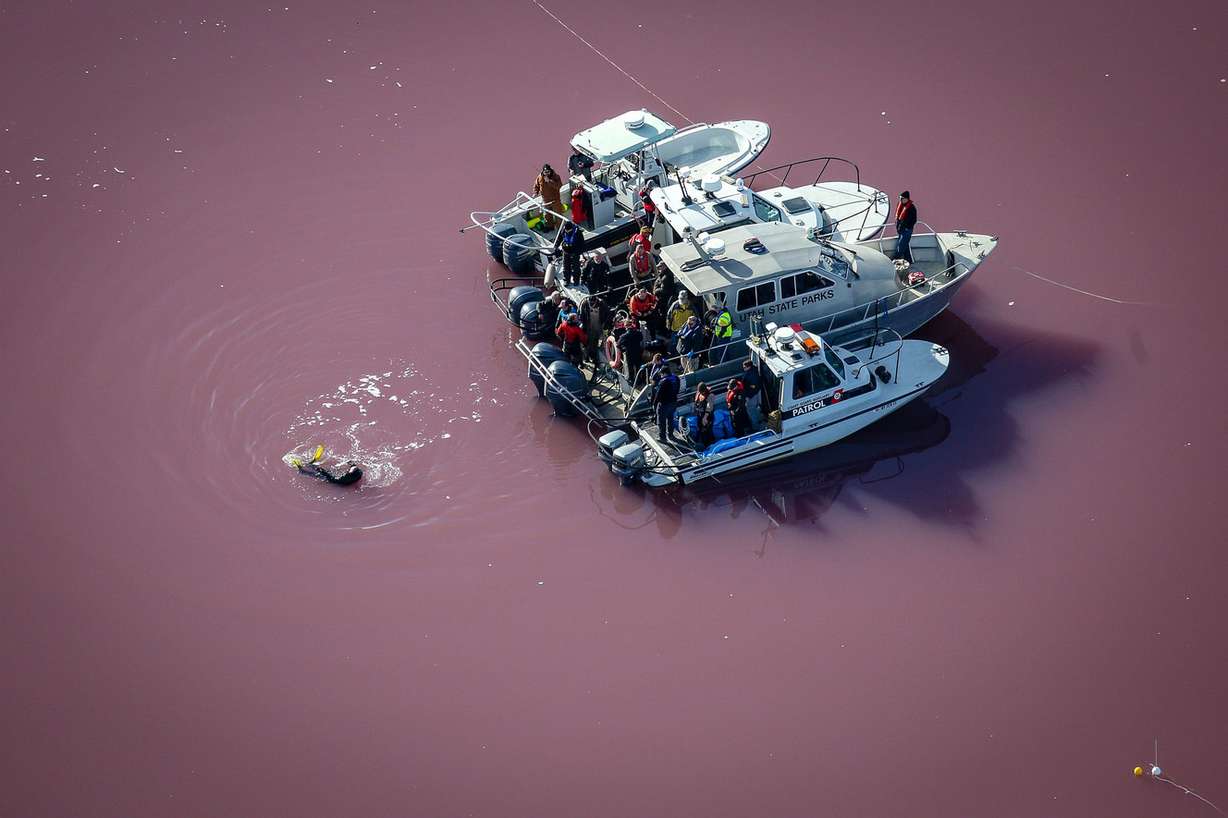 Mansell's and Ellis' bodies were transported to the Utah State Medical Examiner's Office where an exact cause of death will be determined.
"Search and rescue teams as a group wish to extend our condolences to the families of Mr. Mansell and Mr. Ellis, and are thankful we are able to bring some closure to the families," Ward said.
#WBSO_fb_post
×
Photos
Related Stories