SALT LAKE CITY — For AtlasRTX CEO Bassam Salem, Friday's naturalization ceremony rekindled memories of his own family's journey from Egypt.
"My family knew there was only one country we aspired to emigrate to … and one country where a good plan and hard work would be rewarded," said Salem, who became a U.S. citizen about 10 years ago.
Salem was the keynote speaker after 127 people from countries as diverse as Zimbabwe to the Netherlands took an oath of allegiance in the Capitol rotunda Friday.
"Believe me, I know how hard the journey is to get to the point you have reached today," Salem said.
He told KSL that many people approached him after the ceremony to thank him for mentioning "how hard it is to get here."
"I do think nonnaturalized Americans don't know what these people go through," Salem said.
Two people who certainly know the struggle of gaining citizenship are mother and daughter Zoila Guerrero and Maria Villar.
For Cuba native Guerrero, the ceremony was "very emotional," she said.
It took her seven years to get here. Now, she said, she really appreciates living in a free country.
"In (Cuba), people live under oppression and a lot of limitations, and they cannot express themselves," Guerrero said through her daughter, who was translating for her.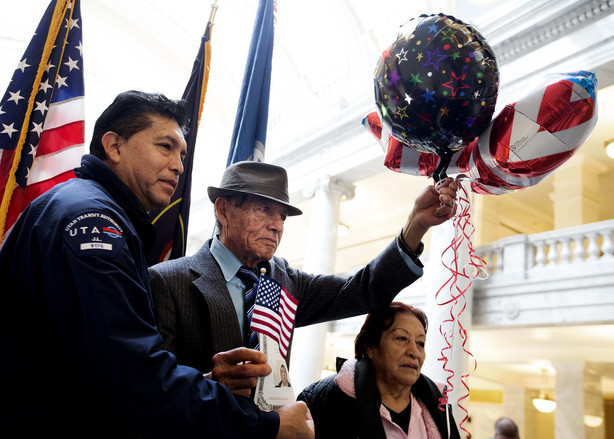 "She is extremely nervous. She was really waiting for this. She almost didn't make it because she was diagnosed with leukemia. And then, in this country, they make her born again," Villar said. "It's beautiful, you know. She was saved here in Utah."
The two are "extremely grateful" to the University of Utah, where Guerrero received cancer treatment, Villar said.
"It has been a tremendous adventure, but in the middle of chemo, she was telling me: 'I want to be a citizen,'" Villar said.
Villar is hoping to soon receive citizenship as well, she said. "This year is extremely gorgeous for both of us because we're born again and … I think, becoming citizens."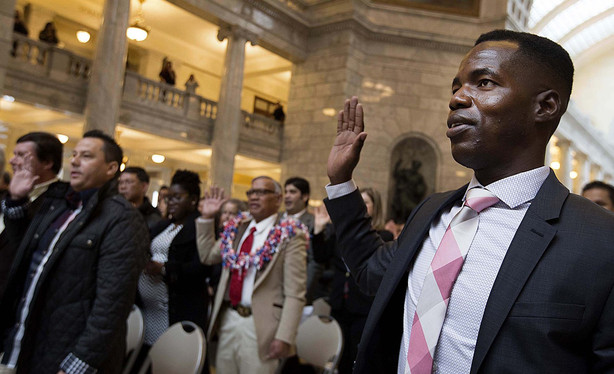 At first, a sense of excitement filled the rotunda as applicants' family members watched loved ones gain the rights and privileges of American citizens. Then, when the audience recited the Pledge of Allegiance along with those who were reciting it for their first time as U.S. citizens, a sense of reverence took over.
Salem said that seeing the faces of new citizens made him "emotional," although he says he is not "the emotional type."
"It was so meaningful for me to be here just because it brought back all of the challenges that my own family went through to get to this point," Salem said.
At the end of the ceremony, family members swarmed the new citizens. Tears shined in the eyes of many people as they embraced loved ones.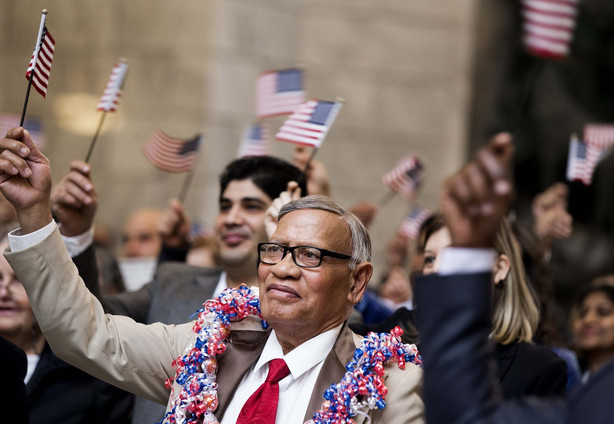 As families crowded together for photos, new citizens — usually in the center of their groups — clutched white envelopes with the promise of a better future tucked inside.
According to the American Immigration Council, 1 in 12 Utah residents was born in a different country, and immigrants make up a "significant share of the labor force and support the state's economy."
Gov. Gary Herbert said these new members of the community will make up "a significant part of the fabric of America."
"Strength is in diversification," he said.
×
Photos