PROVO — With the No. 3 BYU men's volleyball team tied with sixth-ranked Lewis at a set apiece Saturday night, head coach Shawn Olmstead called timeout after falling behind 6-3 early.
He spoke to his team, the Cougars came back out, and promptly took control of the third set — and the rest was history.
But what did Olmstead tell his team to fire it up?
"To be honest, I can't recall. I'm not going to lie and make up a good story," Olmstead said with a chuckle. "We made a few adjustments between sets two and three, adjusted on their attackers, and tried to hammer it home. That's why we were in the 10-minute break a little longer than normal.
"Things just went from there, and we were able to turn them a little better."
Whatever it was, it worked.
Storm Fa'agata-Tufuga put down 13 kills, and Gabi Garcia Fernandez added 12 kills and five blocks with just three errors apiece as the third-ranked Cougars rolled to a 25-21, 23-25, 25-15, 25-15 win over No. 6 Lewis in the Smith Fieldhouse.
"It was a very tough loss last night, and we usually learn from our losses," Fa'agata-Tufuga said. "We used that as motivation, and focused on what we could do better today."
Garcia, Fa'agata-Tufuga and Brenden Sander (11 kills) all scored in double figures for the Cougars (1-1), who got 40 assists from senior setter Leo Durkin.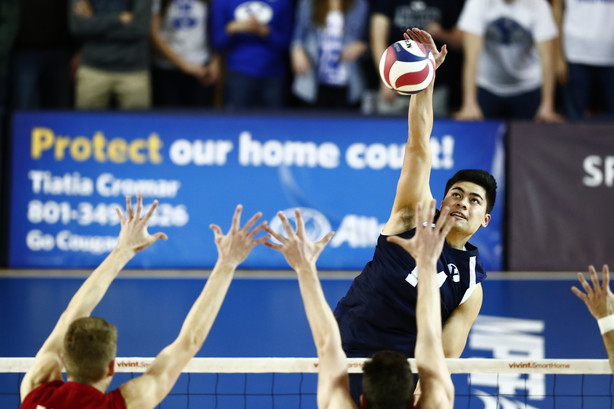 "We need Storm to stay loose and enjoy the game," Olmstead said. "You've got to compete and buckle down, but he played with a little better feeling, loose and slowed down. We just tried to support him so he could play like that."
Kyle Bugee led Lewis (0-2) with 11 kills and four digs, and Ryan Van Loo dished out 26 assists and five digs for the Flyers, who committed 24 attack errors with 20 service errors.
BYU out-blocked their east-coast visitors 10-3.5, including an 8-1 advantage in the first three sets.
The Cougars also served seven aces, nearly double what they had 24 hours previous.
"That's a huge deal for us; free points, I guess you could say," Fa'agata-Tufuga said. "It gets the crowd going, it gets us going, and makes us feel loose."
After BYU took the first set, Lewis hung on for a 25-23 win in the second to even the match at a set apiece going into the locker-room break.
BYU came out of the break with fire. After going down 6-3 early, Olmstead burned a timeout to motivate his players — and it worked.
The Cougars jumped on a 6-2 run of their own, taking the lead at 9-8 with back-to-back kills by Miki Jauhiainen and Fa'agata-Tufuga.
The lead swelled to 18-12 when Fa'agata-Tufuga stroked an ace, and Wil Stanley ended the 25-15 set with an ace of his own.
Jauhiainen had three kills, two blocks and an ace to lead the offensive surge in the third set.
"In the end, if we can do that, that will free up a bunch of people — if we can get them excited about our middles coming at them," Olmstead said. "That was a big part of it."
Sander served consecutive aces to start the fourth set with the same fire, and Fa'agata-Tufuga added back-to-back kills to lift the Cougars to a 6-1 open.
A double block by Jauhiainen and Garcia helped push the Cougars' lead as high as 15-8, and Fa'agata-Tufuga's back row kill helped the Cougars roll to a 25-15 fourth-set victory for BYU's first win of 2018 after losing 3-2 to No. 13 Loyola Chicago on Friday.
"This program has had a lot of success at home, so for them to respond after last night was important," Olmstead said of Loyola, which lost to UC Irvine on Saturday evening. "That's a good team out there.
"That's a really good win for the guys, to come back after a really long night."
×
Related Stories