Estimated read time: 2-3 minutes
This archived news story is available only for your personal, non-commercial use. Information in the story may be outdated or superseded by additional information. Reading or replaying the story in its archived form does not constitute a republication of the story.
SALT LAKE CITY — Following the death of LDS Church President Thomas S. Monson, the question now turns to how the church moves forward in selecting a new president.
The Church of Jesus Christ of Latter-day Saints is led by a three-man governing body called the First Presidency, which includes the president of the church and two counselors. Once a president dies, the First Presidency is dissolved and the two counselors return to the Quorum of the Twelve Apostles, which becomes the governing body of the church.
The senior member of the Quorum of the Twelve Apostles, who is the man who has served in the quorum the longest, presides in a meeting where quorum members determine one of two outcomes: should the First Presidency be reorganized or should the church continue to be governed by the Quorum of the Twelve Apostles for the time being?
Following a discussion, the members of the Quorum of the Twelve Apostles then vote. If the group chooses to reorganize the First Presidency, a president is selected by unanimous vote. Traditionally, the new president has been the senior apostle. Once a president has been identified, he selects two counselors to make up the First Presidency.
Once the First Presidency is established, the second-longest-serving member of the quorum is named the president of the Quorum of the Twelve Apostles. If that individual was selected to serve in the First Presidency, the third-longest-serving member becomes acting president of the quorum.
Although there is no formal procedure for when the vote should take place, it traditionally happens sometime within the week after the president dies. President Monson was ordained about a week (Feb. 3, 2008) after the church's 15th president, Gordon B. Hinckley, died on Jan. 27, 2008.
Church officials indicated on Wednesday no successor would be named until after President Monson's funeral.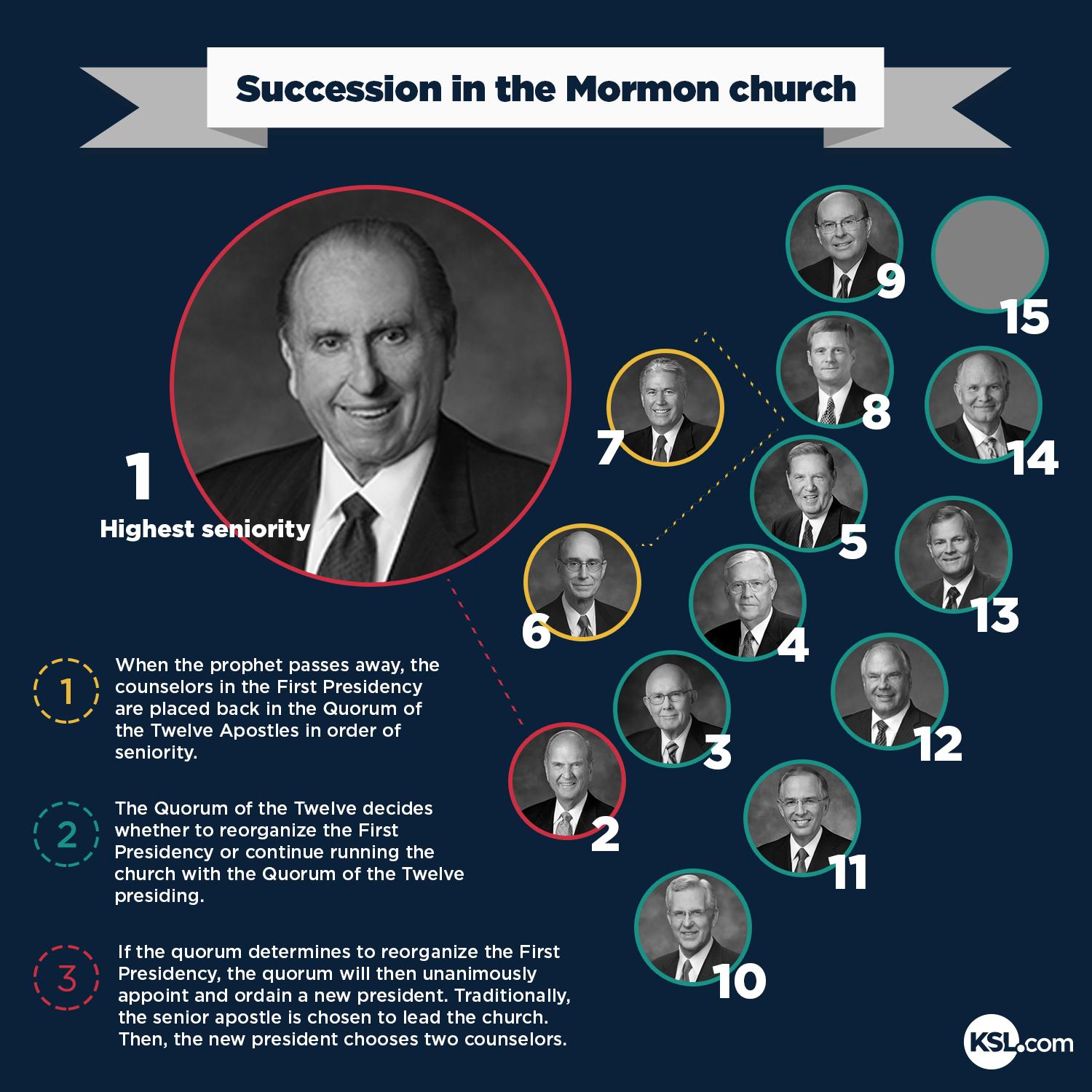 ×
Most recent Utah stories