Estimated read time: 6-7 minutes
This archived news story is available only for your personal, non-commercial use. Information in the story may be outdated or superseded by additional information. Reading or replaying the story in its archived form does not constitute a republication of the story.
PROVO — Call the inaugural early signing period a success for the BYU football team, especially coming off a disappointing 4-9 season.
OK, so most college football coaches won't openly admit when a school whiffs on a particular recruiting class. But BYU coach Kalani Sitake said the NCAA's new signing period is beneficial to the LDS church-owned school and its admission requirements and missionary prospectus, in particular.
The Cougars added 13 players to the team ranks Wednesday, five returned missionaries that will enroll in January, and two more that have signed but will not announce until the traditional signing day in February.
"It's nice to have guys who we felt have been with us for a long time," said Sitake, who will also welcome back five returned missionaries for the Winter 2018 semester and eight more in the fall. "We can get these guys taken care of, and then get the other (recruits) transitioned into applying for school or get their mission papers started.
"I think this is a good thing for us."
Prospects have until Friday, Dec. 22 to sign a national letter of intent before the early signing period closes. Additional BYU commits who did not announce their intentions Wednesday include wide receiver Gunner Romney from Chandler, Arizona, and cornerback Isaiah Herron from Las Vegas.
Corner Canyon quarterback Zachary Wilson, a former Boise State commit who is considering BYU in addition to the Broncos, Cal and Colorado State, among others, plans to announce his decision Thursday, KSL Sports has learned.
The offensive line was a noted point of emphasis for the Cougars, who added five tackles, including Lone Peak's Connor Pay and Weber High's Tyson Lewis, both all-state selections by the Deseret News.
Sitake also said Chinonso Opara, the 6-foot-8 defensive lineman from Nigeria by way of Juan Diego Catholic High School in Draper, may be one to switch to the offensive line during his career.
Whether on the offensive or defensive lines, Sitake said there is "a lot of athleticism" in that group.
"The point was to get big, strong bodies," he added. "Whether they are on the O-line or D-line, they are guys who can take up space and can move the line for us."
Opara is a rare athlete from Juan Diego Catholic High School to sign with the Cougars. Religion aside, the native of Nigeria has only played football for two years — but he's already developed into a college prospect.
"That was a referral, also, and we invited him to camp and got to know him. Recruiting picked up really quickly for him," Sitake said. "It was a good fit. Last I checked, Catholics do really well playing football here. It's a good sign, with Jim McMahon and the other Catholics from here would be happy to welcome more."
The towering recruit with limited football experience struck up an early friendship with defensive coordinator Ilaisa Tuiaki, and upheld his pledge with the Cougars despite late offers from Utah and Weber State.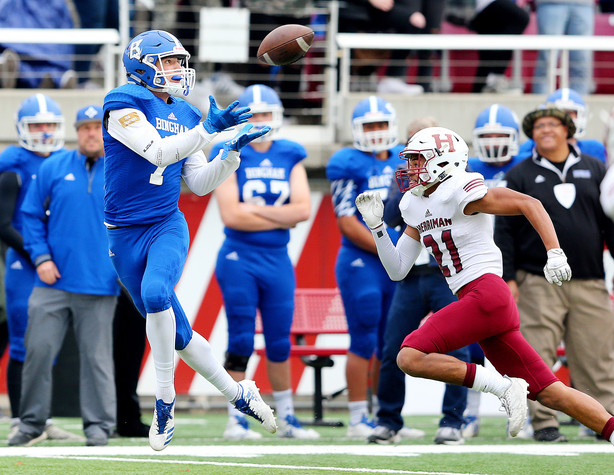 "His best years of football are ahead of him," Tuiaki said of Opara. "He's a big, physical specimen; when he walks in here, you will think that he's a former NFL player now.
"He came to our camps, and he was still raw. But some of the drills we put him through were really impressively, physically."
Even in a year when BYU returns every quarterback on the 2017 roster, and adds returning missionary Jaren Hall from Maple Mountain, the Cougars signed one more signal-caller: Texas quarterback Stacy Conner, a 6-foot-6, 185-pound dual threat, signed with the Cougars after originally committed to Texas State and UNLV.
"He's a great athlete, he's big, he has humongous hands and a large wingspan. And he's got a rocket of an arm," Sitake said of Conner. "When you have a guy who can do that at that size, we're fortunate to get him out of Texas.
"This was his dream school. I've been calling out LDS members to help us recruit, and we actually got a lot of great recruiters … If you see big, fast young men — try to get them to play football, and then we'll take it from there."
Despite the rough season, Sitake said most of Wednesday's early signees were "more sold on the school" than the coaching staff or new offensive coordinator Jeff Grimes, who has returned to LSU temporarily to help the Tigers prepare for Notre Dame in a New Year's Six bowl.
"It was a down year, obviously," wide receiver Brayden Cosper told KSL Sports. "But there's no doubt in my mind they are going to turn it around. It's a fantastic coaching staff, and I can't wait to get there and do my part."
The new signing period was not without its hiccups, of course. Any time the NCAA institutes a first-time event, there are bound to be issues. But assistant head coach Ed Lamb said he hopes it changes the "language of commitment" that has permeated college athletics.
"It's definitely different. But one of the things that I enjoy the most is that it's cleaning up the language of recruiting.
"Commitment has started to mean, 'I'm committed to you because you are the best thing I have going right now,'" Lamb said. "This early signing period gives a chance for that player to let us know that he is 100 percent committed.
"It's not that we need every player to sign earlier or be committed early. We aren't chasing that. But we would like to know that a commitment has no other reservations. They aren't committed, pending a visit or who we hire as offensive coordinator. They are 100 percent committed to BYU, no matter who the coaching staff is or no matter if we won or lost the last game."
Below is the complete list of BYU early signees, many of whom will enroll during the school's Winter semester.
Campbell Barrington, OL, University HS (Spokane, Wash.)
Stacy Conner, QB, Wylie HS (Wylie, Texas)
Brach Davis, DB, Olympus HS (Salt Lake City)
Harris LaChance, OL, Herriman HS (Herriman)
Tysen Lewis, OL, Weber HS (North Ogden)
Isaac Matua, LB, Kearns HS (Kearns)
Oliver Nasilai, LB, Jessieville HS (Jessieville, Ark.)
Connor Pay, OL, Lone Peak HS (Highland)
Jacob Smith, OL, Rosemount HS (Farmington, Minn.)
Ben Tuipulotu, TE, Nation Ford HS (Fort Mill, S.C.)
Talan Alfrey, S, Auburn Mountain View HS (Auburn, Wash.)
×
Related Links
Related Stories