Estimated read time: 2-3 minutes
This archived news story is available only for your personal, non-commercial use. Information in the story may be outdated or superseded by additional information. Reading or replaying the story in its archived form does not constitute a republication of the story.
KEARNS — For years, local businesses in the so-called "Camp Kearns" area have dealt with rugged, muddy roads that have diminished their reputations and made accessibility a nightmare in the wintertime.
"As you come down these roads, there are potholes everywhere," said Lane Dubois of Condies Foods Inc., a fresh produce company at 4850 S. 5300 West.
The 40-company industrial area, located south of 4700 South along 5200 West, was once a World War II Army air base. Since then, businesses in Camp Kearns have struggled to flourish and new companies have avoided the area because of the 1.5 miles of unpaved roads, said Salt Lake County Mayor Ben McAdams.
But thanks to $1.9 million in funding from a 2015 transportation bond — and years of hard work surveying the land and gaining the needed easements through donations from 27 landowners in the area — Camp Kearns will be getting pavement.
To honor the area's history as an air base, the new roads will be named after fighter planes, with names like "Liberator Drive" and "Thunderbolt Drive."
"Today is about removing a barrier for opportunities for growth," McAdams said at the road's groundbreaking ceremony Wednesday, outside Lusid Technologies, a paint company at 5195 W. 4700 South.
The project is expected to begin immediately and finish in the summer, McAdams said.
"We are so pleased to see this project moving forward," said Kearns Town Councilman Steve Perry. "It's going to be not only a road project for us, but we are also looking forward to economic development benefits."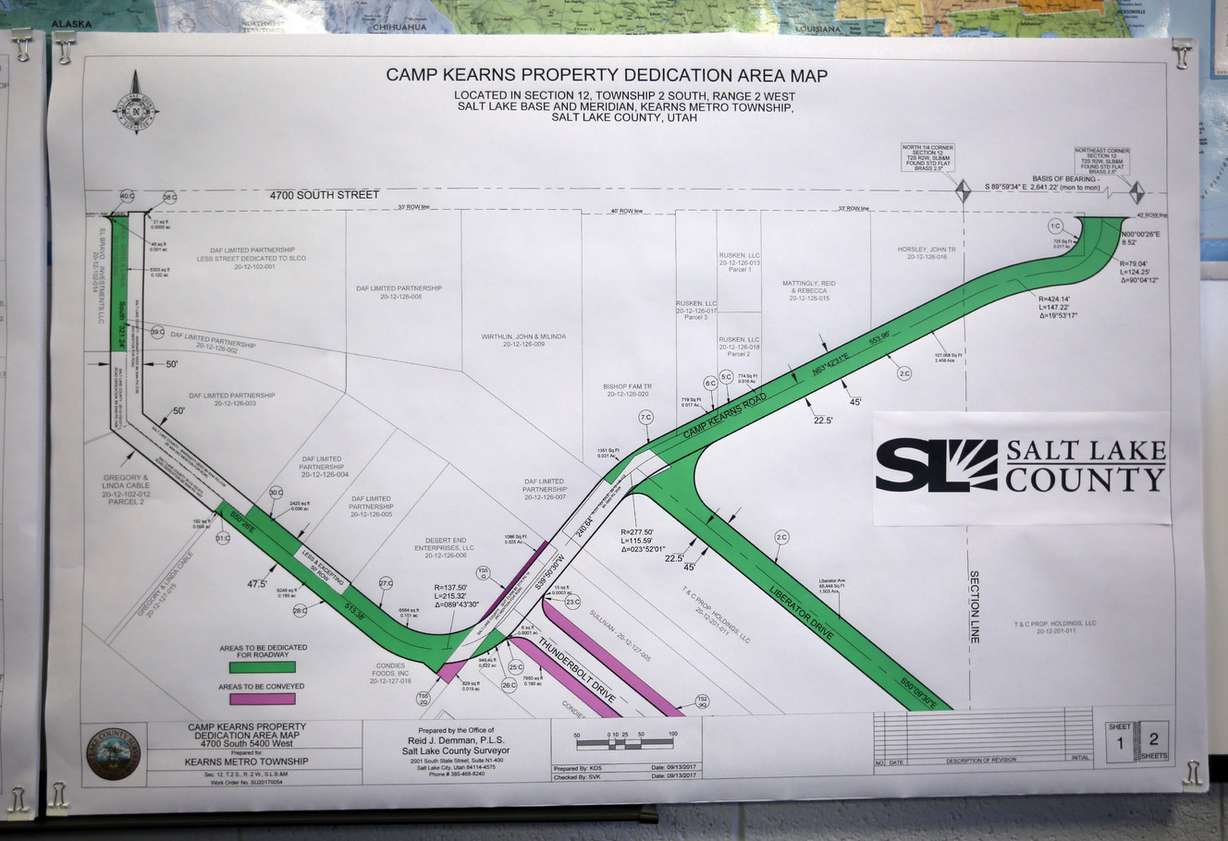 LaBree Truesdale, president of Lusid Technologies, called the project "kind of a dream come true" after years of planning.
Truesdale said he plans to subdivide some of his property's 23 acres and sell to incoming businesses, while also expanding his existing building. He said he donated about an acre of his own property for a service road to open up access to more businesses.
"I've been bombarded by real estate agents already," Truesdale said, though it's too soon to tell what businesses will be locating to Camp Kearns or how many jobs they will bring.
State Sen. Karen Mayne, D-West Valley City, said she grew up in Kearns, so she's happy to see the road project finally come to fruition.
"This area has been just ready to bloom and it's just been sitting here many, many years," Mayne said, thanking county and town officials for giving Camp Kearns "the push" it needed.
×
Photos
Most recent Utah stories