Estimated read time: 3-4 minutes
This archived news story is available only for your personal, non-commercial use. Information in the story may be outdated or superseded by additional information. Reading or replaying the story in its archived form does not constitute a republication of the story.
SALT LAKE CITY — Several environmental groups called the proposed national park in the Grand Staircase-Escalante area a "bait-and-switch" to distract from the Trump administration's attempt to break up the national monument.
"We don't want a fake national park in the Escalante. Nobody wants it," said Scott Berry, co-owner of the Boulder Mountain Inn and a Grand Staircase-Escalante Partners board member.
Residents in Garfield, Kane and Wayne counties like Grand Staircase-Escalante National Monument the way it is, Berry said, and they don't want it turned into "some kind of Gar-Kane National Park Disneyland" with paved roads, lands sold to concessionaires and thousands of more people invited to the delicate landscape.
Berry joined representatives of the Southern Utah Wilderness Alliance, Sierra Club, National Parks Conservation Association and about 150 sign-waving people — "Save Grand Staircase-Escalante" — on the Capitol steps to denounce Rep. Chris Stewart's Grand Staircase Escalante Enhancement Act.
Southern Utah Wilderness Alliance attorney Stephen Bloch said the "strangely named" legislation is "nothing of the sort."
Stewart, R-Utah, introduced a bill last week to put into law President Donald Trump's order splitting the 1.9 million-acre Grand Staircase-Escalante National Monument into three significantly smaller monuments, totaling about 1 million acres. His legislation would also create a national park in the Escalante Canyons section of the monument.
The boundaries of the proposed park are unclear. Stewart said it would be about 100,000 acres.
In addition, the measure proposes to transfer the Hole-in-the-Rock road to Utah and create a council made up of local officials to draft a management plan for the monuments and the park.
Related:
The bill is scheduled to be heard in the House Natural Resources Committee's federal lands subcommittee. Utah Republican Rep. Rob Bishop heads the panel.
Stewart said the proposed Escalante Canyons National Park is a win for conservation, access and local communities. He called it a "crown jewel" of Utah that would be on the map for everyone to enjoy.
"It will increase tourism giving a much-needed boost to the local economy while giving locals an unprecedented voice in how their backyard is managed. Additionally, a national park enhances the visitors' experience by making resources available, such as a visitors center, trails, restrooms and roads," he said Tuesday.
Berry said that's exactly what locals don't want, adding that no one has ever asked them what they prefer. He said the monument was a better solution for a "nice, slow growth pattern" into the future than attracting crowds the gateway towns can't accommodate.
"I don't want to see pictures in Escalante and Boulder that I see in Springdale," he said. Springdale is the community adjacent to Zion National Park, one of the busiest in the country.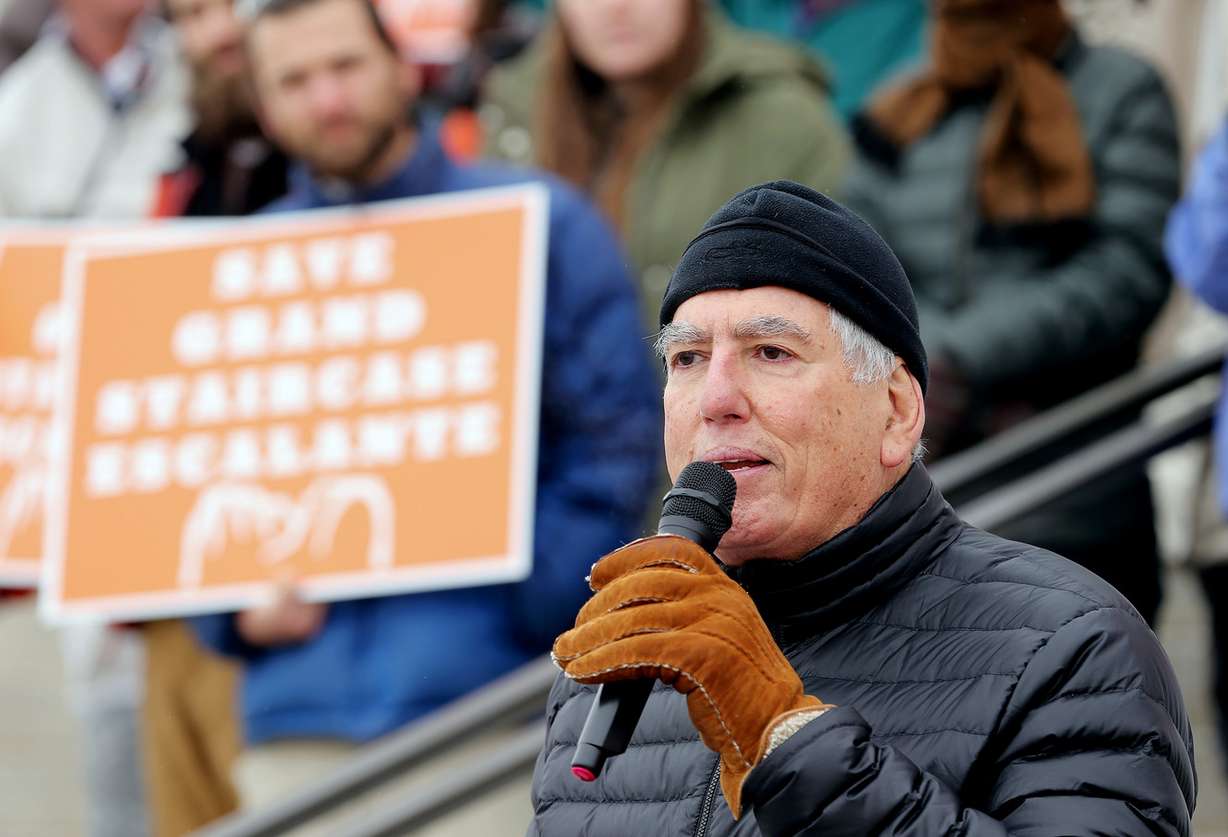 The environmental groups oppose Stewart's proposed management council made up of local officials, contending "parochial" interests would skew the management plan toward grazing and mineral development.
"These are local officials who have long been hostile to the protection of this special place," Bloch said.
Dave Nimkin, National Parks Conservation Association southwest regional director, said creating a national park to bring more tourists is "insane."
Nimkin called Stewart's proposal an "insidious and cynical ploy" to undo protections to the area. He said Grand Staircase-Escalante is the "connective fiber" that protects Capitol Reef and Bryce Canyon national parks, and Glen Canyon National Recreation Area.
"Quite honestly, this is subtraction by addition," Nimkin said.
The current monument management plan restricts oil and gas development, and mining and regulates grazing. Creation of a national park would undermine and eliminate many of the restrictions that are fundamental to the well-being of national parks, he said.
Stewart said last week that he favors mining and other natural resources extraction in areas that would no longer be part of Grand Staircase-Escalante, though he said it should be market-driven.
But it would be years and years and millions of dollars before any mining could occur, Stewart said, because the land would still be subject to federal rules and regulations.
×
Photos
Related stories
Most recent Utah stories