Estimated read time: 9-10 minutes
This archived news story is available only for your personal, non-commercial use. Information in the story may be outdated or superseded by additional information. Reading or replaying the story in its archived form does not constitute a republication of the story.
On your list of fun things to do, maintaining your garage door likely falls somewhere between getting audited by the IRS and hand-clipping your grass while reciting geometry theorems.
The only problem is you need a lot of things in your garage — your car, your tools and the cache of gold bricks you've been saving for the apocalypse — and a faulty door can get in the way of all that.
So go on already. Spare yourself a mechanical inquisition by following these simple maintenance tips below, brought to you by the good folks at Utah's own A-Plus Garage Doors.
How do I know when it's time for a new door/repairs?
When it's saggy
Garage doors are a lot like humans. As they start to age, they sag. And just like with humans, a sagging garage is really just saying please love me. Luckily, fixing a garage door is easier than plastic surgery. If your door hangs off-kilter or has gaps underneath when you close it, one of the springs that lift the door is probably worn out. Test the problem by manually lifting the door halfway. If it starts to fall back down, the fix is simple — just call a pro to put in new springs. (Don't forget to tell the door that it's beautiful just the way it is.)
When it's heavy
We don't mean to get heavy, but your garage door beat us to it. If your door becomes hard to lift manually, it's (sob) time for new springs. Call a pro to put some bounce back in your garage's step (installing springs on both sides for balance) and then hold a small burial ceremony for the old springs in your yard. After all, they died doing what they loved.
When it's noisy
If your garage door starts to sound like a KMFDM concert when you open or close it, chances are your door is a) nihilist and b) about to die. And while dying is so metal, it's also really annoying. Chances are, the problem is due to loose hardware or worn rollers. But it's not too late! If you call in a door pro immediately, the repairs could be fairly simple. And then you can celebrate by starting an industrial garage band called Worn Rollers.
The problems above are pretty easy fixes, but if your door is old, heavily damaged, lacks child safety features or hasn't been running properly for a while, it's time to call a pro to replace it.
What kind of maintenance should I be doing?
Your life has a lot of moving parts, but your garage door is the biggest one. Ninety percent of people don't know that garage doors need regular maintenance, but if you show your door a little love, it will repay you in dividends. Plus, it will be the easiest committed relationship of your life.
Go greased lightning!
Keep your garage door parts lubricated by using white lithium grease on the opener's chain or screw, and use a spray lubricant to coat the springs. You'll feel like a hero for adding years to your garage's life. And plus, white lithium grease sounds like a superhero cocktail (but it's not, okay?! IT'S NOT.)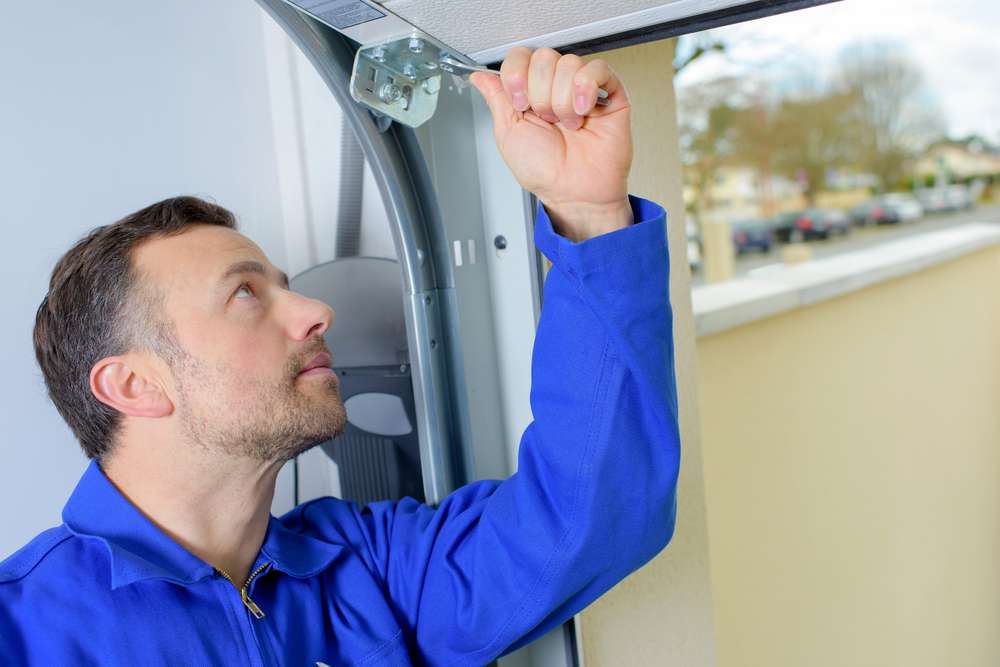 Rollin' with your homie.
Your garage door couldn't move a muscle without a solid set of steel or nylon rollers, and with minimal movement of your muscles, you can make sure the party never ends. Inspect rollers twice a year for chips, cracks or wear and tear. Replace any offenders as needed, and replace the whole lot every seven years.
Put your door down, test it and reverse it.
Keep your garage door from turning on you by checking its safety reversal system. If your device is mechanical, place some wood beneath the door and close it while dancing like a robot. The door should touch the item and reverse — otherwise, it's time for a repair! If your system is photoelectric (look for red laser beams), grab a lightsaber and sweep your foot under the door as it's closing. If your door springs back, convince your kids you used the Force. If it doesn't spring back, get your door fixed before someone named Luke gets his hand cut off. (If your overhead light is flashing, nine times out of ten it's the eye sensor--a super easy fix!)
---
Place some wood beneath the door and close it while dancing like a robot. The door should touch the item and reverse — otherwise, it's time for a repair!]
---
Balancing act.
Check your garage door's balance at least twice a year by disconnecting the automatic opener and pulling it halfway up manually (see above). If it falls down, it's time for a repair. If it stays put, it's perfectly balanced, and all you are required to do is bow deeply and say namaste, namaste.
Build the tension.
The high-tension cables that lift your door are super high-strung, but that's a good thing: They're busy trying not to kill you. Check the cables regularly for broken strands or damage near the roller brackets. But if you see a problem, don't be a hero. One wrong move and your tombstone will read She died doing regular maintenance on her garage — and is that really what you want to be remembered for? Nope. So call A-Plus or another certified KSL Services pro.
Get with the program.
Keep robbers and burglars at bay by regularly reprogramming your garage remotes. Follow this simple YouTube video to erase the codes that link your remote to your door and then reset them. Remember to cackle the whole time like a Bond villain who just reset the nuclear codes.
Can I do this all by myself?
Sure, human beings are capable of repairing their garage doors on their own, but in the same way humans are capable of swimming the English Channel and running ultra-marathons (read: a select few humans). So before you try to impress your neighbors by tinkering with your garage door yourself, ask yourself if you want to be one of the 10,000 garage-related injuries that occur in the United States each year. If your answer is yes, go right ahead! But if you prefer to preserve life and limb, call a professional. This will give you peace of mind that that the job has been done right, and pros often guarantee their work. (And with all the time and limbs you'll save, you can start training to swim the English Channel.)
If you insist on being the Martha Stewart of the DIY garage door scene, consult with a pro for advice. They can give you tips on the best tools and approach, and if you hit it off with them, they may even bring you flowers in the ICU.
---
Before you try to impress your neighbors by tinkering with your garage door yourself, ask yourself if you want to be one of the 10,000 garage-related injuries that occur in the United States each year.
---
How do I choose a reputable company?
You might think you're a genius for finding a rock-bottom deal on your garage door, but when your guy shows up looking furtively over his shoulder carrying a homemade screwdriver, you'll reconsider your self-assessed IQ score. Make sure you're getting quality service by looking for a few critical signs:
Make sure your tech is licensed and properly trained. Look for a truck with a logo, a uniform and a name tag. If you're still suspicious (what is that rusted kidnapper van anyway?), call the Better Business Bureau to make sure the company is licensed and insured and the tech is experienced.
Lots of chintzy operations will try to get you to buy a new door when a repair will do. Consult our lists above about when to repair and when to replace, and don't be afraid to ask hard questions or get a second opinion.
The company may have glowing testimonials or certifications on their website, but do your own research. Check out independent consumer reviews online, check out their Facebook page, or use KSL's database to find a quality local company.
With garage doors, you're not playing Price Is Right, you're playing Parts Are Right. Resist the temptation to get cheap springs, doors, or rollers. You'll just end up paying more later. Look for insulated steel-backed doors that last for ages and lower your heating costs, neoprene rollers that run quiet and smooth, and quality springs that can lift a door with ease.
Lingering questions? Watch A-Plus Garage Door's YouTube video on how to avoid scams and ensure quality service.
How much can I expect to pay?
Beware flashy price quotes! The price a company quotes you in advance is almost never what you'll end up paying. A qualified tech won't be able to tell you an exact price without an in-person assessment of your situation. For estimates, make sure to ask about taxes, labor costs, quality of the parts and potential service call fees.
According to HomeAdvisor's True Cost guide, a typical range for garage door repairs is $178-$413. And remember, hiring a pro is a lot easier than applied geometry and, depending on how honest you were with your taxes, a lot cheaper than an IRS audit.
Need to show your garage door the love it deserves? Contact a certified and highly rated pro today onKSL Services.
×