Estimated read time: 4-5 minutes
This archived news story is available only for your personal, non-commercial use. Information in the story may be outdated or superseded by additional information. Reading or replaying the story in its archived form does not constitute a republication of the story.
SOUTH SALT LAKE — Sometimes it takes the fires of adversity to help us find who we are.
Such is the case with Jared Williams, whose path through life began at the age of five when his dad gave him his very first knife. As a teenager he learned he could take his interest one step further.
"In shop class, the teacher said you can make knives out of old files," Williams said. "I was walking home from school one day and I found an old rusty file on the ground. So I took it home, ground it into a knife and I was hooked."
He wanted to learn more. He needed to learn more. But life had other plans.
"I couldn't find a teacher when I started," Williams said. "I approached various knifemakers. They all turned me away."
He saw knifemaking as a bit of an exclusive club at the time — and his membership was denied.
"There was a bit of a thing with knifemakers that was still kind of secretive, almost," Williams said. "It was like 'No, these are my trade secrets, I don't know if you're worthy of it.' There's still a little bit of that in parts of the industry. Not all of it, and maybe it was just kind of a hard thing to find and maybe I just met the wrong guys."
Williams says he may have been a bit too headstrong at the time — with a healthy serving of stubbornness to go along with it.
"I was like 'Well, I'm gonna do it anyways,'" he said. "I went to the library, I found one book and I read that book probably 50 times."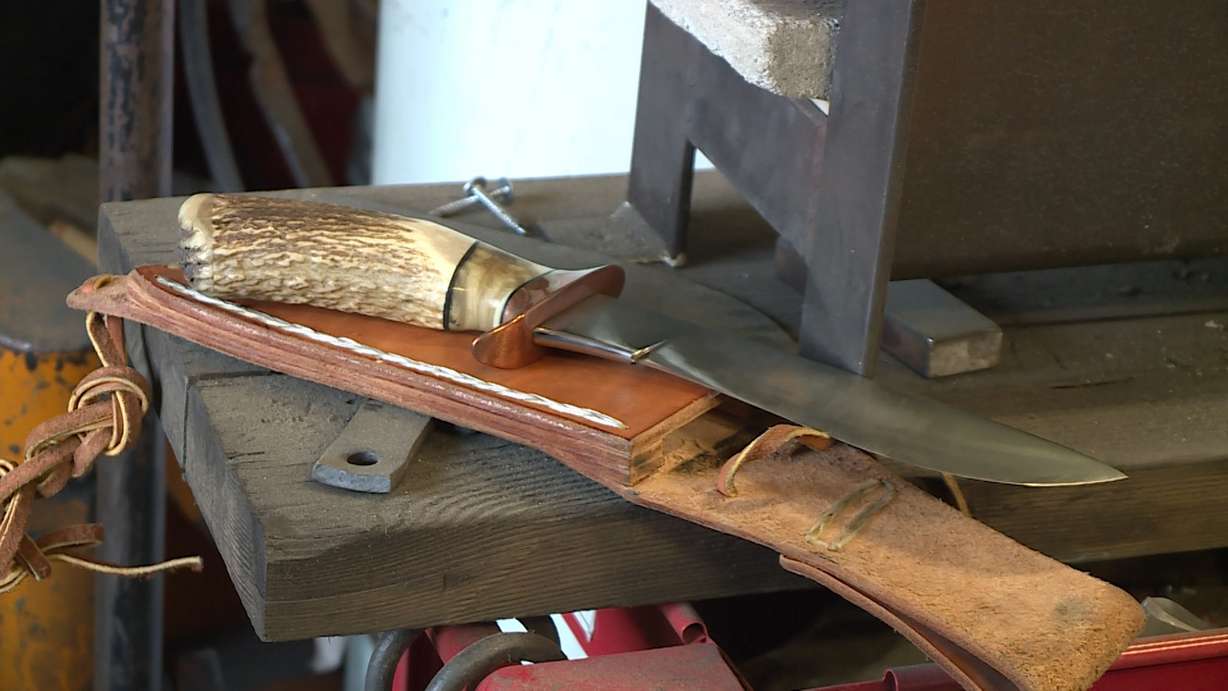 In many ways, he's a self-made man — and despite all the doors that were slammed in his face, he's found his own way toward success. He toils away in his corner of an old warehouse, heating and grinding metal to create and sell knives for his business, Jared's Forge.
"Business is really good, actually," Williams said. "It just keeps picking up. I'm slammed for the rest of the year for Christmas and I've already got orders stacking up for the springtime."
---
"The whole experience of the clock counting down, doing the best I can with the time I've got, under the stress and the conditions of it all — I'd go back again in a heartbeat."
---
But his dad — the man who gave Williams his first knife — wanted something more.
He'd call his son after each episode of "Forged in Fire," a competition that airs on the History Channel.
Williams said his dad would ask, "Did you watch today's episode, son? When are you gonna go on? When are you gonna go on?"
His son relented.
"Finally after months and months of my dad pestering me, I said 'Fine, I'll send an email in. See if I can get on it,'" Williams said. "I get a phone call, couple interviews later they're flying me out to New York City."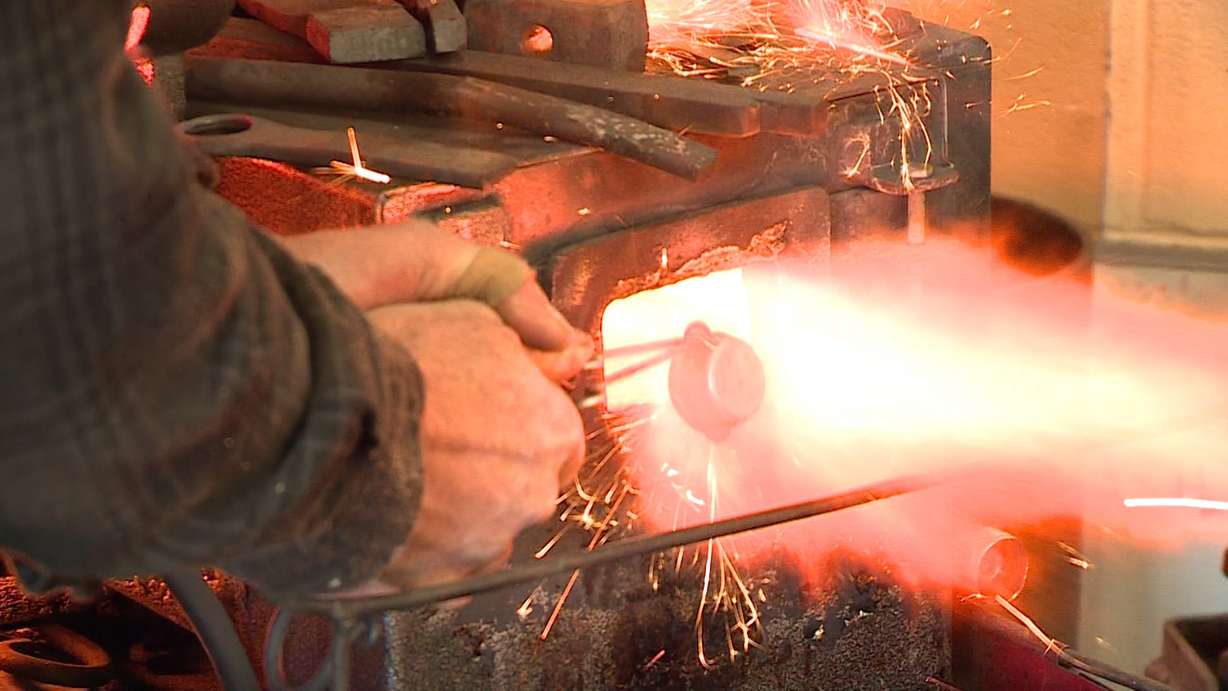 The challenge on Williams' episode was to create a "Hunga Munga," an African throwing knife.
"One of the most difficult things I've ever built to date," Williams said. "The whole experience of the clock counting down, doing the best I can with the time I've got, under the stress and the conditions of it all — I'd go back again in a heartbeat."
Despite facing some well-known and highly critical judges, Williams walked away as the winner of his episode, taking home a $10,000 prize.
"Totally worth every second of it," he said.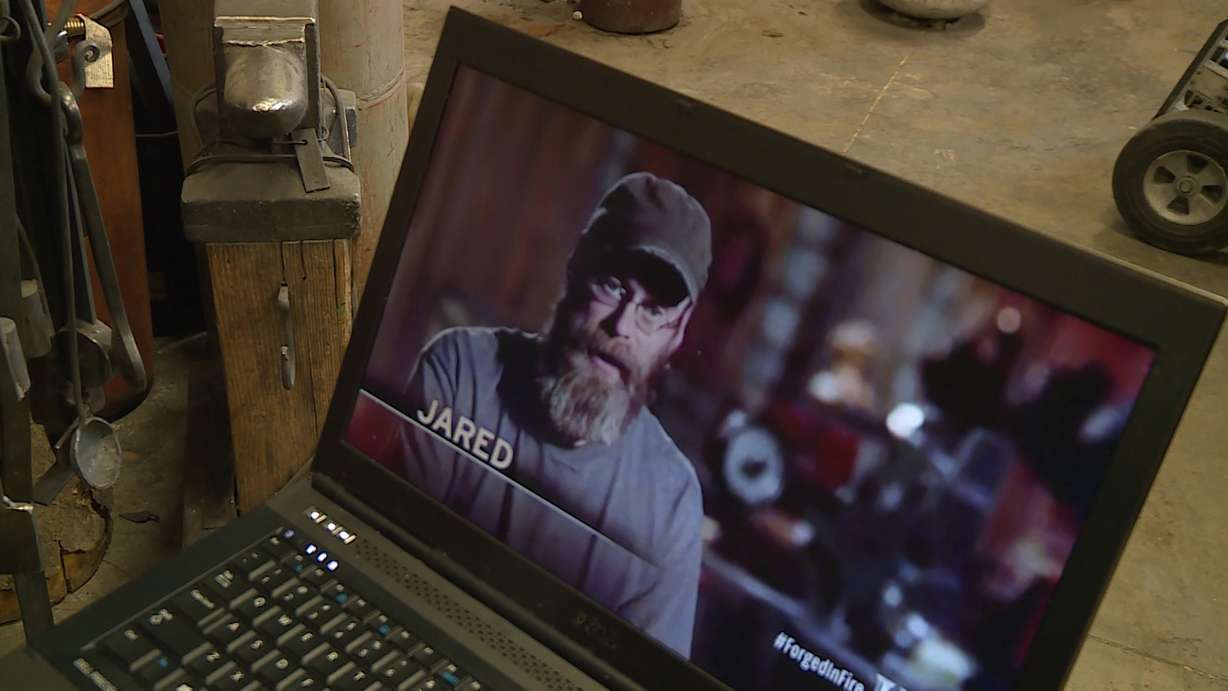 Since the show first aired, Williams says he's seen an uptick in business. And, when he sees a slight bump in his social media following, he knows his episode has run again.
As proud as he is of each knife he creates, Williams may be the most proud of the way he's giving back to the knifemaking community. He doesn't just make knives, he also holds classes to teach others to do the same.
The man who couldn't find a teacher managed to impress some of the harshest judges in the industry — and he wants others to know that even if you can't stand the heat, you should still walk right into the kitchen like you own the place.
"If you can't find a teacher, I get it," Williams said. "So just start working. Just do it. It takes grit and tenacity, but if you really want to do it, you'll find a way to do it."
×
Photos
Most recent Utah stories